Compare Business Energy Prices From Trusted Suppliers
Compare prices in 60 seconds by filling in this quick form
We help thousands of businesses each year reduce their business energy bills.
Our free impartial service allows you to find the most competitive tariffs on the market in seconds.
How To Get A Great Deal On Your Business Energy
Whilst business energy is crucial to the operation of any business, that doesn't mean you shouldn't be getting a great deal on business energy rates.
Many UK companies allow the business energy supplier to manage the tariffs and automatically switch them to a new deal year after year. This leads to companies being on expensive standard variable tariffs with rising costs.
With an ever-competitive market, business energy suppliers are continuously creating new deals to entice businesses to switch. Simply setting aside a few minutes to compare business energy prices could save you £100s that could be reinvested into other areas of the business.
Switching business energy supplier may be a little more difficult than the domestic market. However, the savings are much higher. It is advised to compare business energy regularly to ensure your company is getting a great energy deal.
Can I Get Cheaper Business Energy Tariffs?
The best way to find great energy deals is to compare business energy prices. All businesses can negotiate the price of their business energy. The greater the energy usage, the easier it is to negotiate.
If a company is a high usage business, it's likely they will need a more custom business energy tariff. However, prices are more negotiable and you may benefit from things like multi-site meters.
Many business energy contracts include a standing charge. When looking through your business electricity quotes, this doesn't automatically mean that they are the more expensive energy supplier. Some suppliers offset no standing charge tariffs with higher business energy prices.
Business energy tariffs vary by supplier, region, and the amount of energy the company consumes each year.
All business energy contracts comprise two variable components:
A rate for each kWh unit of gas or electricity you use that's fixed in price for the length of your contract.
Plus a daily or quarterly standing charge.
What Are Fixed Rates?
Most business energy suppliers offer terms up to five years on a fixed rate contract. However, you can fix your business energy for any set amount of time up to that. There are lots of business energy deals available for all contract lengths. It may be wise to fix your energy deal for longer if wholesale energy prices are lower than they usually are. This decision has to be made when switching business energy to ensure you're getting the best deal.
Unit prices increase by a large margin over a standard one-year deal. Standing charges remain the same. The chart below illustrates this point.
Example Energy Prices for One to Five Years
Example rates from British Gas for a 03 profile electric meter based in region 10 (Eastern).
| Contract Term | Unit Price/ kWh | Price Premium | Daily Charge |
| --- | --- | --- | --- |
| One Year | 11.83p | 0% | 27.00p |
| Two Years | 12.18p | 3.0% | 27.00p |
| Three Years | 12.48p | 5.5% | 27.00p |
| Four Years | 12.88p | 8.9% | 27.00p |
| Five Years | 13.32p | 12.6% | 27.00p |
Below is the same data pictured graphically for a business using 15,000 kWh of energy each year.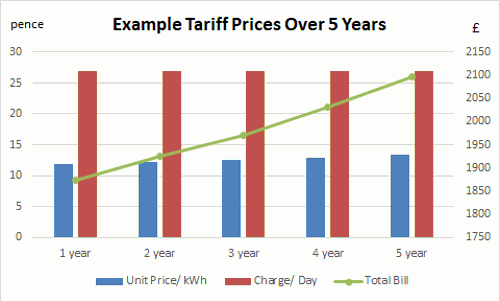 Fixing your energy prices for five years means no hidden surprises on your rates, but you're paying a 12.6% premium until unit costs increase.
Other Charges and Discounts
The default method of payment is direct debit. Business energy suppliers prefer this payment method and often provide discounts on energy bills.
Discounts range from 2% to 6% depending on the business energy supplier you choose.
All regular businesses pay 20% VAT.
You may be eligible for a discount on your energy bills if you are a charity or not-for-profit. The discounted business energy rate is currently 5%. These businesses are also exempt from paying the Climate Change Levy (CCL).
What Are Climate Change Levy (CCL) Rates?
The table below shows the current CCL rates by fuel type. You can see the yearly increase on CCL rates. Despite the large increases this change just adds £39.60 to an annual electric bill using 15,000 kWh per year.
| Fuel Type | From 01/04/2018 | From 01/04/2019 | From 01/04/2020 | From 01/04/2021 |
| --- | --- | --- | --- | --- |
| Electricity (per kWh) | 0.583p | 0.847p | 0.811p | 0.775p |
| Natural Gas (per kWh) | 0.203p | 0.339p | 0.406p | 0.465p |
| LPG (per kg) | 1.304p | 2.175p | 2.175p | 2.175p |
| Other (per kg) | 1.591p | 2.653p | 3.174p | 3.640p |
Data source: https://www.gov.uk/guidance/climate-change-levy-rates
How To Save On My Business Energy?
It is advisable to compare business energy suppliers regularly. We have hand-picked trusted energy suppliers to work with us to provide exclusive business energy deals that are not available directly. Switching business energy with us means that the process is much smoother and out team of experts will handle the entire switch for you. Allowing you to carry on doing what you do best.
Many businesses can lock-in new prices up to 12 months before the end of their contract. It is almost guaranteed you can get a cheaper business energy rate than your renewal.
Never accept your renewal letter offer as you'll always find cheaper prices elsewhere. A quick comparison of the market will show potential savings on your energy bills.
What Are The Best Practices When Switching Commercial Energy Suppliers?
You will likely need to switch your business energy tariffs at the end of your contract. This helps keep business energy prices under control. The switching process doesn't mean you need to change your supplier.
The action alone puts the negotiation power in your hands and proves to your business energy supplier that you're willing to switch. They may offer you their lowest business energy rates. When you compare business energy suppliers, it will provide a great benchmark for what you should be paying.
You must notify your suppler that you wish to end the contract three months before the end of the contract. Once you've sent that notification, you can start searching for the best deal in the market.
Five Steps to Switch Business Energy Contracts
Step 1: Cancel your existing contract if it's within three months of ending.
Step 2: Get new quotes from energy suppliers for you gas and electricity to find the best business energy deal.
Step 3: Select the tariff most suited for your needs.
Step 4: Sign your new contract for the next one to five years.
Step 5: The switch happens automatically and managed by your existing and new provider.
Your business energy supply is never interrupted during a switch. You will receive a final bill to cover your existing contract and a new one approximately one month after your new start date.
Just remember to take meter readings on the day you're switching to keep your energy bills accurate.
Depending on your meter type, you may be offered a new smart meter to replace any legacy meters. This change means the meter gets read automatically by your supplier to reduce errors in billing. Note that not all smart meters are compatible with all the energy companies so you may not be able to change supplier at a future date.
Three Options to Get Live Business Energy Quotes
For business energy quotes, you have three options:
Option 1: The DIY approach where you search yourself.
Option 2: Use a price comparison website.
Option 3: Utilise the services of a professional energy broker.
Option 1: Find Deal Prices Yourself
It takes time to search the entire market as there are lots of business energy suppliers. This is time consuming, and you will have to enter your details multiple times and make notes of each gas and electricity quote. You may not receive the best prices as some consolidators and brokers may have an exclusive deal not generally available.
Additionally, you may find that if you call back after a few days, the price could change depending on any movement in wholesale prices or other external forces.
Therefore, we recommend businesses use one of the following routes to find a great business energy deal.
Option 2: Use Price Comparison Websites
A business energy comparison website will show you live rates from a large selection of energy suppliers. This is a much faster way of quickly finding business energy prices and gathering information.
Our online service shows the average percentage savings you could make by moving your business to a different contract. You can quickly see prices from multiple business energy suppliers within minutes.
Option 3: Utilise Energy Brokers
Outsourcing the process to an accredited business energy broker will save you time because they use bespoke technology platforms to quote the entire market on your behalf.
These brokers can also manage your contract submissions, conduct invoice validation analysis, and ensure you're always on the best tariff for your meter. There are no charges for these services as they receive a commission directly from your new supplier.
Just ensure you obtain new quotes for all your meters and switch to a lower-priced deal rather than letting your contract roll over at higher rates.
Choosing The Right Business Energy Tariff 
For the majority of customers, it's simply selecting the lowest price offered by the market or broker. Your supply pipes and cables won't change. The only thing that changes is the company name on your new invoice.
When comparing prices, look at the total cost for the year. Be sure to check the unit price per kWh and the standing charge. This comparison is important for low consumers of electricity. There could be a high standing charge that wipes out any savings made.
It is important to understand how your business uses energy as there are many different tariffs that can save you money on your business energy bills. For example, a business operating predominantly at night may benefit from an Economy 7 or 10 meter. But they do have drawback for other types of businesses.
High consumers of electricity or gas, such as multi-site meters or those with a half hourly meter installed may require additional support to manage their energy efficiency so the lowest cost may not be the most important factor.
What Business Energy Suppliers Are Available?
Not sure which business energy supplier to choose? Here's a quick summary of your options:
The Big Six/ Big Five Providers
Traditionally just six business energy suppliers controlled 90% of the B2B space, but gradually other companies are starting to make an impact. You may trust a larger company more. However, challenger energy suppliers are known for offering great customer service whilst still providing some great deals on gas and electricity in comparison to other suppliers on the energy market.
For example, Octopus Energy have been voted Best Business Energy Supplier by Which? for multiple years.
 The current "Big Six" business gas and electricity suppliers are as follows (market share data source: /suppliers/):
Smaller Independent Companies
The list of the current 35 independent power companies for businesses.
Affect Energy
Airtricity
AvantiGas
Axis Energy
Better Energy
BES Utilities
Bristol Energy
Clear Business Energy
Contract Natural Gas (CNG)
Corona Energy
Crown Gas and Power
D-ENERGi

daligas
Dual Energy
Extra Energy
Engie (Formerly GDF Suez)
Flogas
Gazprom
GnERGY
Go Effortless
Haven Power
MA Energy

OVO
PFP
Power NI
Regent Gas
Robin Hood
Simple Gas
Total Gas & Power
United Gas and Power (UGP)
Utilita
Utility Warehouse
Yorkshire Gas and Power (YGP)
Yu
This is not an extensive list of business energy suppliers, and many independent energy suppliers offer much better deals and customer service than the traditional suppliers. It's important to do your research when you're selecting a new business energy supplier.
Can I Get Green Business Energy Tariffs?
All the suppliers below offer 100% renewable energy tariffs. Most generate their power with wind farms, solar power, hydroelectric or biofuels. For those companies supplied by non-renewable sources, these suppliers match the consumption with a Renewable Energy Guarantee of Origin (REGO).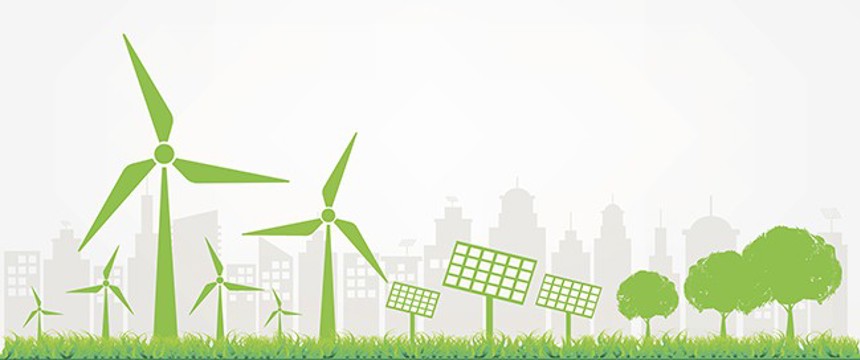 The REGO is a unit of sustainable power generated for the National Grid matched to each kWh unit supplied from traditional sources such as coal, natural gas or nuclear.
Most business energy suppliers provide great options for renewable energy tariffs. However, some suppliers are more committed than others and only provide renewable energy. Most notably, Octopus Business Energy and Bulb Business Energy.
Generate Your Own Business Energy
Government green levies and investment only continue to increase. Many businesses consider investing in this to cut long-term costs.
Most of today's options are greener. Many businesses do want to use fossil fuels that produce harmful carbon dioxide. With the rising costs in the energy market, many businesses are exploring this option with the hope they can sell any electricity they don't use to the National Grid using feed-in tariffs.
Some companies could be eligible for a grant or low-cost loans for green investment. Options include solar power, wind turbines, Ground Source Heat Pumps (GSHPs), or biomass. The main challenge for businesses who wish to generate their own energy is space. They must have adequate space around their business premises for any equipment, and some may require planning permission.
It comes down to keeping on top of your business energy contract. Comparing business energy prices every six months will help avoid expensive tariffs.
Call our UK-based utility team on 0800 690 6008. You can use the quote form at the top or bottom of this page for instant prices.
Business Energy FAQs
Why switch business energy suppliers?

On average business energy customers save around £1,067 each year. This saving proves to be valuable for many business as they choose to invest the savings into other areas of the business.

However, don't assume that you have to switch from your current energy supplier to save money. In many cases, we work with you to find a better energy deal within switching business energy.

Can I switch gas and electricity at the same time?

Business gas and electricity need to be switched separately. Our business energy comparison does allow you to compare both gas and electricity prices side by side. It is a good idea to switch both fuels at the same time and fix them for the same amount of time to ensure your business energy bills remain easier to manage.

How long does it take to switch commercial energy suppliers?

Once you compare business energy suppliers and choose your new tariff, the process of moving to your new energy supplier takes between 4 to 6 weeks.

If you switch with us, you will assigned an account manage to handle the process for you. You will only need to take a meter reading on the last days before your switch to make sure your final business energy bills are accurate and you're not being overcharged for any energy usage.

If you're paying too much with your current energy supplier, you can compare business energy deals here.
Compare Prices Online
Save money on your energy bills.