Carbon Reduction Commitment Scheme Explained
Businesses now have a commitment to reducing carbon emissions from a government-backed programme. We explain how it works below.
Key Facts
The Carbon Reduction Commitment Programme, now called The CRC Energy Efficiency Scheme, is mandatory for businesses that fall under the terms outlined in the legislation.
Carbon Reduction Targets
The scheme is part of the UK's overall EU commitment to cut carbon emissions from UK PLC by 80% by 2050.
All large users of power are required to report on their emissions against forecasts. Registered users purchase carbon offset allowances if they exceed their targets.
What Businesses Need to Know
The scheme initially started in 2010 although allowances began in 2012.
Companies using over 6,000 MWh of energy per year are registered.
These organisations need to measure their carbon emissions.
They need to report these measurements on an annual basis.
Participants are required to buy carbon allowances if they miss targets.
As emissions fall, so does the cost of the offset purchased.
How Does the CRC Energy Efficiency Scheme Work?
About the Scheme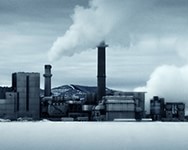 The CRC Energy Efficiency Scheme effectively charges large companies a cost for their overall carbon emissions. The initial 2010 legislation targeted those companies generating more than 6,000 MWh of energy each year.
All organisations with a half-hourly meter would have registered their compliance during 2010.
Reporting Compliance
Registered companies need to monitor their emissions and report into a central database. League tables are being produced showing the largest users together with energy savings over time. Cost of registration is £950 with an annual subsistence fee of £1,290.
Optional Registration
Companies that have a half hourly meter, but use less than 6,000 MWh, also need to make an information disclosure. This minimum requirement negates the company out of full reporting and monitoring.
How Does it Affect Your Business?
Your Key Contact
Businesses within the scheme are required to appoint a representative to measure, monitor, and report the data produced. You'll be required to pay a carbon offset per tonne of C02 produced back to the government. The offset is estimated to be approximately 10% of your current energy bill for the average large business.
Purchasing Your Carbon Credits
Companies purchase carbon offsets or credits for the preceding year of reporting rather than having to estimate your current position. If you purchase too many, you can't sell them back or receive a refund.
Reseller Market
You can purchase credits on the open market but it's not regulated by the FCA. The auction has no cap on the pricing. It's essential your purchases are accurate otherwise you could be paying more than the rates set by the government.
National Reporting
National league tables get published on a regular basis. The top companies pay less in offset fees, and the worst offenders are required to pay a 50% penalty. The first sale of the offsets occurred during 2012, with all the money paid directly to the government.
CRC In Action For Large Businesses
DECC sent initial information packs to companies that have HH meters installed at their premises. These packs detailed what the scheme entailed and the requirements under the new legislation.
By now you should be already reporting your data and have seen the first league table. If you are in any doubt, please contact the CRC helpline on 03708 506 506.
How Can you Reduce Your Costs Under CRC?
For the average business under this scheme, it's estimated that the carbon offsets will add between £45,000 to £50,000 to your annual bill. There are two main methods to reduce the cost of this scheme to your business.
Opt for a 100% renewable energy electricity tariff. These green tariffs are exempt from the scheme. The unit price per kilowatt hour is usually at least 10% higher than standard prices so the savings could be minimal.
Reduce your emissions through efficiency measures. As reducing emissions is the overall aim of the CRC scheme, carbon neutral organisations could use this as a marketing tool.
All half hourly metered customers have access to their consumption data. Advanced software tools can show where efficiencies may lie and also report long-term gains. Using this data effectively is the first step in reducing the cost of this scheme to your organisation.
CRC Scheme History
When we first published this article during 2009, research from SAP found only one-third of businesses were ready. The research also found that companies were not ready to invest in reducing emissions due to the costs associated.
If you didn't register in time, you would have been fined £500 and £5000 per day for each day not registered. Every business should now be on the scheme and if not you should call the DECC helpline using the number above.
May 2007 – CRC white paper published.
2008 – Initial disclosure required.
2009 – Full registration required.
April 2010 to March 2014 – First phase.
April 2011 – Carbon offset of £12/ tonne published in the budget.
Nov 2011 – First league tables published.
March 2012 – Scheme simplification documented.
April 2014 to March 2019 – Second phase action.
2014/ 15 compliance year – Carbon credits fixed at £15.60 per tonne of CO2.
March 2019 – Scheme to be abolished.
Compare Prices Online
Save money on your energy bills.