Table of Contents
Ever wondered what the prices per kilowatt hour (kWh) might be for your business? Check out our guide to current unit rates and how to lower your costs.
The prices for business users per unit are similar to those in the domestic market. Businesses pay VAT at the current rate of 20%, whereas residential customers pay a reduced rate of 5%. A business is also subject to additional so-called green taxes such as the Climate Change Levy (CCL).

The Wholesale Market kWh Prices
The wholesale price of electricity varies each week, or even daily. Over the past few years these have stabilised to between 5p and 6p per kWh. These are the absolute lowest prices available if your company could purchase electricity directly from the generating companies.
For most of us, we have to purchase via a retail organisation such as one of the electricity suppliers. General retailing principles dictate that retail prices are double the wholesale price. And this is the point in case with energy.
Rates we have seen over the past 12 months for SMEs vary from 13.2p to 16.7p plus VAT for unit prices per kWh. There is also a standing charge to be added. You may be offered a low unit rate, but if the daily charge is higher, then your annual bill will average out the same.

What are Typical kWh Rates?
For a small business using between 15,000 and 25,000 kWh of electricity per year here are typical quotes you might receive. The second chart shows prices by business size.
kWh Prices by Business Type
| Business Type | kWh Unit Price | Standing Charge | Cost per Year |
| --- | --- | --- | --- |
| Coffee Shop | 13.42p | 26.70p | £2,109 |
| Hair Salon | 13.88p | 27.23p | £2,182 |
| Small Farm | 14.19p | 24.21p | £2,218 |
| Dental Surgery | 13.84p | 27.61p | £2,176 |
| Restaurant | 14.87p | 25.46p | £3,067 |
| Newsagent | 14.51p | 24.28p | £1,830 |
As you can see the daily standing charge increases as the unit price reduces and vice versa. Overall the total estimated invoice for a year is about the same.
Check today's prices for your business
Average Electricity kWh Prices by Business Size
| Business Size | Usage/ Year | Unit Price/ kWh | Standing Charge | Cost per Year |
| --- | --- | --- | --- | --- |
| Micro Business | 8,000 kWh | 14.42p | 27.40p | £1,254 |
| Small Business | 20,000 kWh | 13.98p | 26.83p | £2,894 |
| Medium Business | 40,000 kWh | 13.79p | 26.41p | £5,612 |
| Large Business | 80,000 kWh | 13.24p | 26.20p | £10,688 |
The kilowatt hour rate varies from business to business as well as by each power company. An example of how unit prices and standing charges vary by contract length is shown below from one of the "big six" energy suppliers.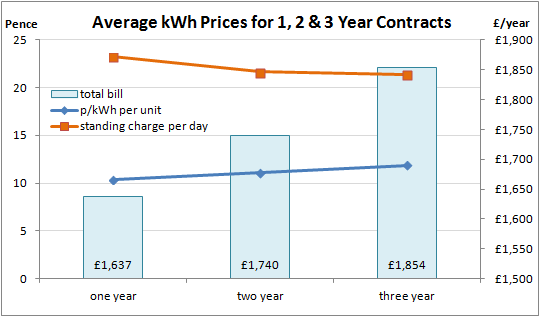 It's best to compare your annual bill rather than the absolute rates from any quote you receive. Use your past year's consumption data as a guide when comparing prices from one supplier to the next.
Gas unit prices are much lower. On average, SMEs pay between 2.9p/kWh to 3.4p/kWh but a higher standing charge of approximately 70p/day. Lower prices as mentioned before are really only available to companies consuming 100,000 kWh per year or more.
Small Business Pricing Example
To understand how your bill comes together from the various charges, here's an example for an average business.
Annual consumption 16,000 kWh
Unit price per kWh 16p
Daily standing charge 27p per day
In the example above, the business gets charged £98.55 for the standing charge (365 days * 0.27) plus £2,560 for the electricity used (16,000 * 0.16) giving a total bill of £2,658.55 plus VAT and CCL (Climate Change Levy).
What Affects My Prices?
Larger users of energy, such as manufacturing organisations, pay a lower rate due to the higher consumption. However, the energy companies increase the daily standing charge to compensate for the lower rates. The following guides you through what could affect the unit price you pay:
The type of business you own dictates the consumption usage patterns during the week. Not all businesses work Monday to Friday 9.00am to 6.00pm. Those that consume high energy during the evenings and weekends will have different rates than during the day. These are usually lower as the demand is lower from the network.
How much overall energy you use in one year generally dictates the pricing. Normally higher volume equates to a lower price. However, if unit rates decrease sometimes the daily standing charge increases. It's always best to check your overall offer in terms of the cost incurred for a full year rather than unit prices.
Whether you run a small business or large corporation depends on your buying power. There are some "group buying" organisations that work on behalf of SME companies, but they're rare. A micro business just has to take the standard tariffs that are on offer.
If you have both electricity and gas under a dual fuel contract you may find that both fuels have slightly lower rates. This isn't the case for every power company so check single and dual fuel contracts together.
Your current energy provider could be the most or least expensive in the marketplace. You won't know until you undertake a business electricity comparison to check if you really are on the best deal available.
The region your business is located within the UK affects quotes because prices vary around the country. Scotland has some of the highest prices in the UK, whereas the Midlands some of the lowest.
The length of your contract has an impact on both unit rates and daily charges. On average each year you extend your contract adds an additional 6% to the unit cost whilst 2%-6% is deducted from the standing charge.
Getting Electricity Quotes
The easiest method is to compare all prices with our 60 second quote system where we'll find you the lowest prices in the market.
Enter your details for today's prices
Although some of the energy companies, such as British Gas, guarantee to beat your renewal letter quote by 10% it's still best to compare the whole market.
You may find one of the smaller independent companies provides lower pricing and improved customer service. In any case, you should get the latest available pricing if your contract is near the renewal stage.
Never take the kWh prices you're presented with as these will be far higher than those tabled above. Anything above 10p for your unit prices is too much. And anything below your renewal quote will save on your business expenses for the next 12 months.
You can also go direct to each supplier. Not all can provide live pricing information and some, such as Southern Electric, only allow you to call or email them. To obtain quotes all you need is your premises postcode to get started.

Switching Your Energy Supplier
Firstly, to change your contract and the terms and conditions contained within it, you'll need to terminate it. Check your current contract carefully and see if you qualify.
Micro and small business owners now have their own set of rules. Ofgem changed these so that new contracts taken out after 18th January 2010 must be written to when a renewal is close. Your provider must inform you that your contract is coming to an end, 60 to 120 days before it does. They then must provide you with at least 30 days to switch tariffs or renew at new rates.
This change came about because of rollover contracts. Providers would let your existing contract expire and then put you on a new one without notice at much higher rates. This practice is slowly changing, but a majority of businesses still elect to have their prices increased by as much as 140% each year!
We have seen renewal contracts with rates higher than 19p/kWh and a daily standing charge of 37p. The energy companies want you to roll over as this is how much of their profits are generated.
If your renewal unit rates are higher than 14p/ kWh, then check out how much you can save by obtaining quotes today. There is no loyalty in this market so new customers generally get the best deals. Sometimes you can call your provider's retentions team who may provide even lower prices than you're quoted.
kWh FAQ Section
What is a good price for electricity per kWh?
The average price businesses and residential customers pay in the UK is 14p per kilowatt-hour and 27p per day. A 3-bedroom house consumes 4,750kWh per month and a small business 20,000kWh per year.
Who has the cheapest electricity per kWh?
Your unit cost per kWh depends on your region, consumption and meter type. Most commercial electricity suppliers offer prices between 14p per kWh to 18p per kWh. Compare prices to check the cheapest in your area.
Are business electricity rates cheaper than domestic?
The unit price and standing charges are broadly the same for business and domestic (or residential) customers. Businesses pay additional green taxes, including the Climate Change Levy at 0.847p/ kWh from 1st April 2019, which could add an additional 31% to their bills.
How much is 1 kw of electricity in the UK?
A 1 kw appliance uses 1,000 watts of power in one hour or 1 kilowatt-hour. The average price is 14p per kilowatt-hour so that is the cost for using a 1 kw appliance for one hour.
What is a kWh?
kWh is the abbreviation for kilowatt-hour. A kilowatt-hour is a unit of energy equal to 1,000 watts (3.6 megajoules). 1 kilowatt-hour is equal to the power used in kilowatts in 1 hour. A computer which uses 1,000 watts per hour uses 1 kWh, and a 1,500 watt heater uses 1.5 kWh.