Energy Monitoring Devices
The adage "what gets measured gets done" applies to everything we use. An energy monitor could save you 10%-20% of your annual energy consumption.
Basic energy monitors have been available for residential customers for years now. Most of the power companies provide these for free on some tariffs to show instant usage of electricity in your home or company premises. They're not available for gas supplies.
These devices are different from energy management software programs (EMS) as they simply show current cost and consumption and trending data. EMS systems allow for in-depth analysis in conjunction with smart or half hour meters which the majority of small businesses don't have installed.
You can elect to have a smart meter installed in your premises, but for most organisations this is not required.
Energy Monitors Versus Management Software
The Standard Energy Monitor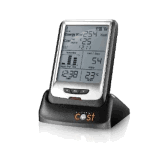 A standard energy monitor is a simple device that attaches directly to your supply line from the electric meter or gas meter. It automatically collects the data from meter electrical pulses then sends them directly to the monitor.
The monitor then provides basic data such as current usage and costs based upon your current tariff together with averages from the previous days and weeks.
It's a small device that can fit anywhere around your business premises providing instant readouts. The data transmitted comes from your meter via mobile frequencies and is easy to install.
Advantages: Most monitors are small, easy to install and operate for most people. They're normally provided free of charge to existing or new customers moving to a new tariff. You can see at a glance what energy you're currently using and trends from previous periods. For most smaller businesses, these are ideal for knowing current consumption on a regular basis.
Disadvantages: They provide limited information, and any data you want to keep may need recording manually for later use. As none of the data is recorded, you won't know the consumption generated out of office hours (such as weekends or night time).
Management Software
Management software reads the data every half hour from 00 profile class meters and enables you to analyse the information exhaustively. However, only 120,000 or so businesses have 00 meters, whereas the other 4.2 million meters have to find another source if the monitor is limited.
Advantages: Depending on your vendor you'll be able to delve into any data from any time period that you require. You can monitor trends over time, product reports and graphs and even analyse right down to a specific appliance (such as a printer).
Disadvantages: Most require a 00 meter for the information to be collected. Some advanced training is required to be able to use the software effectively.
Monitor Options Available
Anyone can order an energy monitor for their home or business off the internet for £50 or less. It's best to choose the models that the power suppliers use. The model shown above is the EnviR wireless monitor made by Current Cost. There are other options available as outlined below.
Eon Energy Manager: This system is the same they provide for residential customers. It's free if your meter profile class is 03 or 04 and works the same as described above. Eon uses the same EnviR monitors that are awarded "best buy" by "Which" magazine.
EDF: do not provide monitors, but offer a survey based savings scheme via their "business-fit" programme. You're required to enter your consumption data manually and EDF will provide results of where reductions could take place.
Npower Smart Start: Npower use a slightly different system, but the concept is the same. It's provided free of charge to all Npower SME customers together with trending software and practical advice. Large commercial businesses receive additional more advanced options.
First Utility Smart Meters: All First Utility (FU) customers receive a new smart meter (or half hourly meter). FU is the only UK power company to offer this free service to non-HH customers. These then fully integrate into an online account where the information is kept securely for future use. If you don't want a smart meter, you're able to purchase a standard monitoring unit from them. More information here.
The other power companies don't offer free monitoring units or software to business customers, although you can purchase one yourself.
Compare Prices Online
Save money on your energy bills.