Corporations and larger businesses usually leverage more buying power to reduce their bills. Small and Medium Enterprises (SMEs) can obtain competitive rates by following this exhaustive guide.
Three years ago the average electricity prices for SMEs showed an increase of between 15% and 17% based on figures released by the Forum of Private Business Owners. For larger businesses, these increases fell to between 9% and 11%. Large PLCs, who have the greatest buying power, showed the lowest increase of around 5%.
With business gas figures, the gaps were even more pronounced:
Larger businesses are seeing a drop in their prices of between 14% and 52%.
Small businesses are reporting an average increase of around 8%.
Prices on the Rise for All Businesses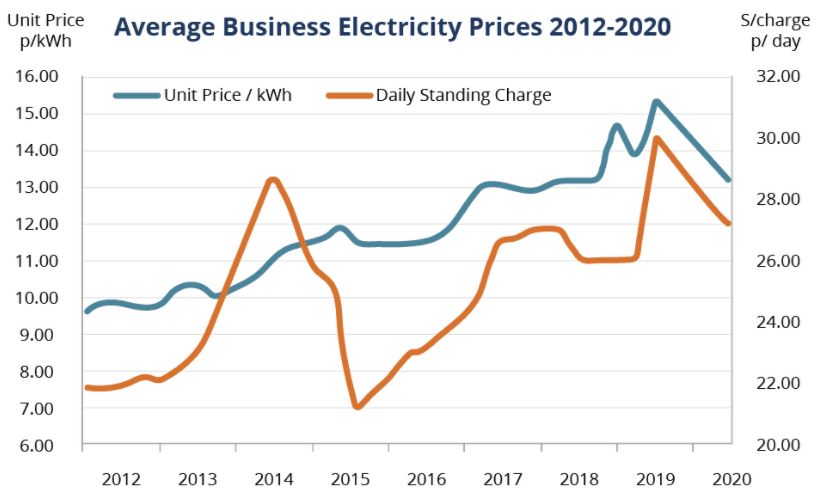 Over the past few years, all of the major energy companies have increased, reduced, and then again increased the cost of fuel.
Most businesses are on fixed priced, fixed-term contracts, so any changes take time to flow through to their bills. Some may have seen reductions by changing tariffs.
Ofgem announced some rest bite for micro businesses who must now receive notification that their contract is ending its term.
However, these can still automatically roll over for another fixed period at prices far higher than the "best buys" in the marketplace.
Due to various green investments and the volatile nature of the wholesale market, overall prices are likely to continue to rise for many years to come. With over 80% of SMEs stating that energy costs are crucial to control, these changes are only going to add to the turmoil of attempting to manage costs and improve profits.
Double Check Your Contracts
All organisations should check the terms of their energy contracts to ensure they know when their electricity and gas tariffs are due for renewal.
They should ensure they get new quotes before they have to communicate the termination of their contract in good time.
Alternatively use the services of a specialist energy broker who can often get better deals and know how to negotiate prices with the energy suppliers.
No company should allow their contracts to roll over automatically. The traditional style of working for smaller companies was to have a fixed time-frame when you notify your supplier in writing you want to switch tariffs. New contracts going forward have different terms due to the changes made by Ofgem.
To reduce your costs, check your contract terms for the period you're allowed to switch. Then get new quotes directly from the utility providers yourself, or via a broker, and attempt to negotiate the prices down.
All new contracts are for at least a year and have some form of fixed pricing associated with them. Regularly comparing prices is a great way to reduce costs in your business.
Quick Tips to Get the Best Deals
Never accept the rates in any renewal letter. These letters only include your new rates, and unless you have your current contract to hand, you won't be able to compare these with your current agreement. Renewal prices are often between 60% and 110% higher than your present rates.
Always terminate your contract in good time. You can't switch to another provider or new tariff without prior termination.
Shop around for the best deals by using a brokerage service. We can find you the cheapest available rates by entering your data into our online quoting system.
Always sign up to a new agreement before your present one expires. Failure to do so will place you on "out of contract" rates that are even higher than rollover contracts.
Remember that getting quotes takes just 30 seconds of your time. As the switching process is fully automated and regulated, so you won't lose supply.
Using Online Comparison Services Effectively
There are numerous internet based quoting services available that thousands of people use each week. In general, these compare prices from the big six plus a few independents. Comparison sites are a popular option, but is it the best?
Pros
Fast and easy to use with no telephone interaction.
Some services allow online switching, although this is rare.
You'll be able to compare the whole market at once.
Cons
Only one UK company, Utilities Direct, provide online switching.
Commissions included in the price could increase your unit costs.
Many online services are lead generators rather than a true comparison service.
Going Direct to the Energy Companies
Going direct almost certainly provides the lowest prices, but not always. However, contacting numerous companies for pricing quotes is a time-consuming process and is not recommended for premises using under 800,000 kWh of energy per year.
Advantages
You're likely to find the lowest prices in the UK market.
You can switch contracts online.
Disadvantages
It's time-consuming as you'll need quotes from multiple websites.
If you leave your telephone number, you'll receive calls from the power companies.
You may still not receive the cheapest rate in the market.
Additional Billing Charges
On top of your daily standing charge and unit price, there are other costs added to your monthly bill. For example:
VAT at 20% unless you're a non-profit organisation or charity.
Climate change levy at around 5%.
Direct debit discount is added back onto your bill if you choose to pay by cheque.
Unfortunately, it's more complicated than the residential market. If you simply don't have the time, call our team on 0800 690 6008 who will help you.