Business Energy Management Software & Systems
Being able to monitor, analyse and communicate energy consumption trends internally can bring substantial savings to the company.
If you have a half hourly or smart meter installed in your premises, then you can control your data using a range of integrated software solutions. Energy management allows your company to track actual usage versus averages and conduct research to investigate where potential savings are available.
Basic packages offered by the energy companies themselves have limited capabilities and are primarily aimed at lower consuming users. If you're spending over £100,000 per year on any fuel, then you should consider upgrading and installing more advanced systems.
Making Your Choice of the Right Package
The Businesselectricityprices.org.uk software package is free to large users of energy. The full EMS suite provides full management review and analysis of the information gathered. The example report below shows trends over a 24-hour period.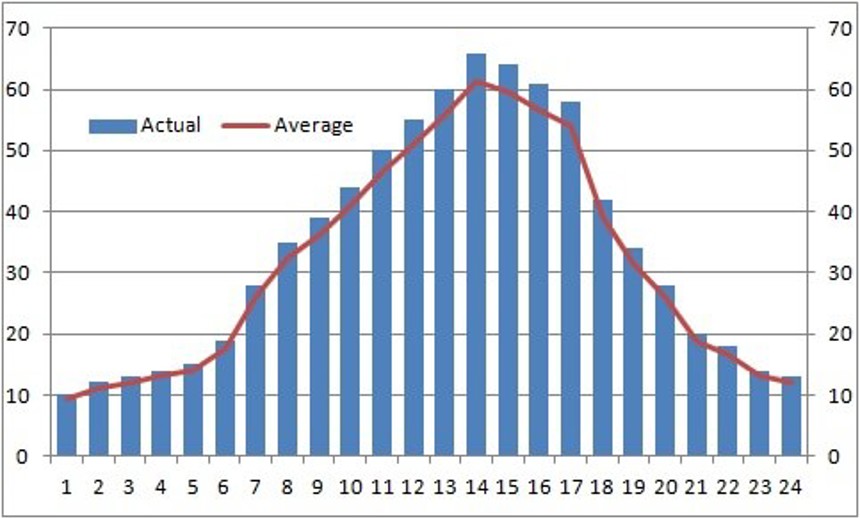 Example energy management software graph
Our methodologies can seamlessly integrate into your current operations to process the volumes of data received. The systems are also available to any business user on a chargeable basis and include the following:
Available Data
Full access to all data derived from up to 2,000 business electricity meters. The data updates directly from automated smart meter readings. For half-hourly meters, the data is available almost "live" and updated every 30 minutes.
Compare All Installed Sites Together
Each site installation is visible from your control panel so you can compare one location to another. This comparison could highlight inefficiencies between similar operations and "best in class" performances to aid reductions over time.
Analyse Historical Trends
You can compare current data to historical averages to show trends over time. This analysis helps to detect variances from normal operations, diagnose performance issues, and helps with forecasting.
Easy to Use and Implement
The system is easy to use and requires minimal training. All members of staff can use it due to its tailored user interface control panel. Some of the largest UK Facilities Management companies and energy brokers have the software installed to help their customers.
Invoice Validation
The intelligent invoice validation module manages cost control from actual bills. Flexible rules ensure that your invoices are accurate for consumption loads as well as unit prices.
Data Export
All data can be exported to a variety of files including standard text and Excel.
Exceeding Your Objectives
The overall objectives of any management, monitoring and targeting software is to help reduce waste while continuing with a first-class service.
How do Energy Management Systems (EMS) Work?

Energy management systems won't do anything on their own. What they're doing for you is providing data to be analysed to develop new efficiency and billing practice programmes.
It's then your decision whether further actions needs to be taken.
For example, you'll be able to see if your electricity usage is above or below historic averages. You can investigate how much is being used when your premises, buildings or offices are not open during the evenings or weekends.
Perhaps machines or computers are left on overnight so these reports will highlight abnormally high consumption levels. What they won't do is to pinpoint exactly what may be causing issues.
Additional investigations with the help of external consultants will help you understand the reports and put plans into action to reduce waste.
Our team of experts won't just leave you with the software. We'll help you organise your team to reap the benefits of waste reduction and understand the analysis provided.
Contact our software team to learn more and arrange a demonstration over the web or at your offices.
Compare Prices Online
Save money on your energy bills.