Shell Energy (First Utility) Fixed Tariff Review
Compare prices today by filling in this quick form
We help thousands of businesses each year reduce their business electricity bills.
Our free impartial service allows you to find the most competitive tariffs on the market in seconds.

One of the most prominent independent energy companies is First Utility. This UK organisation supplies residential and business customers.
First Utility (FU) is a new company that buys energy from other providers via the wholesale market and directly supplies that to business and residential customers.
Since March 2019, First Utility rebranded as Shell Energy Retail Limited. All their products are now 100% renewable energy based. Existing customers will transfer to the new tariffs immediately.
Every new customer also receives a free smart meter that FU install free of charge. The benefits from having smart meters mean your meter readings are sent automatically to First Utility Group. No manual meter readings are taken which means no more estimated bills and over invoicing.
From your 100% accurate bills you can also analyse the information gathered either via their website or other software options such as the new Google Power Meter. (which means you can access the data from your desktop via your Google Account – First Utility is currently the only company in the UK to partner in this manner).
Types of Business Contracts
There are two main types of contracts you can have from this group. Much like other commercial suppliers and they're either for one, two or three years with fixed priced terms.
One or two year fixed priced standard contract. This means your prices are fixed for one or two years. The standard terms of this contract are to pay monthly by direct debit although other payment options are available with a small premium.
Three year contract where prices are fixed for 3 years.
Both of these come with a free installation of a smart meter so your readings are read automatically. Once you have been with First Utility for 12 months, then other potential tariffs are on offer. These may have one, two or three different rates depending on the time you use your electricity. You'll also get the services of an account manager and this company is based in the UK.
What Else about First Utility?
Their fuel mix strategy is different from other energy companies because they rely less on nuclear power and more on natural gas and coal fired sources.
The chart below shows the energy mix from FU against the UK averages for all the energy companies as supplied to OFGEM.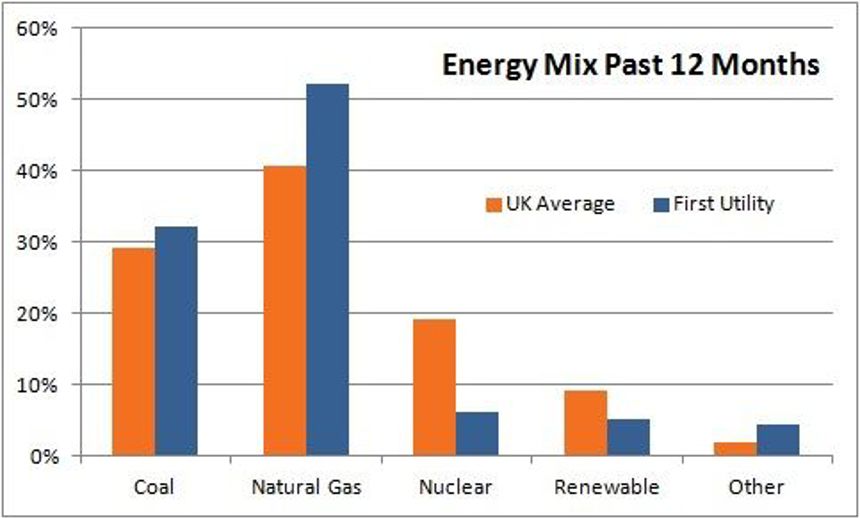 The smart meters are installed within 60 days of your initial contract so you won't get data about your consumption figures straight away. These require a strong signal to be able to transmit the data back to FU so if you're in weak mobile signal areas some modifications may need to take place. Power to your offices will also be switched off for about an hour whilst the installation takes place.
Viewing Your Data
The new Smart Online Account from the FU website allows you to view your daily consumption in various forms. You can view the data every half an hour, daily, weekly or monthly at a click of a button. The data is graphically presented for easy reading. Checking this data on a regular basis could save between 10%-12% on your annual consumption bills.
The online software is provided free as part of your online management portal. You can also check your bills against the account. Having this information puts you in control of what's happening in your business.
Most larger organisations already have access to Energy Monitoring Systems (EMS) and some pay thousands per year for access. Simply having this data available offsets the small premium to pay for having an FU tariff.
Other Points to Note
This new company seems to have some concern on the internet forums about customer service interaction. Although this is mainly for domestic customers it may be an issue, although we hear most problems are solved.
It is always worth getting a quote for electricity and gas to compare with the other suppliers. Perhaps your peers have a supply from FU so they may provide first hand experience of this company and recommend them for your business.
Compare Prices Online
Save money on your energy bills.