Why Poor Infrastructure is a Major Speed Bump for UK Electric Vehicles
The UK has until 2040 to phase out the production of new petrol-powered cars and focus its attention on the production of electric vehicles. 
However, electric vehicles are being purchased at a much faster rate than expected. If we continue to see year-on-year growth in the sale of electric vehicles, the UK can't expect to have 20 years to prepare. Electric vehicles are here now and they're here to stay. 
So: is the UK ready?
A rapid increase in electric vehicle sales
Statistics from the Society of Motor Manufacturers and Traders (SMMT) have revealed that between October 2018 and October 2019, the UK has experienced a spike in the sales of electric vehicles by 151.8%, as well as a jaw-dropping 454% increase to mild hybrid electric vehicles.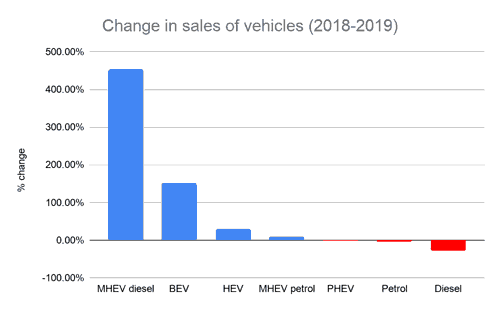 *BEV – Battery Electric Vehicle; PHEV – Plug-in Hybrid Electric Vehicle; HEV – Hybrid Electric Vehicle; MHEV – Mild Hybrid Electric Vehicle
What position is the UK energy grid in?
The biggest question facing the UK is whether the energy grid could cope with the influx of electric vehicles. 
Currently, there are roughly 246,000 plug-in cars in the UK – a drop in the ocean when compared to the remaining 38 million cars on the roads . Yet we can see the growth in EV popularity, which means the national grid needs to be ready.
9 million electric cars by 2030?
Speaking at the Business, Energy and Industrial Strategy Committee , Graeme Cooper, EV lead at National Grid, claims that the UK could handle an overnight boom in electric vehicles. 
The National Grid estimates an additional 9 million electric cars in the UK by 2030. Those cars would require an additional 8GW of power. So where will it come from?
Reducing demand with smart charging
Cooper is adamant that smart charging could cut the 8GW needed for 9 million electric cars to at least 4GW.
By smart charging – that is, choosing to charge an electric vehicle during off-peak times like during the night while you sleep – the National Grid won't struggle to cope with the extra demand.
Cooper is so confident that he claims the National Grid "would support a more ambitious target" of the government phasing out petrol and diesel cars by 2030, as it's a scenario we could "absolutely" cope in.
Ofgem is proposing flexible charging
Like smart charging, the Office of Gas and Electricity Markets (Ofgem) is encouraging electric vehicle users to charge in off-peak hours, as well as when there's an abundance of resources available; during very sunny or windy weather.
Ofgem claims that flexible charging will not only help EV owners save money but will also help to lower the cost of electricity for everyone by electric cars acting as batteries by feeding energy back into the grid when it's most needed – also known as 'vehicle-to-grid' technology.
What speed bumps are holding the UK back?
The National Grid may be satisfied with its ability to generate enough power to go around, but the UK is still faced with the problem of electric vehicle owners physically charging their cars. Currently, EV drivers can install a charging point at home or they can use a public point as part of the national charging network, both of which have their issues.
1. Not everyone can charge at home
Installing your own private charging point at home is possibly the most convenient solution to charging an electric car. However, not everyone has the option of using their home as a charging station.
Statistics from the English Housing Survey found that more than a third (36%) of dwellings have off-street parking. This makes it difficult for people who don't park directly in front of their house to charge their car and virtually impossible for those living in flats.
2. There are far fewer charging points than petrol stations
Refuelling for most cars is as simple as pulling into the nearest petrol station, however, EV drivers don't have that luxury. Public charging points are much rarer than traditional petrol stations and are not evenly dispersed across the nation. If you're lucky enough to have a charging point at your place of work, it still means you'll need to pre-plan your journeys if you deviate from your usual commute. 
Unfortunately, the charging market is majorly controlled by the companies that install the points. Not only does this make it difficult to create an even spread of charging points, but there's also a chance that you can't use a charging point you've come across. With AC and DC connectors, fast chargers and slow chargers, there are a lot of options, so you need to make sure you're stopping at the right charging point or risk being stranded.
You can check what charging points are available near you in the map below:
3. Government grants for EVs have been cut
In order to encourage more drivers to make the switch to electric vehicles, the government introduced the Plug-in Car Grant back in 2011, offering up to £4500 to anyone purchasing a new electric car. 
However, the grant has now been cut after a surge in EV orders exhausted the funds. The grant cap has been reduced to £3500 since 2016 and the government has completely scrapped the £2500 grant for hybrid cars. It's also worth noting that the Plug-in Car Grant only applies to selected electric vehicles. 
What does the future look like for electric vehicles in the UK?
"Having enough electricity to power a country of electric vehicles is one thing, but implementing a solid infrastructure to support daily EV use is just as crucial," says Sam Coombes, Energy Specialist at Business Electricity Prices. 
"The UK's roads will soon be electrified and the energy industry needs to be prepared to support it. 
"For the EV revolution to be a success, motorists need to be able to drive and top up their engines as effortlessly as they do now. Incentivising motorists to make the switch to electric vehicles isn't good enough if they can't charge their cars – it's simply not practical."
The good news is that with the introduction of the Automated and Electric Vehicles Act , elected mayors can now apply to the government to require large fuel retailers to install charging points at local petrol stations. The act will also standardise charging points across the country, meaning we will hopefully see a universal charging point connector in the future.
The Act may not be a blanket solution to the issues facing the EV revolution, but helping to get charging points where they need to be is, at least, a step in the right direction.
Compare Prices Online
Save money on your energy bills.