Blog
Created:06/11/2020
Updated: 17/11/2023
Keep energy costs low for your feed-in tariff scheme
Make the most of renewable energy for your business and compare the latest rates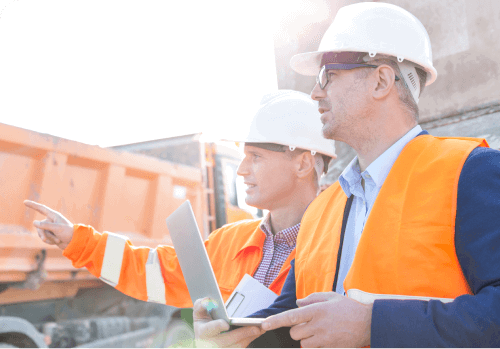 Save on Business Electricity
Feed-in Tariff (FIT) Rates Guide
Introduction to FIT
TABLE OF CONTENTS
To promote the deployment of small-scale renewable energy installations in homes and businesses around the country, the UK government introduced a Feed-in Tariff (FIT) scheme. This initiative pays you for the electricity generated through technologies such as solar PV panels and wind turbines.
There is also a complimentary scheme for heat generation called The Renewable Heat Incentive scheme.
The FIT scheme pays an amount of money you for all the electricity produced from your renewable energy product, plus an additional payment for the electricity that you don't use and export back to the National Grid.
To apply for the scheme, you need to complete an application to an accredited FIT Licensee. This is usually your current electricity supplier and they will also manage the payments that go to you.
However, the scheme closed for new applicants at the end of March 2019 and has been replaced by the Smart Export Guarantee (SEG) scheme. If you already receive payments from the FIT scheme, you will be unaffected by this change.
History of The FIT Scheme
The scheme started on 1st April 2010 with payments for generating and exporting electricity to the National Grid. Initial payments were high, with up to 50.67p/kWh paid on retrofit solar photovoltaic equipment.
Gaia-Wind, a Scottish supplier of small-scale wind turbines went into liquidation in March 2018 citing uncertainty for the Feed-in Tariff incentive scheme.
The scheme closed to new applicants in March 2019 and was replaced with the Smart Export Guarantee (SEG) scheme on 1 January 2020 by the Department for Business, Energy and Industrial Strategy (BEIS). SEG aims to pay people for the renewable energy that they export to the grid.
FIT Usage Data
The take-up of the scheme during the past decade was strong. The UK now has 870,008 registered users (March 2023) with an average installed capacity of 7.13kW. More schools and local communities are coming on board to create clean business energy and benefit from the financial help this can offer.
The adoption in the short time of operation now sees 5,959,420kW of capacity installed around the UK with the majority of installations being solar photovoltaic (PV). Here's the breakdown:
Anaerobic Digestion (AD) 408 (0.05%)
Hydro Electricity 1,077 (0.13%)
Micro Combined Heat & Power (CHP) 517 (0.06%)
Solar PV 805,177 (98.84%)
Wind Turbines 7,483 (0.92%)
FIT Payments and Tariffs
You get paid a FIT payment in two ways. This is in addition to the savings made from using the electricity from your renewable energy product rather than purchasing it from your energy company.
A payment for generating the electricity even if you don't use it.
An additional payment for the electricity you don't use that is exported to the National Grid for others to use.
Standard Solar Photovoltaic Rates
You are guaranteed the rate for 20 years or 10 years for Combined Heat and Power (CHP). Each quarter the starting rates are reduced by RPI inflation, although the figure you receive rises with inflation throughout your agreement.
The table below shows the FIT rates since 2015 for the three main types of solar energy installations.
| Higher Rate | 01-03/19 | 01-03/18 | 01-03/17 | 01-03/16 | 01-03/15 |
| --- | --- | --- | --- | --- | --- |
| 0-10kW | 3.87p | 3.93p | 4.11p | 4.50p | 14.40p |
| 10-50 | 4.12p | 4.15p | 4.32p | 4.70p | 12.15p |
| 50-250 | 1.73p | 1.82p | 1.99p | 2.77p | 10.26p |
| Med. Rate | 01-03/19 | 01-03/18 | 01-03/17 | 01-03/16 | 01-03/15 |
| 0-10kW | 3.49p | 3.54p | 3.70p | 4.05p | 12.96p |
| 10-50 | 3.71p | 3.74p | 3.89p | 4.23p | 10.94p |
| 50-250 | 1.55p | 1.64p | 1.79p | 2.49p | 9.24p |
| Lower Rate | 01-03/19 | 01-03/18 | 01-03/17 | 01-03/16 | 01-03/15 |
| 0-10kW | 0.15p | 0.34p | 0.52p | 0.89p | 6.62p |
| 10-50 | 0.15p | 0.34p | 0.52p | 0.89p | 6.62p |
| 50-250 | 0.15p | 0.34p | 0.52p | 0.89p | 6.62p |
The biggest change in the rates came into force on 15th January 2016 when the government cut the subsidiary for all FIT rates due to the lowering of the cost of investment in renewable technologies.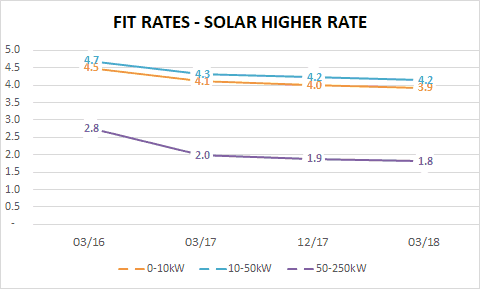 The different rates depend on the Energy Performance Certificate (EPC) and how many installations you have in total as follows:
The higher rate applies with an EPC of level D or higher issued before commissioning the solar PV, and you have less than 25 installations.
A middle rate indicates the same as the higher rate for those with 25 installations or more.
The lower rate is applicable in all circumstances if you did not have your EPC issued before commissioning the installation.
Wind Turbine Rates
The table below shows the FIT rates payable on electricity generated from wind turbines.
| Installed Capacity | 01-03/19 | 01-03/18 | 01-03/17 | 01-03/16 | 01-03/15 |
| --- | --- | --- | --- | --- | --- |
| 0-50kW | 8.42p | 8.19p | 8.26p | 8.74p | 16.87p |
| 50-100kW | 4.98p | 4.83p | 5.42p | 8.74p | 14.05p |
| 100-1,500kW | 1.58p | 2.31p | 3.51p | 5.60p | 7.64p |
| 1,500+kW | 0.48p | 0.71p | 0.82p | 0.88p | 3.24p |
Export Tariff Rates
You also receive a payment for the amount of electricity in kilowatt-hours generated from your green energy. Smart meters accurately calculate this amount. Non-smart meter buildings get paid a fixed 50% of the electricity generated.
| Renewable Type | Date Range | Payment p/kWh |
| --- | --- | --- |
| Solar Installations | 1st April 2010 – 31st July 2012 | 3.57p |
|   | 1st August 2012 to date | 5.03p |
| Non-Solar | 1st April 2010 – 30th November 2012 | 3.57p |
|   | 1st December 2012 to date | 5.03p |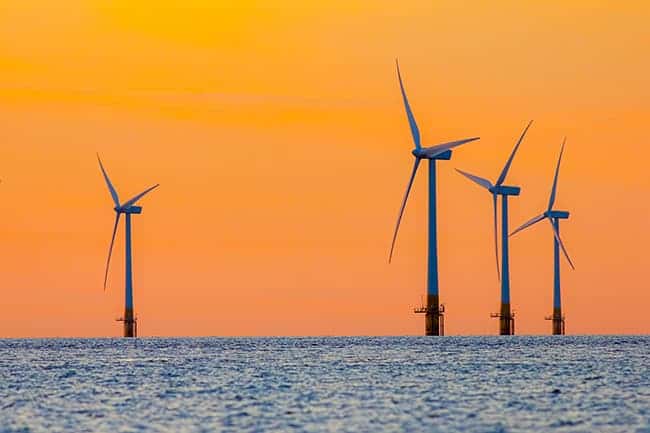 Apply For FIT/SEG Support Tariff Rates
As previously mentioned, the Feed-In-Tariff scheme has closed for new applicants and has been replaced by the Smart Export Guarantee scheme. Under SEG, all licensed energy suppliers with over 150,000 customers must offer at least one Smart Export Guarantee tariff. Smaller suppliers have the choice to offer a SEG tariff, however, they will be held to the same operational requirements as the larger companies. Tariffs are typically fixed rates or flexible rates.
The SEG scheme applies to renewable energy systems that utilise any of the following:
Solar PV panels
A domestic wind turbine
Micro combined heat and power
Anaerobic digestion
Hydro
To apply for SEG, the following factors are required
You must have one of the above renewable energy technologies that meet the standards of the Microgeneration Certification Scheme (MCS).
You must possess a Smart or AMR meter that can provide half-hourly readings.
You must have an Export MPAN (some suppliers can provide this).
You must complete the application form and provide all the required documentation such as an MCS Certificate and a completed Vendor/Bank form with the necessary supporting documents.
What is the difference between FIT and SEG?
The main difference between Feed-In-Tariffs and the Smart Export Guarantee is that FIT offers payments for both the generation and export of energy, whilst SEG only provides one payment for energy exported to the grid.
Furthermore, SEG offers you payment based on a measured amount of energy exported to the grid, whilst FIT estimates 50% of the total amount of energy generated and pays you for this.
Additionally, Ofgem and the government were responsible for FIT payment rates so they were the same regardless of the supplier.
However, with SEG, the energy suppliers set their tariff rates. FIT payments were also paid for by a levy on customer energy bills, whilst SEG is paid by the energy companies.
How much can be earned with SEG?
By guidelines, companies must pay above zero per kWh. As companies set their rates, you should compare tariffs and shop around to find the best deal.
It has been reported that approximately 5.5p per kWh could be made and the government has stated that they will step in if companies do not offer adequately competitive tariffs.
Can SEG be applied for if you already have FIT?
You cannot apply for SEG if you are already a part of the FIT scheme. You will continue to receive payments from FIT for the remainder of your contract, which usually lasts for around 20 years.
You can only apply for SEG if you opt out of the FIT scheme, however, it's worth noting that the rates for FIT were more generous than they are for SEG.
Compare business electricity rates
Save money on your electricity bills.