Get Half Hourly Meter & Large Business Electricity Prices
Compare prices today by filling in this quick form
We help thousands of businesses each year reduce their large business electricity bills.
Our free impartial service allows you to find the most competitive tariffs on the market in seconds.
TABLE OF CONTENTS
What is a Half Hourly Meter?
Half hourly electricity readings are mandatory for UK corporations using at least 100,000 kWh of electricity each year. Half hour electricity meters, also called "00" meters, measure and record consumption automatically. Large users of energy such as printers, manufacturing plants and assembly plants will have these installed.

The example meter shown has a reading of 38,177. The name half hourly is derived from the fact that these meters are automatically read by your supplier every 30 minutes, 24 hours a day, 7 days a week. Regulatory legislation makes this a mandatory requirement by law to have these meters operational.
How do They Work?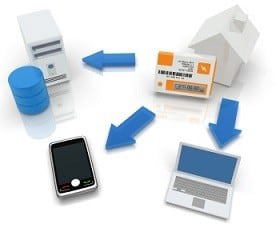 They work in the same manner as a regular meter with usage and consumption recorded. HH meters automatically transmit the data back to your power supplier via mobile phone signals or a fixed data line every 30 minutes.
Your power company stores this data and is available to access directly for further analysis.
Once you have access to your personalised data there are three main uses for this information.
Calculating a unit charge and daily rate to produce your invoices. Because the data is automatically read, bills are never estimated and are 100% accurate.
Historical data is used for negotiating on your next electricity contract.
Manage usage and implement efficiency programmes via an energy management system.
Which Businesses Have These Meters?
There are three main scenarios in which a business could have an HH meter installed as follows:
If your maximum demand in any 30-minute period is more than 100 kWh, then a mandatory meter is required. Most meters are installed due to this legal obligation.
Other business owners that require access to their consumption data every 30 minutes may request a voluntary installation.
Light usage is mainly for residential premises as part of the government roll out. These meters are also known as smart meters and perform the same tasks as a traditional meter.
All companies that have a meter with a profile of 05, 06, 07, or 08 now fall under P272 legislation and half-hourly settlements. The change from Ofgem means those companies now require a full tender of their electricity contract rather than an instant pricing quote. The future could see all business meters follow the government smart meter roll-out for residential customers extend to commercial premises so that all electricity users have some form of half hourly reading mechanism.
In 60 seconds, you can compare business electricity prices and select the tariff that's right for your company.
Compare prices
How Can I Compare HH Prices?
Smaller businesses with an annual consumption below 100,000 kWh can simply get online business electricity quotes from a variety of sources. Unfortunately for 00 meters the process is more complex, although just as straight forward.
You can either contact your current provider for their rates or use the services of an expert broker. There are additional processes involved to access the cheapest deals based on the wholesale market. Here's how it works:
Contact a broker and provide your company information such as meter number and meter address.
Provide a Data Release Letter (DRL) so that the broker can access your data from your current provider. The tendering process can't commence until your broker received this letter.
An invitation to tender (ITT) is arranged and submitted to all energy suppliers. Within a few days, a range of rates is provided for the client to review.
The pricing presented is usually only available for 24 hours due to the volatile nature of the wholesale market. Prices are always based on the current wholesale market, which are usually higher in the winter months. Speak to your broker for the best time to negotiate your rates.
Switching takes between 4-6 weeks depending on contract renewal dates.
Brokers will assist you through this entire process, saving you time and money.
Some of the customers we have worked with have literally saved over £300,000 per year because:
a) Their meters were grouped together as a "group buy" and bid together to leverage buying power.
b) Their meter types were changed to take advantage of lower night and weekend rates.
A good broker will find the right deal available for your circumstances.
Examples of Rates
It's difficult to provide examples of tariffs because every business situation is different.  The unit rate is where to concentrate efforts on as the standing charges are quite low. Here are some example rates of customers coming to us. We were able to reduce the overall annual pricing for all of them.
Compare Prices Online
Save money on your energy bills.