Average Unit kWh Prices for Business Electricity
Ever wondered what the prices per kilowatt hour (kWh) might be for your business? Check out our guide to current unit rates and compare business electricity to lower your costs.
The Big Six Suppliers
Business and Commercial Electricity Prices
Our industry-leading market knowledge enables us to procure the maximum savings on your electricity bills. If your renewal notice proposes large price increases, then let us save you money. Simply enter your details into our online quoting system to receive all tariff options available today.
In
60 seconds
, you can compare business electricity prices and select the tariff that's right for your company.
All customers using our services are guaranteed a quote that's lower than any published renewal notices received from their existing supplier. The calculator used to determine quotes has full accreditation from the Utilities Intermediaries Association, so you'll receive a fair and unbiased assessment of your needs. Access the panel of suppliers using our online tools or discuss your requirements with an advisor by calling 0800 690 6008.
What are Average Unit Costs and Daily Charges?
With wholesale prices stable for the past few years, the average retail price has also remained largely unchanged.
Direct unit charges per kWh today are similar to those from three years ago. Every contract established usually comprises from elements of a cost per unit used and a daily standing charge. As the consumption rises, the fixed fees increase, but unit costs reduce.
Current Business Electricity Prices
| Supplier | Price per kWh | Daily Charge | Annual Cost |
| --- | --- | --- | --- |
| Bulb | 12.05p | 27.40p | £1,305 |
| BG Lite | 14.03p | 22.14p | £1,484 |
| SSE | 14.08p | 23.17p | £1,493 |
| British Gas | 14.16p | 25.99p | £1,511 |
| ScottishPower | 14.16p | 26.51p | £1,513 |
| nPower | 14.30p | 23.54p | £1,516 |
| Opus | 14.82p | 25.00p | £1,573 |
| Octopus Energy | 15.04p | 26.15p | £1,599 |
| Gazprom | 14.90p | 30.04p | £1,600 |
| EDF | 15.43p | 25.00p | £1,634 |
| E.ON | 15.83p | 27.00p | £1,682 |
Prices shown represent region 12/ London for a small business using 10,000 kWh of electricity per year. Rates correct at 10th October 2019 for a one-year fixed contract. Tariffs vary by region and could change at any time.
This graph highlights the trends over the past few years. Note that the standing charges (SC) are climbing while unit costs/kWh are flat or slightly reducing. Several years ago the average SC was 21.96p whereas today it has risen to 27.00p per day. Unit rates are averaging 13.15p/kWh, which is a 48.6% increase from early 2011.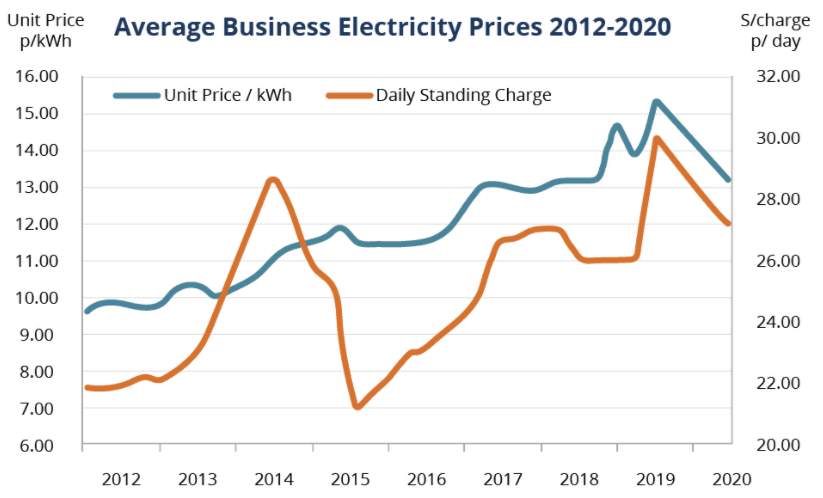 Advice on Switching to the Best Direct Deals
Overall Tips and Information
All energy contracts for commercial customers are for fixed rates for a fixed time period. These typically cover a one-year duration, although five-year long-term agreements are also available to mitigate fluctuations from the wholesale market.
Six suppliers control 95% of the market, namely, British Gas, Npower, EDF, EON, Southern Electric and ScottishPower. Alternatives available now include CNG, Gazprom, Opus & Haven Power. There are wide variations in pricing, so a comparison between all providers is always good practice.
Cheapest Commercial Electricity Rates Chart
| Name | Description | Prices |
| --- | --- | --- |
| 1. E.ON | E.ON mostly work with independent energy brokers offering aggressive pricing for SMEs. | Get latest price |
| 2. EDF | EDF supplies 21% of UK businesses with energy and offer some of the lowest rates. | Get latest price |
| 3. British Gas | The UK's largest residential supplier with competitive rates for gas & electricity. | Get latest price |
| 4. Npower | The 2nd largest commercial operator for companies looking to lower their bills. | Get latest price |
How do You Ensure Your Electricity Rates are Competitive?
The market for commercial and industrial premises works in a similar manner to residential switching services.
Changing providers or plans is an efficient and automated process driven by your supply contract. Whether you're moving, operating a change of tenancy or renewing on reduced terms, your new plan can only start when your existing arrangement expires.
By following the best practice guidelines set out below, you'll ensure you take advantage of the competitive nature of this industry and circumnavigate potential pitfalls.
Avoid rollover contracts
If you receive a renewal notice from your current provider, do not accept the automatic extension offer. Commonly known as "rollover contracts" your new charges are typically 70%-100% higher than you're currently paying.
Terminate your current agreement
It's essential you formally terminate your current agreement by email or post before the date outlined in your terms and conditions. If you don't, you're unable to change to a new contract.
Shop around for the best deals
Use our comparison tools to research all available options open to you. Over 61% of companies elect rollover contracts each year and sacrifice combined potential savings of £1.8 billion.
Out of contract and deemed rates
Ensure you formally sign a new term otherwise, you'll activate so-called "out of contract" rates. These charges are at least double what you are paying today and come into force when your contract expires.
What about Half Hourly Meters and Multi-Site Businesses?
If you're one of the 120,000 organisations in the UK operating under a half hourly metered provision, then specialist solutions are necessary to manage the negotiation and submission process. This profile class requires your details to be directly submitted to the energy suppliers to receive bespoke quotes and follow a prescribed tendering process.
Our dedicated brokering team has helped many hundreds of HH customers to reduce their invoiced costs, but also improve efficiency through management software. Multi-site operations are managed differently from individual quotes because of the volume of meters involved. We'll gather your data and request a group procurement offer for all your sites.
How Can Energy Management Systems Help My Business?
Companies can lower expenses by reducing consumption and introducing energy efficiency products. Innovations together with industry-leading desktop software help manage usage and maintain visibility via reporting analysis.
The Carbon Trust estimates that by investing in efficiency annual savings of between 10% and 20% are achievable throughout the organisation.
Helpful questions about business electricity
How much can I save by switching energy suppliers?
Companies that have never switched supplier can reap the highest monetary savings because they've allowed automatic increases to roll into their contracts. Even if you failed to change tariffs last year, you'll likely save 30% this time around.
What suppliers have a zero standing charge?
Almost all energy companies add a daily, monthly or quarterly fixed additional charge. However, we can provide tariffs that have a
zero standing charge
with a competitive kWh cost. These prices may not apply to all UK regions.
How can I get a price for my business electricity?
All businesses can obtain
live energy quotes
using our online comparison tools. Your postcode and address define your regional pricing options where you can select from a range of fixed-priced tariffs.
What is a typical price per unit of electricity?
Small businesses with average consumption usually pay between 14p and 16p per kWh plus a daily standing charge. Larger businesses with higher usage are likely to pay slightly less because of their buying power.
What are deemed contract rates?
A deemed rate is a special tariff for companies that have either recently moved into new premises or cancelled a contract without setting up a new one. There is no formal contract in place, and you can move suppliers at any time.