Compare Business Electricity Rates
Get the latest business electricity deals in less than 30 seconds & keep your competitive edge!
It's 3 easy steps. Compare prices, choose your new business electricity tariff and complete your switch online.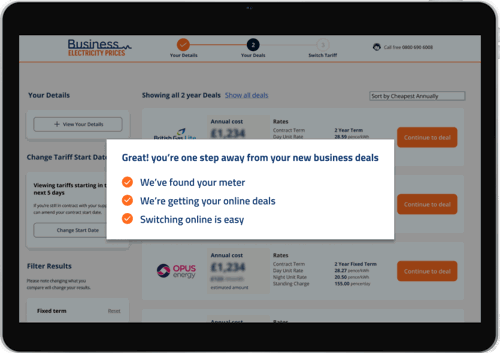 Compare Business Electricity Rates From Leading UK Suppliers
Why Compare Business Electricity Rates?
Our industry leading technology allows you to browse the latest business electricity rates at your leisure. We have built a trusted panel of suppliers to help UK companies find the best deals on their business electricity contracts.
It takes just a few clicks to complete your business electricity comparison. Once we have a few details, simply choose the best tariff for your business and then complete your switch entirely online. Should you need some advice on selecting the right business electricity tariff, our expert team are only a phone call away.
Once your switch is underway you will be assigned an account manager who will keep you up to date on the progress of your switch. We'll aim to have you with your new supplier in just 5 working days.
Also, switching your business electricity supply with us means that your dedicated account manager will be in touch when your renewal window opens again, this ensures that you avoid expensive out-of-contract rates.
What Business Electricity Tariffs Are Available?
There's no shortage of tariff options for either SMEs or larger businesses that are looking to switch their business electricity. Each tariff has its own benefits from locked-in prices to low market flexibility & renewable sources.
Fixed-Rate Tariffs

A fixed-rate tariff is one of the more popular tariffs and offered certainty around the unit price you pay regardless of wholesale prices. 

Locking in cheap business electricity for several years can offer companies valuable savings and is great for maintaining control of bills and budgeting. Fixed-rate tariffs protect businesses from electricity price increases for the period of their contract.

Variable-Rate Tariffs

Depending on the circumstances of the business, variable-rate tariffs offer great flexibility when it comes to the amount they pay from month to month. Businesses will pay the supplier's standard rate on a variable tariff, which can change each month.

Renewable Tariffs

It's important that we all reduce our carbon footprint. Often there's not much difference in the unit price of renewable tariffs and some suppliers offer 100% renewable as standard. 

Rollover Tariff

When a new contract has not been agreed at the end of the business electricity deal, customers will be placed on a rollover tariff. This is a legal contract for one year and the unit rate can be more expensive than previously paid. 

Deemed Rate Tariffs

For businesses moving into new premises or other situations where a contract has never been in place, they will be placed on a deemed rate tariff. These are some of the most expensive supplier electricity rates. 

Flexible Tariffs

Directly aimed at businesses with large consumption, a flexible tariff allows the purchase of electricity in bulk at the beginning of the contract. This offers access to cheaper unit rates inline with wholesale prices. 
What Are the Latest Business Electricity Rates per kWh (December 2023)?
Business electricity rates change daily, and in December 2023 your business will pay different rates depending on location, and overall annual energy consumption among other factors.
The table below features the latest average commercial electricity prices per kWh for December 2023.
Business Size
Annual Electricity Usage
Electricity Rate
(per kWh)
Daily Standing Charge
Estimated Annual Cost
Micro Business

0 - 5,000
kWh

28p

69.4p

£1,645.62

Small Business

5,000 - 15,000
kWh

28p

76.9p

£4,481.42

Medium Business

15,000 - 25,000
kWh

28.6p

76.9p

£7,435.96

Large Business

25,000 - 50,000
kWh

28p

120.2p

£14,444.53

Very Large Business

50,000 - 100,000
kWh

27.8p

120.2p

£28,217.63

Data is correct as of 1 December 2023. Business electricity rates are based on a two-year contract taken from a UK average price of tariffs from Love Energy Savings' panel of suppliers. The table is the average business electricity unit rates per kWh, standing charge, and the annual cost based on yearly minimum kWh usage banding. Business electricity quotes may be impacted by meter type and business location.
How To Compare Business Electricity Rates That Are Competitive?
The business energy market is ever-changing and it can be hard to predict how business electricity rates are going to change. Here are some top tips to keep in mind to find cheap business electricity rates and switch smoothly. 
Terminate your current agreement
It's essential you formally terminate your current agreement by email or post before the date outlined in your terms and conditions. If you don't, you're unable to change to a new contract.
Simple business electricity comparison
Use our business electricity comparison tools to research all available options open to you. Over 61% of companies elect rollover contracts each year and sacrifice a combined potential savings of £1.8 billion.
Out of contract and deemed rates
Ensure you formally sign a new term otherwise; you will activate so-called "out of contract" rates. These charges are at least double what you are paying today and come into force when your contract expires.
In 30 seconds, you can compare business electricity prices and select the tariff that's right for your company.
Find a new deal
What Costs Make Up Business Electricity Prices?
Your business electricity bill will usually include several charges that make up the final sum. These are:
Unit rate (charged in pence per kWh)
Daily standing charge (charge at a rate of pence per day)
VAT at 20%
Climate Change Levy (CCL)
Your pence per kWh price is what you pay for each kWh of energy you use. Most energy contracts will have a standing charge paid as a daily rate (although some contracts have no standing charge, but charge more in their unit rate). Businesses will pay the standing charge regardless of how much energy they have used that day.
There are also taxation costs when calculating your overall business electricity bills. Businesses pay VAT at the current rate of 20%, whereas residential customers pay a reduced rate of 5%. A business is also subject to additional green taxes such as the Climate Change Levy (CCL), which is 0.775p for electricity and 0.672p for gas for the period April 2023 to March 31st 2024.
If you're thinking of switching to a new business electricity supplier, it's best to compare your annual bill rather than the absolute rates from any business electricity quote you receive.
Even if you find a tariff with cheaper business electricity rates per kWh, there may be a higher standing charge to pay. Use your past year's consumption data to compare prices from one supplier to the next.
Are Business Electricity Rates Rising or Falling?
Now that we are in December 2023, we can see the price of business electricity has been going one way for quite a while: down.
Several factors combined to send energy prices skywards throughout much of 2022, but what you may not have seen on the news is that electricity unit rates have been dropping every month since October 2022.
We've run the numbers and found that the three cheapest electricity tariffs have been lower than the previous month for the best part of a year now. As such, prices have fallen from close to 80p per kWh in October 2022 to 27.9p in October 2023.
This amounts to a 64% reduction, a decrease of 51.32p per kWh, and a saving of almost £12,830 a year for a business using 25,000 kWh of electricity a year.


Average Business Electricity Rates in 2023
| Business Size | Maximum Annual Electricity Usage (kWh) | Average Electricity Rate 2023 (p per kWh) |
| --- | --- | --- |
| Small Business | 15,000 kWh | 35.1p |
| Medium Business | 25,000 kWh | 35.4p |
| Large Business | 50,000 kWh | 35.2p |

Average 2023 business electricity rates are calculated using the average UK-wide price of our panel electricity suppliers for the maximum electricity band and a 03-profile class, for contracts beginning on the 1st of every month in 2023, between January and December 2023.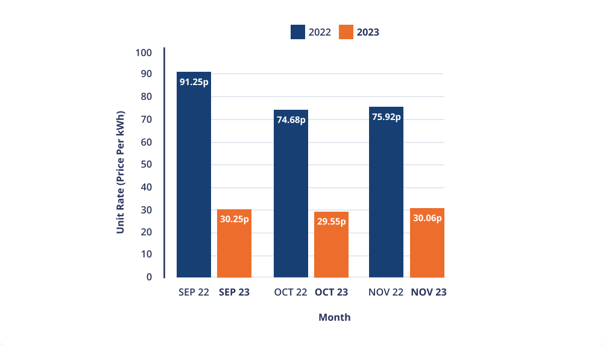 What Are the Cheapest Business Electricity Rates?
| November 2022 | February 2023 | June 2023 | September 2023 | December 2023 |
| --- | --- | --- | --- | --- |
| 71.70p | 36.98p | 29.62p | 28.40p | 30.06p |
Rates displayed are in p per kWh and are calculated using the average price of our three cheapest business electricity suppliers on usage of 25,000 kWh/year & a 03-profile class, between 01.11.2022 and 01.12.2023.
In 30 seconds, you can compare business electricity prices and select the tariff that's right for your company.
Find a new deal
Latest Business Electricity Rates Per kWh By Supplier
Supplier
Electricity Rate
(p/per kWh)
Standing Charge
Monthly Price
Full Year Price
32.8p
62.3p
£702.17
£8,426.03
27.5p
70p
£593.90
£7,126.75
26.2p
185.2p
£602.49
£7,229.87
26.5p
97.9p
£581.60
£6,979.21
28.1p
25p
£592.92
£7,115.06
28.5p
63.1p
£613.79
£7,365.50
32.7p
42.3p
£695.04
£8,340.53
Data correct as of December 2023. Full-year prices are based on a two-year business contract commencing on December 1 2023, with a 25,000 kWh annual usage. Prices reflect a live market and are subject to fluctuation.
Energy Bill Discount Scheme For Businesses
As many businesses are feeling the pinch when it comes to electricity bills, the government has introduced the Energy Bill Discount Scheme (EBDS). This offers companies varying levels of discount on their electricity usage between April 2023 and March 2024.
You don't need to apply for the discount and you can still secure a fixed-rate deal that will not impact your eligibility. The EBDS only becomes active during periods of high wholesale electricity rates and is subject to a maximum discount.
| Business Size | Wholesale Rates Threshold* | Maximum Discount* |
| --- | --- | --- |
| Normal Businesses (not electricity-intensive industries) | 30.2p/kWh | 1.961p/kWh |
| Electricity Intensive Industries | 18.5p/kWh | 8.9p/kWh |
In 30 seconds, you can compare business electricity prices and select the tariff that's right for your company.
Find a new deal
Small Business Electricity Prices
Small business electricity prices are impacted by external factors as much as any other business, and day by day, nobody knows if wholesale electricity prices will be higher or lower in 2 to 3 years. As the impact of higher electricity prices can have a significant impact on small business outgoings, many choose a longer deal for guaranteed security.
The truth is nobody knows with absolute certainty if wholesale electricity prices will go up or down. Many things impact these prices and things could change overnight. We can make predictions, but many prefer the security of knowing what they will pay. And the best way to be secure that you have the best small business electricity rates locked in, is to compare with us.
Here, you can find a more detailed breakdown of small and micro business's electricity prices that looks at what you can pay for your electricity according to your business size, usage, and contract preference:
Data correct as of December 2023. Annual cost based on the maximum kWh usage within each business size banding. These prices reflect a live market and are subject to fluctuation.
How to Find the Cheapest Small Business Electricity Rates
New customers often receive the best business electricity rates.
Businesses that fail to switch or renegotiate before the end of their contract will be placed on a rollover contract. This is frustrating for small businesses who may struggle to find the time to compare business electricity and consider the best tariffs for their business.
However, the time trade-off with potential savings is often worth it. We've also made comparing business electricity quick and simple, so you can get back to doing what you do best.
The main options available when assessing small business electricity is:
Renew with your current provider (often at much higher rates)
Compare more than 50 business electricity suppliers yourself to find the best deal
Use a comparison expert to find the best electricity prices
The first two require your own time and effort. You may miss out on some deals depending on the service you use. Only contacting your current provider means missing out on a large part of the market.
By comparing with Business Electricity Prices, you will have instant access to competitive tariffs. You can compare suppliers from the 'big six' with smaller independent providers and choose the deal that's right for you.
What Is the Average Small & Micro Business Electricity Price (2-Year Fixed Contract, December 2023)
Business Size
Unit Price/ kWh
Standing Charge
Annual Cost
Micro
(up to 5,000kWh)

28p

69.4p

£1,645.62

Small
(5,000-15,000kWh)

28p

76.9p

£4,481.42
What Is the Average Small & Micro Business Electricity Price (3-Year Fixed Contract, December 2023)?
Business Size
Unit Price/ kWh
Standing Charge
Annual Cost
Micro 
(up to 5,000kWh)

28.4p

69.3p

£1,668.77

Small
(5,000-15,000kWh)

28.4p

76.8p

£4,540.49
Large Business Energy
Commercial Electricity Rates
When it comes to commercial energy solutions each business has unique requirements and we take this approach by building your tariff from the ground up. Incorporating energy management systems, and ISO 50001 requirements; right through to meter installation, we have you covered.
Options for corporate energy solutions include buying from wholesale suppliers and collective buying schemes. It can often be difficult to understand which is better for your business. Our team has worked with thousands of large businesses in the UK to help them build the right business electricity deal.
Switching your business contract with us means you will have access to various management tools. This helps with managing energy efficiency and controlling costs. Your account manager is on hand if you have any questions or worries about your levels of usage.
Your account manager will remind you when renewal opens and if you could be getting cheaper business electricity from a better supplier.
This ensures you get a handle on your business electricity prices. You will never be placed on an expensive rollover contract.





Energy Management Software
Energy Management Software solutions deliver the ability to monitor, analyse and communicate energy consumption trends internally can bring substantial savings to the company.
If you have a half-hourly or smart meter installed on your premises, then you can control your data using a range of integrated software solutions. Energy management allows your company to track actual usage versus averages and conduct research to investigate where potential savings are available.
How Much Do Large Businesses Spend On Electricity? 
Based on business electricity prices analysed in August 2023, the average large business in the usage band of 50,000 to 100,000 kWh of electricity can expect to pay a unit rate of 29.70p and a daily standing charge of 175p. This equates to an annual cost of £30,369 (rounded up). 
A standard rate of 20% is applied to business energy. Some businesses may be eligible for a VAT reduction. You can read more about that here.
For more information and help to select the right business energy suppliers, please contact our Corporate Team at 0800 690 6008. They will help with procurement, invoicing, quotations, tendering and management software.
Do Business Electricity Rates Vary By Region?
There is a regional variance to the unit price you would typically pay. To give you an idea of the difference in each region, there's a breakdown below of the average business electricity rates in December 2023. Of course, many other factors will impact the price you pay. For an accurate business electricity quote, compare today's prices. 
Region 
Electricity Unit Price (p/kWh)
Daily Standing Charge
(p/kWh)
Annual Electricity Price (£)
London

27.3p

55.3p

£7,027

North East

28.7p

84.7p

£7,490

North West

28.4p

68.8p

£7,361

East Midlands

27.9p

72.5p

£7,242

West Midlands

28.2p

79.2p

£7,344

Yorkshire

28.2p

79.8p

£7,335

East

27.8p

61.8p

£7,177

South East

28.1p

67.4p

£7,271

South West

29p

84.4p

£7,555

South

28.4p

72.2p

£7,371

North Scotland

29.7p

76.7p

£7,707

Central and Southern Scotland

29.5p

95.6p

£7,712

North Wales, Merseyside and Cheshire

30.8p

97.2p

£8,053

South Wales

28.6p

81.2p

£7,459
Data correct as of December 2023. Full-year prices are based on a two-year business contract commencing on December 1 2023, with a 25,000 kWh annual usage. Prices reflect a live market and are subject to fluctuation.
In 30 seconds, you can compare business electricity prices and select the tariff that's right for your company.
Find a new deal
Business Electricity Rates FAQs
How Much Can I Save by Switching Business Electricity?

If your business has never switched, or it's been a few years since you switched, you are likely to have allowed automatic increases to roll into your contracts.

This will mean that you will be paying much more than you need to for your business electricity.

Even if you only failed to change tariffs last year, you may save this time around by comparing business electricity prices.

Can I Switch to a No Standing Charge Tariff?

Most business electricity contracts will come with a daily standing charge which remains the same no matter how much electricity you have used that day.

However, many providers will not offer an electricity tariff with a zero standing charge with a competitive kWh cost.

No standing charge tariffs can benefit businesses which operate seasonally and those that open just a few days a week.

What is a Typical Price Per Unit of Electricity for Businesses in 2023?

The average business electricity unit price in 2023 is 31.3 pence per kWh.

The average price for small businesses is 31.10 pence per kWh with large businesses currently charged an average of 31 pence per kWh.

These prices are based on example rates of business electricity tariffs 2 year fixed rate tariff in 2023. For the most accurate rates, use our comparison engine to compare business electricity prices today.

Is Business Electricity Cheaper Than Domestic?

Business electricity prices tend to be cheaper than domestic. This is because providers usually only buy your supply of electricity once the new contract has been agreed upon. This means that if the company agrees to a 4-year contract, the supplier will purchase the electricity to cover the full contracted period at the best business electricity rates available. These prices are usually in line with the wholesale market.

How Can Energy Management Systems Help My Business?

Companies can lower expenses by reducing consumption and introducing energy-efficiency products. Innovations together with industry-leading desktop software help manage usage and maintain visibility via reporting analysis.

The Carbon Trust estimates that investing in efficiency annual savings of between 10% and 20% are achievable throughout the organisation.

What Does 'kWh' Mean?

A kilowatt hour (kWh) is the name given to a unit of energy and is the standard unit used by energy suppliers to calculate gas and electricity bills.

The kWh lets you know how much electricity your business is using and how much you're paying for it. This is calculated on a price per kWh basis. 1 kWh would approximately equate to using a desktop computer for 3 hours or boiling a kettle 10 times.

Understanding Your Business Electricity Bill

Whilst electricity bills are easy to understand and are universal across different providers, there are a few differences between domestic and business electricity contracts. You can read more in our guide to understanding your business electricity bill.

What Is The VAT Rate On Business Electricity?

The standard VAT charge on business electricity is 20%. Some companies may be eligible for a discount of 5% if you mainly use the electricity supply for domestic purposes (60%) or you're a non-profit charity.

Are Business Electricity Rates Cheaper At Night?

Business electricity rates largely depend on the type of tariff you're on. For example, if you're using a multi-rate meter, you may have access to cheaper rates at night.

How Long Does It Take To Switch Business Electricity?

We'll aim to switch you to your new supplier within 5 working days. 





What Is Classed As A Large Business? 

Businesses consuming more than 55,000 kWh of business electricity per year are classed as large business users. 

What Is A Meter Point Administration Number (MPAN) Used For?

MPAN is short for Meter Point Administration Number. This is a unique identifier that is assigned to each electric meter. These numbers are 21 digits long and can be found on your business electricity bill or on your meter. 

What Is The Difference Between a Small Business and a Micro Business?

A micro-business is defined by the EU as having less than ten employees or a turnover of less than £1.8 million. This definition would cover most of the 4.4 million businesses operating in the UK.

Ofgem made changes in the contract terms that electricity suppliers provide for these companies. The changes have made renewal and switching of contracts are now much clearer for micro businesses. The contracted electricity provider must let you when your contract is up for renewal.

Before this change, it could be difficult to find out when your renewal was due. Dates for switching or negotiating a new contract may have been hidden in lengthy terms and conditions. The contract would renew automatically for another year under more expensive terms. The change made is for new contracts and is not retrospective.

However, small businesses are only able to switch electricity suppliers once they have entered their renewal window. This is often anywhere from 6 to 12 months before the contract end date. This renewal window is a great opportunity to watch the energy market and lock in a great business electricity contract.

How to Reduce Small Business Electricity Bills?

Further savings can be made by paying your bills by monthly direct debit. Normally, quotes include this discount. So, if you select to pay manually, an additional 2%-5% will be added to your invoice.

A great way to reduce the cost of business electricity is to conduct a business energy audit. You can read more about that here.
Compare Business Electricity Rates
See the best business electricity deals currently available!