Compare Business Gas Prices & Tariffs
Complete the following form to receive the lowest gas prices for your business.
If your business has a gas connection, it's vital to ensure you're getting the best business gas deal possible.
It's rare for commercial contracts to be offered as a dual fuel contract. Business electricity and gas pricing comparisons will often need separate negotiations. This can make the process of switching business gas suppliers seem incredibly time-consuming.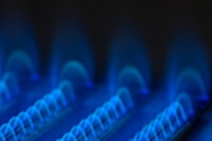 At Business Electricity Prices, we aim to make finding great business gas deals simple. With our trusted suppliers, you can choose from a wide range of tariffs at competitive prices.
To find out how much you can save, simply request a quick online quote. All we need from you is your business address and a few contact details. We will then get to work finding a great business gas prices for you.
Compare 2020 Business Gas Prices
| Supplier | Price per kWh | Daily Charge | Annual Cost |
| --- | --- | --- | --- |
| CNG | 3p | 79p | £1,039 |
| Opus | 3.83p | 18p | £1.023 |
| British Gas | 3.81p | 30p | £1,062 |
| EDF | 4p | 25p | £1,091 |
| BG Lite | 3.04p | 45p | £924 |
| Octopus | 3.92p | 21p | £1,056 |
| Gazprom | 3.96p | 20p | £1,064 |
| ScottishPower | 3.75p | 25p | £1,028 |
| E.ON | 3.54p | 31p | £998 |
Figures rounded to two decimal places. The example prices shown are for a postcode in the North West region for a business using 25,000 kWh of gas per year. Rates correct as of 28th August 2020 for a one-year fixed-term contract. Tariffs vary by region, business gas supplier, and could change at any time.
In the example above, a small business user could save almost 20% by switching gas suppliers. Therefore, no matter what business you're in, you should compare business gas prices each year.
Businesses with a higher gas consumption can often access cheaper prices than those listed. It is always worth comparing business gas prices to find the right deal for your needs.
At Business Electricity Prices, we've built strong relationships with energy suppliers. We'll negotiate with suppliers on your behalf to deliver the best prices possible. When you compare business gas suppliers, you can simply choose the right deal for your business.
Why Choose us for Your Business Gas Comparison?
It's our goal to help you save as much as possible on your commercial energy bills. By comparing business gas prices with us, you can receive the following benefits.
1: Free No-obligation Quotes
We provide an effortless way to compare gas suppliers quickly. You'll be provided with a range of competitive business energy quotes. We'll select the cheapest options for your business using our specialist industry knowledge.
If you choose one of these, we'll also switch you over to your new contract free of charge.
2: Simple Switching Process
Once you've chosen the right deal for your business, we'll take care of the entire switching process. We'll manage all arrangements between your suppliers to make your switch hassle free.
3: Dedicated Account Managers
To make your switch even easier, you'll be provided with a dedicated account manager. They will be your one point of contact throughout your switch. They'll look after your account and make sure you never overpay for business gas again.
4: Great Savings
By switching with Business Electricity Prices, you will have access to great savings. We've helped UK businesses save over £19.7 million on their gas bills. On average, our typical gas customer saving is £386.
We'll even be in touch with you towards the end of your contract to make sure you stay on the right tariff.
How do I Switch to a Cheaper Business Gas Tariff?
The rules for business energy suppliers are different from those for domestic suppliers. Business energy suppliers are only required to provide micro businesses with renewal letters. This means that if businesses don't stay on top of their renewal dates, they could be left on uncompetitive rates.
If your business hasn't switched suppliers for a few years, you may be overpaying for your business gas. The easiest way to find out if you're overpaying is to run a business gas comparison.
What Affects My Business Gas Prices?
You will find that gas prices can vary greatly from business to business. Your quotes will be affected by the following factors:
Your business location
The size of your premises
Your current energy supplier
Your current business gas spend
Your current business gas consumption
Your meter type
What makes up my Business Gas Bill?
Once the factors above have been taken into account, your business gas prices will be broken down into two main charges. These are your unit rate (or price per kWh) and standing charges.
Your unit rate is how much you are charged for each unit of energy you use. This is charged in pence per kWh. The average business gas price per kWh in 2021 is 2.058 pence per kWh.
Your standing charge is a set daily fee. This is paid regardless of how much energy you have used that day. A standing charge covers the cost of your provider supplying energy to your business.
You should also take into account the effect of taxes on your business gas bill. Businesses are required to pay VAT at a higher rate of 20%. On top of this, businesses must pay the Climate Change Levy (CCL). This is an environmental tax which is added to your bill.
It's important to consider all costs before switching business gas suppliers. A tariff with a lower unit rate and a high standing charge could cost you more in the long term.
How to Choose the Right Business Gas Tariff
It's important to consider your business needs before comparing business gas prices. Think about the way your business consumes energy. This could be how much energy you use, the type of energy you use, or when your business consumes energy.
If your business operates seasonally, a no standing charge tariff could offer the best savings. With a no standing charge tariff, you won't be charged any fees when you are not using your business gas.
Large businesses who consume more than 200,000 kWh of gas a year can often access exclusive deals. Due to the amount of energy used, large businesses need to access tariffs tailored to their needs. At Business Electricity Prices, we have a large business team who are specialists in finding great deals for high energy consumption customers.
For small and micro business, controlling costs will often be vital. Several business gas suppliers offer deals specifically targeted to small businesses. These can include tariffs with a fully online service to reduce overheads and costs.
The Easy Way to Switch Business Gas Suppliers
With Business Electricity Prices, the gas switching process is straightforward.
Once you've chosen your business gas contract, we'll send you your new agreement for approval. Just sign this and send it back to us. We'll then arrange the transfer of your contract. When received, we'll submit the switching paperwork to your new provider. You'll start to receive your new invoices within a few weeks.
Our services won't end there though. We'll be with you throughout your entire contract term. We'll even remind you to shop around again three months before your next renewal date so that you're not rolled over to higher prices or placed onto deemed rates.
It really is that straightforward. So, why not see if you can save money by comparing business gas prices today?
How to Reduce Your Business Gas Rates Even Further
Much like the domestic market, business owners can reduce their bills further by making small changes to the way they conduct their cost control. Here are three more ways to keep your invoices low.
Check Business Gas Prices Each Year
As is the case with all costs in a business, you should seek out new gas prices each year. This will ensure you're on the most competitive tariff. Much like electric, you'll be placed on a new fixed-term contract, for at least one year. Choose the tariffs that are most suitable for your business and include the features you need.
Seek Out Further Savings
Additional ways to save money include paying by fixed monthly Direct Debit. Direct Debit mandates can save you between 2% and 4% each year on your gas costs.
These automated payments are easy to set up and monitor. Your Account Manager can help you with this.
Reduce Consumption
Energy providers are keen to reduce the amount of fuel your business consumes each year. They can provide help and guidance to make your business more efficient. One of the most effective ways to reduce your consumption is to carry out a business energy audit.
Business Gas Prices FAQs
When can I switch gas energy suppliers?

To avoid early exit fees, it is best to switch business gas suppliers when your current contract is coming to an end and is up for renewal. If your business is moving locations, you may be able to change suppliers without any early exit penalties as contrasts are typically attached to the premises instead of the business itself.

What information do I need to compare business gas suppliers?

To ensure that you get a suitable quote for your business gas, you should ensure that you know the following information when comparing business gas prices:

The business' postcode
Your average annual gas consumption
The end date of your current contract
Meter Number (MPRN)

What kind of business gas contracts are available?

There are a number of different types of commercial gas tariffs available. You can typically choose between:

Fixed rate tariffs – With this type of tariff, your payments stay the same throughout your contract, which means you won't be affected by gas price changes. Contracts of this kind can last between one and five years.
Flexible tariffs – The monthly price you pay on a flexible tariff can be subject to change. However, you are able to pay for the gas your business needs upfront and you could benefit from low rates from market fluctuations. Bear in mind that prices may drop after you've purchased. Switching from a flexible tariff usually only requires 30 days' notice, but you should check with your supplier.
Eco-friendly tariffs – If you want your business to be more environmentally friendly, you could choose an eco-tariff where your gas supply is generated from renewable energy sources such as biogas. As green gas is not as developed as green electricity, it may not be available to all businesses. Therefore, you should compare quotes to find the most suitable option.
Pass-through contracts – These types of contracts involve a certain degree of risk. Your business gas bill will be split into two components, one being for "fixed" power and the other being for non-commodity costs which may vary over time. The risk comes from there being a chance that these non-commodity costs may rise.

How much could I save by switching gas providers?

Your savings through switching will depend on the size of your business, including the number of employees. The level of efficiency within your business will also have an impact. If you haven't switched gas suppliers for a while, considerable savings can be made. It is best to compare business gas tariffs to find this out.

How long will it take to switch business gas suppliers?

Switching business gas suppliers can take around four to six weeks in total. You should ensure that you provide your new energy supplier with all the details they need about your business in order to prevent any delays.

Do I have to pay a standing charge on my business gas?

It is possible to get a contract for your business with no standing charge. This is not always the cheapest option due to higher unit prices, but it could be beneficial if your usage is low. For example, this could be a suitable choice for a business that closes during weekends or only runs seasonally.

What if my business is multi-site?

If your business operates across multiple locations, some suppliers may offer you a discount on your energy use.

Our expert team can help you consolidate your billing and reduce your business gas costs if you have a multi-site business.

How could I monitor my business energy use?

To monitor your business energy usage, you can invest in products such as smart meters to find out how energy is being used on the premises. These devices also enable more accurate bills. Talk to your supplier about getting a smart meter for your business.

What factors affect gas prices?

Gas prices will vary for different businesses because all companies have different energy requirements. Your business gas prices are typically influenced by the following factors:

The size of the business (i.e. micro, small, large or multi-site. Further impacted by the size of the premises and number of staff)
Gas consumption (kWh)
Location
Supplier
Standing Charge
Meter type
Selected tariff
VAT (standard rate for UK businesses is 20%, though some businesses may be eligible for 15% if they have lower consumption or if they are a charity or non-profit organisation.)
Compare Prices Online
Save money on your energy bills.