Take the hassle out of energy bill breakdowns
Compare a range of energy deals in less than 30 seconds.
It's 3 easy steps. See the latest energy deals, choose your new tariff and complete online.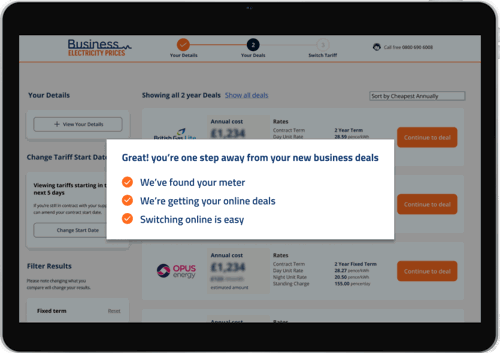 Save on Business Electricity
Electricity Cost Calculator UK by Device
Ever wondered what differences turning equipment completely off makes? There's lots of discussion around workplace energy efficiency but many businesses waste money with high energy consumption every year.
There's much discussion about energy efficiency in the workplace and businesses are increasingly seeking to reduce their energy usage. Turning appliances off may seem negligible towards large energy bill savings, but you would be surprised what impact it makes.
We've created an electricity cost calculator to help you understand the savings available through simple workplace changes.
To use our electricity cost calculator, simply choose the type of appliance, set the hours used per day, your current unit cost per kWh and the number of devices your business uses. You can then instantly view the kWh used each month and your monthly and yearly cost.
How an average business can save £1,411 per year on electricity cost
Remember when your parents told you to turn the light off when leaving the room? The same applies to workplace equipment. Many of us leave desktop computers on standby overnight and this actually eats up a large amount of electricity throughout the year. In fact, a desktop computer on in screensaver mode it uses the same amount of electricity when in use.
If you use the electricity cost calculator to estimate the costs with the average amount of employees that leave their computer on overnight, you will see a large amount of electricity cost that could be saved and invested elsewhere in the business.
Switching Devices Off When Not in Use
Let's take an example of an office that has ten desktops using them for eight hours per day and turning them off overnight. Using the calculator above, their annual cost at 14p/kWh would be £70.56 per year per computer or £705.60 for all ten. If they were not switched off entirely overnight, the same electrical consumption would take place requiring another 16 hours per day usage.
By not switching off ten desktop computers overnight would cost an average company an additional £1,411.20 per year in electricity costs.
Imagine then a company with 100 desktop computers kept powered-on 24 hours per day (but switched off over the weekends). In this case, they would waste £14,112 per year.
Calculations: 250W per computer = 0.25 kWh x 8 hours/day x 21 days/month x 14p/kWh x 12 months = £70.56. Think about what your business could do with the money saved from reducing your electricity bill through this simple change.
Cutting Your Business Electricity Costs Made Easy
The message on energy efficiency is to simply turn devices off that are not required during non-working hours. Most savings are made by switching off computers, heating and cooling appliances due to their higher consumption levels. Energy savings can still be made by switching lights off. According to our electricity cost calculator, turning 50 light bulbs off overnight will save an average £1,129 per year.
Desktop Computers Versus Laptops
These days the initial pricing for laptops is similar to desktop systems so thought should be given to the energy required to run each type.
An average desktop with an LCD screen consumes 250W.
An average laptop computer consumes 45W.
By using laptops instead of desktops produces an energy saving of 82%. Whilst using ten desktops per year costs £706, the equivalent ten laptops costs just £127 per year.
Electricity Cost Calculator Chart
Most businesses should have a contract price of between 9p and 16p per kWh together with a daily standing charge of approximately 20p. Taking an average 14p/kWh contract, an 8 hour day and 21 working day month, the following total year costs are calculated:
| Description | Usage/ Month | Cost/ Year |
| --- | --- | --- |
| 3,250W integrated air-conditioning | 546 kWh | £917 |
| 1,200W portable air-conditioner | 202 kWh | £339 |
| 100W medium portable fan | 17 kWh | £28 |
| 900W electric radiator | 151 kWh | £254 |
| 100W refrigerator | 17 kWh | £28 |
| 40W light bulb | 6.7 kWh | £11 |
| 13W fluorescent tube | 2.2 kWh | £3.67 |
| 18W mobile phone charger | 3 kWh | £5.08 |
| 250W desktop computer with LCD screen | 42 kWh | £71 |
| 45W laptop computer | 7.6 kWh | £13 |
| 270W 42″ plasma television | 45 kWh | £76 |
| 125W 32″ LCD television | 21 kWh | £35 |
The benefits of switching business electricity supplier
Regardless of how much time you invest in energy saving measures, you could see any potential savings disappear if you're paying too much for your business electricity. If your business electricity contract is approaching its renewal period, it is vital that you compare suppliers to find the best prices.
Renewal rates are regularly significantly higher than a supplier's cheapest deal and will often leave you overpaying for the electricity you use. By comparing with Business Electricity Prices, you can view the best available rates from a wide range of electricity suppliers in seconds.
For instant business electricity quotes, simply complete our quick online electricity quote calculator.
Electricity Cost Calculator FAQs
How are electricity costs calculated?

There are a number of costs that go into making your business electricity costs. The two main costs are your unit rate and your standing charges. Your unit rate is measured in kilowatt hours (kWh) and is the amount you are charged for the electricity you use.

Your standing charge is a flat fee which is charged daily regardless of how much electricity you have used that day. Businesses will also pay VAT at 20% on their electricity bills and an environmental tax known as the Climate Change Levy (CCL).

What is the average cost of business electricity?

Currently the average unit price of business electricity is 13.26p per kWh. However, this will vary depending on the size of your business, the type of business you run and your location.

When comparing electricity prices, it's important you consider the full cost of your overall energy bill including standing charges. The cheapest unit price on offer may not always lead to the cheapest overall electricity bill.

How can I monitor my businesses energy use?

There are a number of options available to businesses seeking to monitor the energy they use from standard energy monitors to energy management software programs. A standard energy monitor will automatically collect data from meter electricity pulses and provide basic data such as your current usage and costs with averages from the previous days and weeks.

Energy management software allows you to track actual usage versus averages and carry out research to investigate where potential energy savings are available. They are often more suitable for large businesses with high energy consumption.
Compare business electricity rates
Save money on your electricity bills.