British Gas supply energy to more businesses than any other provider. How do they compare in this competitive market? The majority of UK businesses has their gas and electricity supplied by British Gas. This high market share is due to two main reasons:
They're the incumbent provider in most cases.
Their prices are some of the lowest in the industry.
BG offer competitive pricing for SMEs and always offers to beat any renewal letter and price match their competitors. Bear in mind that renewal letters present pricing that is normally 30%-40% higher than your current contract. It's therefore always best to undertake a comparison of all available tariffs in the market before committing for another 12 months.
Information on Products Available
BG offer some of the most competitive rates for their SME customers on 03 and 04 profile meters. Most unit prices range between 13.5p and 15.5p per kWh with a daily charge of 28p.
Despite making huge profits each year, the parent company Centrica, win industry awards for their customer service commitment and general positive attitude for competitive pricing.
BG currently service over 950,000 UK businesses and you could save money on your current deal by switching.
There is a wide choice of contract types available all on fixed term rates. Their call centres are based in the UK to service your account. You also receive expert advice and guidance from their energy specialists to help reduce your consumption. All their additional services to manage your account are offered at no cost to your organisation.
One, two or three year fixed priced contracts are available. Once in contract you can not switch to another provider, but almost all providers work in this manner.
Quotes can be received directly from their website or available from comparison sites or via their broker channel. Switching is easy and the documentation process is handled by British Gas for a smooth transition to their team.
Tariffs and Contract Rates Provided
The portfolio of contracts on offer is not branded per se and is simply named after the contract term. This offers simplicity when selecting which deal is best for you. All standard quotes include a 6% discount for paying by fixed monthly direct debit. If you want to pay by cash or cheque then the quotes are increased by just over 6%.
You're offered one, two or three year contract lengths. The pricing increases the longer the term selected. For example a two year contract is 6.3% higher than a one year and three years is 13.3% higher than a one year.
Although the standing charge reduces the unit price per kilowatt hour increases. When comparing tariffs you should use the annual payment for comparison purposes. A recent customer example is presented below in the graphic.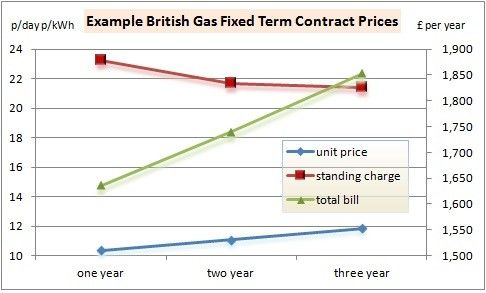 Current Special Offers and Discounts
There are generally a range of special offers during the year examples are set out below:
BGB guarantee to beat any current renewal letter by at least 10%. This is an easy claim to make because most renewal letters have increases of 50%+ so be careful with this offer.
Save up to £600 per year for gas contract renewals for annual consumption of less than 80,000 kWh.
Save more on multi site quotes for more than 20 premises under the same account. A broker may be able to process a better deal because of your increased buying power.
BG offer your business direct access to account managers to help with energy management and billing.
You also have various other tariff options to cap prices over the duration of your contract.
To reduce your Climate Change Levy to zero various 100% renewable energy green tariffs are available. There may be a small premium to upgrade to some of these tariffs.
UK only based call centres for customer service enquiries.
Online quotes from their website are accessed in less than 45 seconds using their fully integrated website. You can't compare with other suppliers and you'll be contacted within 30 to 40 minutes of entering your data.
If you're with another provider you'll be switched by British Gas and they will handle all the necessary contract paperwork on your behalf.
Fuel Mix
Most providers rely on nuclear, coal fired or natural gas to provide energy to homes and businesses. In the coming years British Gas has investment plans to increase their reliance on alternative fuel sources which are 100% renewable. Over the past ten years the renewable mix has increased from 6.6% to 40% with their current fuel mix disclosure as follows:
Coal Fired 11%
Natural Gas 35%
Nuclear energy 10%
Renewable energy 40%
Other fuels 4%
CO2 emissions 252 g/kWh
High-level radioactive waste – 0.0007 g/kWh
Free Energy Management Advice
BG also offers energy management advice to improve efficiency in your business. The Energy Savings Report helps you reduce your energy usage through changes to how you use energy. The report suggestions together with competitive tariffs ensure your annual bills are as low as possible. Your business wins by reducing consumption and having the lowest unit rates and standing charges.
Clearer Contracts
If you're classed as a micro business BG will serve a renewal letter each year detailing their rollover rates. Although these will be expensive, they have committed to providing the data to help you choose the correct tariff next year.
They detail all out of contract rates if you terminate and don't renew together with your end dates. They don't provide your current rates so you can't compare the increases. If you receive a British Gas renewal letter, then please call our team to find the best available prices today.
Customer Services Contact Information
Here are the direct dial telephone numbers if you're a new or existing customer and want to speak to someone about your bill. Larger customers should speak with their account manager directly.
Sales line/ new customers – 0800 690 6008
Existing customers – 0800 690 6008
Boiler maintenance and repair plans – 0333 202 9462
Boiler breakdown emergency – 0333 122 3643
Notify of moving premises – 0333 2209 320
Connections and metering services – 0333 331 8838
Billing queries – 0330 037 5283
Payments, refunds and Direct Debit – 0333 122 9439
Smart meters and meter reads – 0330 037 5283
Most lines are open during normal office hours of Monday to Friday from 8.00am to 5.30pm and Saturdays from 9am to 1pm. For emergencies, there should be a contact number on the top of your latest invoice or you can email British Gas at firm.emergencycontacts@centrica.com
There is a national gas emergency number open 24 hours a day 7 days per week on 0800 111 999. If you smell gas you should contact this number right away.