Commercial Gas Safety Guide
To ensure the safety of your property and its occupants, all gas systems and appliances, in sectors such as hospitality and catering, must be regularly maintained and have an up-to-date safety check schedule. In this guide, we hope to answer some frequently asked questions and to help you understand the importance of a commercial gas safety certificate.
There can be serious repercussions if businesses fail to meet the rules and regulations on their business gas appliances, and you must protect yourself and your employees against fires, explosions, technical faults, and carbon monoxide poisoning. It is very important that your gas safety checks are performed by a registered commercial gas engineer and you are granted a gas safety certificate regularly to potentially avoid any serious accidents. 
Gas safety checks performed regularly for your gas safety certificate will help ensure your property or business is compliant and safe for everyone. Read on to find out more about what exactly a gas safety certificate is, if you need a gas safety check and more.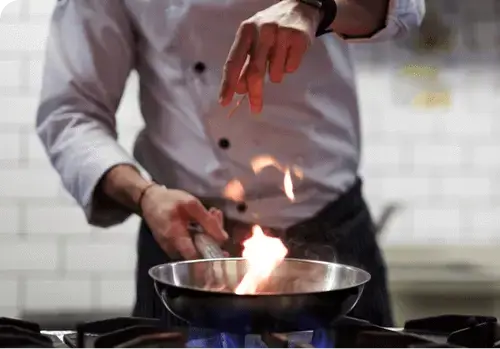 What Is A Gas Safety Certificate?
A commercial gas safety certificate, sometimes referred to as a gas safety record or a CP12, is a legal document that informs regulatory bodies that all gas appliances have been checked by a qualified and experienced engineer.
To ensure your appliances are safe for you and your employees, an annually scheduled gas safety check done by a registered engineer, could highlight if there are any concerns to be fixed, avoiding any potential lawsuits and preempting costly repairs if caught sooner.
Do I Need A Gas Safety Certificate?
It is a legal requirement to schedule regular gas safety checks and have an up-to-date gas safety certificate. Failure to do so will subject you to hefty fines and potential imprisonment. Aside from business gas appliances being unsafe, they can also cost you a large lump sum to repair if left unchecked.
Anyone who is responsible for a commercial premise or those who own one must test their appliances at least once a year. By booking a registered gas engineer to perform these checks and certify the safety of your property, you can ensure the safety of you and your employees and avoid any fines or imprisonment.
How Much Is A Gas Safety Certificate UK?
The price of a gas safety certificate ranges between £60 and £90, depending on your location, the engineer, and how many appliances need checking. We always recommend getting at least 3 quotes, and what is included with those to get the best deal available.
Below is a chart highlighting the costs of a gas safety certificate in the UK and a national average.
| Engineer Type | Starting Cost + VAT | Maximum Cost + VAT | Average UK Cost |
| --- | --- | --- | --- |
| Gas Safe Engineer | £60 | £90 | £80 |
How Do I Get A Commercial Gas Safety Certificate?
Scheduling a commercial gas safety check is straightforward enough, we have created a simple step-by-step plan on how you can get a commercial gas safety certificate:
Step 1: Find a local gas-safe engineer and compare around 3 quotes to ensure the best deal
Step 2: Book a gas check with your chosen Gas-safe engineer
Step 3: When the engineer arrives for the gas check, make sure you check their ID card BEFORE any tests are conducted, otherwise any checks could be void if they aren't registered
Step 4: Once you have checked their ID, the engineer will handle the rest of the process and conduct the tests required to see if your appliances are safe or not.
Step 5: After the tests have been performed, you will receive a Gas Safety Certificate. Much like a car MOT, your gas safety certificate will indicate which appliances have passed, which have failed, and which require attention.
Do I Need To Do A Gas Safety Check?
In short, yes. Ensuring a gas safety check is done every year on all appliances is not only a legal requirement but failing to receive a gas safety certificate will likely invalidate your insurance.
If you're a landlord and you fail to do regular gas safety checks, you won't be able to use section 21 in your policy should you need to evict a tenant as your insurance is likely to be invalid. Regularly scheduled gas safety checks not only protect your tenants and employees but it will also protect you as a business to avoid costly fines and potential imprisonment.
What Does A Gas Safety Check Involve?
Once you've booked in with a registered gas-safe engineer, they will typically check any gas appliance on the premises. This includes fireplaces, boilers, cookers, ovens, hand boilers, space heaters, and water heaters.
The gas-safe engineer will also inspect for any blocks in flues and chimneys to make sure they are safe to use.
What Is The Gas Safe Register?
The Gas Safe Register is the official gas registration body of gas engineers and businesses in the UK, Isle of Man, Guernsey, and Jersey.
The register is a list of businesses that are qualified and legally allowed to carry out any type of gas work under the trading name they are registered with. By law, all gas businesses must be on the Gas Safe Register.
What Should A Commercial Gas Safety Certificate Look Like?
After your gas safety check, you will receive a gas safety certificate that includes the name of the registered engineer who performed the tests, their registration number and their signature. The date the checks were carried out and the address of the property where the tests took place.
It will also include a description and location of each appliance checked, all passes and failures and if anything needs attention.
What If I Have A Gas Safety Fault?
If you have any concerns about your gas appliances, either in your home or in your business, do not use them and call out a registered gas-safe engineer as soon as possible to check.
If the gas-safe engineer disconnects any appliance, you should not reconnect any until the fault has been cleared as safe. Failure to follow this rule is against the law and there could be serious repercussions.
What If I Fail The Gas Safety Check?
Before using any equipment again, you must make sure it is safe for you or your employees to use. You must replace or repair any appliance with a gas-safe engineer, who will give you a record of any fixes.
By keeping copies of any work carried out by a gas-safe registered engineer, you can at least have the confidence and the proof that your appliances are once again safe to use.