Compare The Latest Business Electricity Prices In Seconds
Compare prices today by filling in this quick form
We help thousands of businesses each year reduce their business electricity bills.
Our free impartial service allows you to find the most competitive tariffs on the market in seconds.
No Standing Charge Business Electricity Prices & Rates
When switching business energy contracts, you can either choose a tariff with a standing charge that is applied regardless of the amount of energy you use, or you can select a tariff with no standing charge. These two options will be suitable for different types of businesses.
In this guide, we'll inform you about standing charges and the type of businesses that could benefit from a no standing charge tariff.
What is a Standing Charge?
A standing charge for business gas and electricity is simply a fixed amount that you pay on your tariff to the energy company for supplying energy to your premises. If your tariff includes a standing charge, you'll get charged regardless of the amount of energy you use.
Most energy suppliers charge for standing charges in pence per day, although some are in pounds per month or per quarter.
Average Standing Charge Prices 2020
The average standing charges is approximately 28p per day, but this can vary by supplier.
Average Standing Charges and kWh Prices 2014 – 2020
| Cost Type | 2014 | 2015 | 2016 | 2017 | 2018 | 2019 | 2020 |
| --- | --- | --- | --- | --- | --- | --- | --- |
| Standing Charge | 27.18p | 22.53p | 23.58p | 26.51p | 26.24p | 28.39p | 27.00p |
| Price/ kWh | 11.23p | 11.56p | 11.878p | 12.99p | 13.56p | 14.74p | 13.26p |
Prices shown are the average during the year for a business based in London using 10,000 kWh of electricity per year.
The graphic below shows how the daily standing charge for business electricity has changed over the past six years. For most customer, it adds £80 per year to average bills.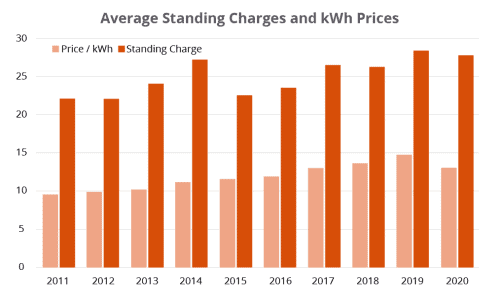 The average standing charge for business gas is 72p per day adding £262.80 to an annual bill.
For domestic energy, most people don't have a standing charge if they're on regular tariffs. The first x number of units used are always at a higher rate in any case to cover the fixed costs of supply. These tariffs (although not usually named in this way) are called two-tier tariffs.
What is a No Standing Charge Electricity Tariff?
When an electricity tariff has zero standing charge, it means that you only have to pay for energy when you use it. This contrasts with standard charge tariffs where you are obliged to pay a fee for each day, even if you don't use any energy.
Generally, rates per unit are higher for zero standing charge electricity tariffs. However, you are able to save on standing charge costs and benefit from being on a tariff that is better suited to your usage. Additionally, this unit rate can be reduced once a certain amount of energy has been used.
What are the Pros and Cons of Zero Standing Charge Electricity Tariffs?
If you select a tariff with no standing charge, you may identify the following pros and cons:
Pros
You only pay for energy when you use it
Unit rates can be reduced once a certain amount of gas and electricity has been used
Cons
The unit prices per kWh can be higher than tariffs that include a standing charge
Tariffs can be unsuitable for businesses that use a regular and high amount of energy
Which Businesses Could Benefit From a No Standing Charge Electricity Tariff?
Zero standing charge tariffs are typically best suited to businesses that operate infrequently or seasonally, as they won't be charged for the periods when energy is not used. If your business is only open on weekends or for a few days a week, a tariff without a standing charge could also be of benefit to you.
Businesses that remain frequently open are not suited to no standing charge electricity tariffs as the higher unit rates can cause energy bills to increase.
How do I get Business Electricity Without a Standing Charge?
Almost all of the major six business energy suppliers in the UK can offer both types of tariffs (i.e. those with a standing charge and those without). When comparing quotes and rates it's always best to get a quote for both types.
If you have your current usage figures you can compare effectively with one supplier and the rest of the marketplace. This means the pricing you receive reflects what your business is actually going to use rather than just looking at the base numbers.
Some standing charges may be higher and vary greatly for each electric supplier. If the standing charge is higher, then the unit rates are generally lower, but the total bill is usually the same.
The overall cost will vary from business to business depending on the overall consumption within a month or a year.
Getting an Online Quote
At Business Electricity Prices, the only information we need to help you find great no standing charge tariffs is the name of your supplier, your business address and a few contact details.
You can then view the latest energy deals from a the widest possible range of suppliers covering both standing charge and no standing charge tariffs.
There are many types of tariffs that come with no standing charge, so it's best to get an online energy quote for your premises to see what is available to you.
Compare Prices Online
Save money on your energy bills.