There are two types of tariffs for businesses; those that come with a standing charge no matter how much electric you use and those that don't. Here's a run-down of the companies that offer such tariffs.
What is a Standing Charge?
A standing charge for business gas and electricity supplies is simply a fixed amount that you pay on your tariff to the energy company. As it's fixed by its nature no matter how much electric or gas your business uses, you'll still be charged this amount. These are charged daily in pence per day.
How Much are Standing Charges?
Of course, they vary by energy supplier, but generally they're not that expensive. For SMEs, the rates are approximately 22p per day. It's always best if you get a quote for your energy whether it be electric only, gas only or both together as a dual fuel tariff.
The graphic below shows how the daily standing charge for business electricity has changed over the past five years. For most customer bills it's going to add £80 per year to average bills.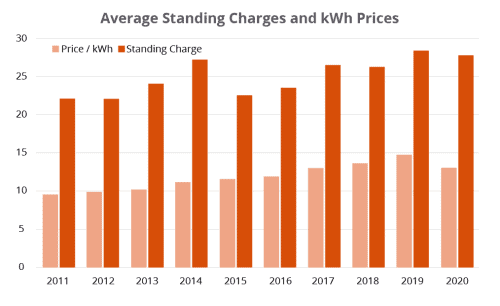 The average standing charge for business gas is 72p per day adding £262.80 to an annual bill.
Certainly for domestic energy most people don't have a standing charge if they're on regular tariffs. The first x number of units used are always at a higher rate in any case to cover the fixed costs of supply. These tariffs (although not usually named in this way) are called two-tier tariffs.
How do I get Business Electricity Without a Standing Charge?
Almost all of the major six business energy providers in the UK can offer both types of tariffs (i.e.: those with a standing charge and those without). When comparing quotes and rates it's always best to get a quote for both types.
So long as you have your current usage figures you can compare effectively within one supplier and the rest of the marketplace. This means the pricing you receive reflects what your business is actually going to use rather than just looking at the base numbers.
Some standing charges may be higher and vary greatly for each electric supplier. If the SC is higher, then the unit rates are generally lower, but the total bill is the same. The overall cost will vary from business to business depending on the overall consumption within a month or a year.
Getting an Online Quote
British Gas, EDF and the other business gas and electricity suppliers all allow you to enter your business details on their websites so you can get instant online quotes. All you need is your business address and the meter number (so they can see your current and previous consumption figures) and then they'll offer you their standard and special offer tariffs.
Getting quotes for business is slightly different from domestic use because the actual prices are not shown and are calculated specifically for your business. In almost all cases, the lower prices are found online. It's always best to obtain online quotes, compare all the suppliers, and then telephone the one you like the best.
Always try and negotiate offers on the best rates you receive to see if you can obtain any additional discounts for switching at that date. Additional reductions in prices can be had by (sometimes) opting for a dual fuel tariff if your business also uses gas and certainly by paying by monthly or quarterly direct debit.
There are many types of tariffs that come with no standing charge, so it's best to get an online quote for your premises to see what's available for you.