The general market fluctuates depending on demand for both business users and domestic use due to a variety of reasons.
Hot weather in the UK puts demands on the National Grid as energy usage increases. Similar demands occur during cold spells when additional requirements for heating on the grid forces prices up from the wholesaler and imports from external countries.
During the hot spells in 2010 the trading energy market for electricity reached a 17 month peak of £50/MWh (Megawatt Hour = 1,000 kWh) and again in November 2016 with a price of £67/MWh. Although not totally to blame, the increase in appliances that have a high kWh usage will increase market prices, such as air conditioning systems used by both businesses and residential properties.
Where is the Market Heading?
The energy companies are quick to blame higher tariffs on the external market when they increase unit costs immediately after a wholesale price rise. Although the market has an effect and is perhaps the main driver, prices are usually stable as seen in the chart below.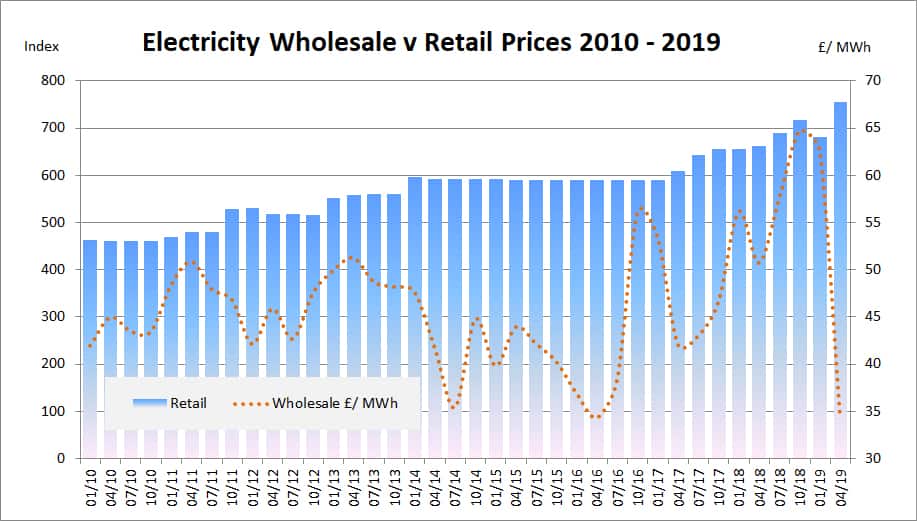 Current Prices
The current wholesale electricity price has fallen to around £35 per MWh; that's some of the lowest prices seen in three years and one third the pirce when the market was at its peak. The peak happened during 2008 which saw these rates nearly double to over £90/MWh, and that's when most of the big six suppliers increased tariffs.
Since then, we haven't seen the same reduction, but there are also investment programmes that the energy companies need to implement that also put pressure on prices.
Wholesale Electricity Price Chart 2016 – 2019
The chart below shows the wholesale price of electricity for each quarter from 2016 to the middle of 2019. Against this are the Retail Price Index (RPI) of the average price paid by consumers.
| Quarter/ Year | Wholesale Price | Electricity RPI | Average Electric Bill |
| --- | --- | --- | --- |
| Jan 2016 | £36.95 | 127.90 | £590.15 |
| Apr 2016 | £34.37 | 127.70 | £589.23 |
| Jul 2016 | £38.40 | 127.70 | £589.23 |
| Oct 2016 | £56.03 | 127.70 | £589.23 |
| Jan 2017 | £53.37 | 127.70 | £589.23 |
| Apr 2017 | £42.10 | 132.10 | £609.53 |
| Jul 2017 | £43.05 | 139.20 | £642.29 |
| Oct 2017 | £46.68 | 142.30 | £656.59 |
| Jan 2018 | £56.18 | 142.30 | £656.59 |
| Apr 2018 | £50.74 | 143.50 | £662.14 |
| Jul 2018 | £57.61 | 149.40 | £689.36 |
| Oct 2018 | £64.76 | 155.20 | £716.12 |
| Jan 2019 | £62.55 | 147.60 | £681.05 |
| Apr 2019 | £35.50 | 163.80 | £755.80 |
Data sources: Ofgem and the Department for Business, Energy & Industrial Strategy. RPI based on January 2010 = 100. Last updated 14th June 2019.

The BREXIT Vote
Two weeks before the BREXIT announcement saw the wholesale electricity price rise by 20%. The prices dipped immediately afterwards but are now back to those levels. The market is volatile, but current prices are still well below those peaks of ten years ago.
Hinkley Point C Nuclear Power Station
Once the new Hinkley Point C Nuclear Power Station is built, the wholesale price charged is fixed at £92.50 per Megawatt Hour (MWh) for 35 years. This strike price is based on 2012 prices and is index linked, already it's some way above that after four years of inflation.
Retail Bills Remain Flat
The graph above highlights the changes in wholesale prices since January 2010 to date. Although the trend is flat, the average bill charged by the "big six" has risen from £474 in January 2010 to £592 at the start of 2015 and over £750 in June of 2019.
Fuel Sources
Much also has to do with the sources of power and stock levels for natural gas. Nearly 30% of the UK's energy comes from renewable sources such as wind turbines and solar power. Although this power source is slowly increasing, the bulk comes from traditional coal and gas powered stations. Nuclear power still makes up a small percentage, unlike France and Germany, where the majority of energy is nuclear powered, although they have their own supply challenges.
Because nuclear power stations require water to cool the plants, in hot weather the water is warmer, so the power stations run well below their maximum capacity.
How Do Wholesale Fluctuations Affect my Tariff?
The wholesale component only makes up approximately 45% of any tariff available (see graph below). Other costs such as distribution to your premises are 17%, government taxes 20% with profit and account management making the last 7%.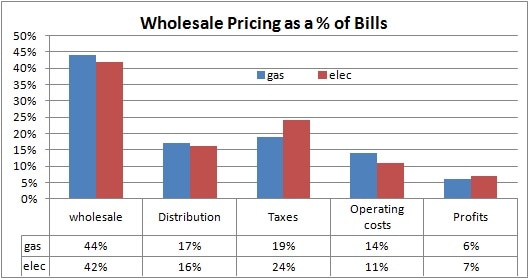 Businesses are also charged the full VAT rate at 20% (reclaimable if you're VAT registered) although registered charities are exempt.
Although the prices are stable, we've noticed that unit prices for businesses are approximately 4%-5% higher than 12 months ago. Last year we were providing standard quotes at 13.19p to 13.66p/kWh whereas today's prices range between 13.80p and 14.33p/kWh. The daily standing charges have remained constant at approximately 21p per day.
You won't see tariff announcements in the press for businesses as the rates are quite secret and unpublished. What happens in the residential market is quite different from the commercial arena, although Ofgem is making inroads into this area.
Prices normally peak during the dark, cold winter months when the demand for heating and lighting is at its greatest. The highest prices are usually during January and February, which is also the worst time to renew your contract. To manage your contract directly with the best available rates please contact us for quotes today.
More recently, prices and demand have been flat, or even reduced. This stability is due in part to reduced economic activity, colder summer weather and milder winter months.
Should I Renew my Electricity Contract Now?
We always advise businesses to get new quotes each year when their contracts are coming up for renewal. If you don't renegotiate your contract, then your prices will increase by as much as 120% because of the nature of the industry in terms of rollover contracts.
Research shows that as many as 80% of businesses simply allow their tariff to roll over to the next year. The contract extension will happen automatically if you don't renew correctly and for most people this will result in increased rates.
As business users have fixed term and fixed rate prices in general, a wholesale price rise now will not affect your contract. You may want to undertake additional research into having a longer term contract. Certainly for some of the big energy companies you can opt for two or three-year contracts although the prices will be higher than a one-year contract.
If you've already submitted your renewal letter, then you should find out what the current unit rates are for your premises. Call us today or enter your details on our online quote form.