Scottish Power business energy prices, rates and reviews
The latest information and prices for Scottish Power, one of the UK's biggest energy suppliers.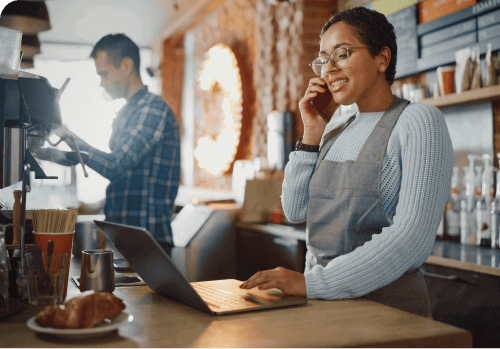 Save on Business Electricity
Suppliers

Scottish Power supplies gas and electricity to businesses and households across the UK.
Part of the nation's Big Six energy suppliers, this provider has over 200,000 business customers and continues to meet the needs of a diverse range of companies.
Introduction to Scottish Power
Formed in 1990, Scottish Power is part of the larger renowned Spanish group Iberdrola. The company's launch was influenced by the privatisation of the Scottish electricity industry. It was formed from the South of Scotland Electricity Board.
Scottish Power has over 5 million customers, including residential clients. It has a firm commitment to green energy and in January 2019, it became the UK's first integrated energy company to produce 100% green electricity. Scottish Power energy business electricity customers love the fact that their supplier cares about the environment.
Scottish Power Energy Business Electricity Tariffs and Prices
Scottish Power offers businesses a range of energy tariffs to choose from. For example, you could select a fixed-price contract to lock in your gas and electricity rates for the length of your agreement. Alternatively, you could choose a variable rate energy tariff where your energy prices will be dependent on market activity.
This business electricity supplier also offers deemed tariffs, Economy 7-meter contracts and green energy deals.
Its most popular tariffs include:
Business Fixed
Fixed business energy rates for 1, 2, or 3 years.
Tariff Details
UK based team
Online account manager
Business energy efficiency advice in association with the Carbon Trust
Standard Variable
Prices can go up or down in line with wholesale energy prices.
Tariff Details
Switch business energy at any time with no fees
Prices are usually higher than fixed tariffs.
Working out the overall prices can be time-consuming, which is why we've created a Scottish Power Energy business quote generator. Our tool allows you to see all the most important figures in a flash. 
| Features | Service Offered |
| --- | --- |
| Online Billing | Yes |
| Direct Debit | Yes, they only accept DD payments |
| Smart Meters | Yes, existing customers can check if eligible once live |
| Mobile App | Yes, for SME customers |
| Flexible Payment Options | Monthly fixed DD, Monthly Variable, and Quarterly Variable options are available |
| Green/ Renewable Energy | Yes |
| Trustpilot Review | 3.8/5 |
| Optional Paper Billing | Yes, both paper and paperless bills are available to choose from |
| Priority Register | Yes, customers can contact Scottish Power Customer Service to update |
Scottish Power Energy Reviews 
Before you sign on the dotted line, you should always read reviews from existing customers. They can highlight the advantages and disadvantages of well-known suppliers. 
At Business Electricity Prices, we rely on Trustpilot. It's a brilliant, reliable platform that allows existing customers to leave realistic feedback.
Before you look at Scottish Power Energy reviews, you need to be aware that this supplier has two accounts on Trustpilot. When suppliers receive poor reviews, they sometimes create new accounts to hide them from new customers. 
For this review, we'll look at the account that has the most reviews. Over 45,000 domestic and commercial customers have written a review for Scottish Power. They have given their supplier 3.1/5 stars and an overall rating of average. 44% of Scottish Power energy reviews are rated 5 stars, whereas 27% are rated 1 star. 
Positive reviews claim that Scottish Power is the easiest energy company to speak to, whereas negative reviews mention that the customer service and installations are poor. Scottish Power doesn't reply to any of the comments, which is a big red flag for commercial customers who want a responsive supplier. 
Advantages of Choosing Scottish Power Business Energy
Customers who run big businesses can expect tailored Scottish Power energy business electricity tariffs. 
Commercial customers can manage their accounts online, which eliminates annoying paperwork. 
This supplier offers Power Purchase Agreements (PPAs) to business customers. By entering a PPA, businesses can get clean, renewable energy as well as long-term price security. 
Scottish Power provides commercial customers with a wide range of EV charging opportunities for eco-conscious businesses. 
Disadvantages of Choosing Scottish Power Business Energy
Scottish Power Energy reviews suggest that both domestic and commercial customers have received inconsistent customer service support. 
Which? gave this supplier 53% for its overall customer service assessment score.  
In 2015, Citizens Advice found that Scottish Power is the most complained about energy supplier in Britain. 
Scottish Power does not employ a representative to reply to reviews on Trustpilot, which is a clear breakdown in customer service support.
Compare Scottish Power Energy Tariffs with Business Electricity Prices
If you think that a Scottish Power business energy tariff could be suitable for your business, use our online tool. We can help you compare gas and electricity prices to find the best option for your company's needs.
Using our free online comparison tool, you can compare a wide range of great energy deals. All you have to do is enter your business' postcode and a few contact details, and within just a few moments, you'll receive your free quote. You won't get a quicker Scottish Power energy business quote anywhere else. 
The Easy Way to Switch to a Scottish Power Business Tariff
There is a misconception that switching energy suppliers is time-consuming and difficult. Here at Business Electricity Prices, we aim to make this process as quick and simple as possible by doing all the hard work for you. 
We'll locate the best deals on the market, meaning all you have to do is choose a suitable energy tariff. Once you've made your decision, we'll manage the switching process and agree on changeover dates with your old and new suppliers.

Additionally, our team will keep you updated every step of the way and our experts are on hand to answer any questions you may have. Whether you want to switch to Scottish Power energy business electricity, gas, or any other supplier, we've got you covered.
What Else Can Scottish Power Offer My Business?
In addition to a suitable energy tariff, Scottish Power could also improve your energy efficiency. Their dedicated Business Energy Team is on hand to give you personalised energy efficiency advice.
Additionally, this supplier will install a smart meter to help you monitor your business energy consumption.
Scottish Power energy reviews have shown us that this supplier offers excellent EV charging solutions. 
Finally, Scottish Power allows larger businesses to sign up for their data services. Half-hourly energy consumption data is fed directly back to the supplier, meaning you can analyse your energy usage and identify ways to become more energy efficient.
What Happens if My Scottish Power Contract Is Up for Renewal?
Scottish Power business energy customers need to be mindful of their contract renewal date. 
If your business is a micro business, Scottish Power is legally obligated to send you a renewal letter three months prior to the date your energy contract ends. If your business is not considered a micro business, the onus is on you to remember your contract end date and organise either a switch or a renewal in time.
The renewal letter will include an outline of your contract's rollover rates and the out-of-contract rates that are available from the supplier. You should bear in mind that both of these rates are likely to be high, so using an energy comparison engine and getting a new tariff is usually the best option.
Get a Scottish Power Energy business quote today!
Scottish Power Fuel Mix & Green Performance
Like many other business electricity suppliers, Scottish Power aims to provide its customers with sustainable energy.
It offers a green energy tariff entitled the "Green Source" which uses energy from renewable sources such as wind power, hydro, and biomass to reduce your CO2 emissions at no extra cost. If you select this tariff, your business will no longer have to pay the Climate Change Levy (CCL); so not only could it help to boost your sustainability credentials, but it can also help you save money.
Here's a breakdown of Scottish Power's fuel mix:
Coal – 4%
Gas – 39%
Nuclear – 17%
Renewable – 38%
Other fuels – 2%
To further its work in environmental sustainability, Scottish Power invested millions into wind farms. In February 2020, it introduced a new range of fixed-price electricity tariffs with 100% green electricity.
Electric Vehicle Solutions 
Scottish Power offers fully funded installation of charging points to add to a great employee benefits package and to increase footfall to retail spaces. Typically, a good spot to apply for installation would have unrestricted access day and night, close to a main road, located in a highly populated area and space for two charging points to three parking spaces. 
What's Included 
Cost of charging point installation 
Charger maintenance 
Software management platform 
Compare Scottish Power Prices Online with Business Electricity Prices
With Business Electricity prices, it's easy to find a suitable Scottish Power energy tariff. Our Scottish Power Energy business quote tool does all the hard work for you. 
Simply use our free comparison tool, provide your postcode, and contact details, and briefly describe your energy requirements. We'll be in touch with the best energy deals for you.
Compare business electricity rates
Save money on your electricity bills.