Looking to compare business energy prices? 
Compare the latest prices online and get a better deal, in less than 60 seconds.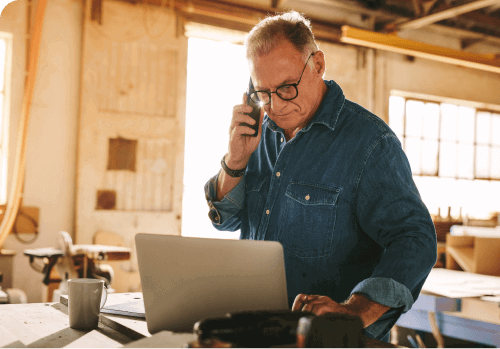 Save on Business Electricity
Bionic Business Electricity Prices, Quotes, and Reviews
Bionic is an energy broker that focuses on SMEs. Bionic customers can use this site to review different suppliers and analyse the effectiveness of choosing one supplier over another. 
Like all brokers, Bionic gives business energy customers a wide spectrum of information. Bionic prices per kWh rates, supplier benefits, and customer service reviews give commercial consumers an in-depth insight into all their options. All the quotes are free, although they are likely to charge a commission on agreed contracts. 
How to Switch Business Electricity Using Bionic 
Getting a Bionic electricity quote is easy enough, but it does involve speaking to representatives from the company. You cannot switch online with Bionic. Some business owners prefer to complete the switching process online, which is not an option with Bionic. 
As soon as you go to the Bionic website, you'll see four options: energy, connectivity, insurance, and finance. Click on whichever choice you want, and you'll be redirected to a page where you can input your business postcode. 
Once you've entered your business postcode, you need to tell Bionic a few details about your needs. You can choose from these options: 
I know I want to switch my energy
I'm just trying to get a quote
I've had a quote and I want to talk about it 
I need help with my existing contract
None of the above 
No matter which you choose, you'll be given the option to compare Bionic business electricity, gas, or both. 
If you click 'I'm just trying to get a quote' and select the option you want to compare, Bionic will retrieve your supplier details. Then, you'll be asked one final question: are you in or out of contract with your current supplier? 
Ultimately, it only takes a few minutes to complete the online form. However, Bionic doesn't provide detailed quotes online. When you have filled in the online form, a representative will give you a call to discuss your needs.
In 30 seconds, you can compare business electricity prices and select the tariff that's right for your company.
Find a new deal
Who Are Bionic? 
Bionic is just one of the energy brokers that you can choose from. It has been active since 2007  in the commercial energy market. Bionic has been through many changes. Years ago, it was called Make It Cheaper and has since undergone a significant rebrand.
On the surface, Bionic has a lot of the same features as the other energy brokers on the market. It allows business owners to compare suppliers against their own criteria and find a suitable match. 
Bionic Customer Reviews 
Before you commit to an energy broker, you should always look at the reviews. Reviews highlight the advantages and disadvantages of choosing a supplier, so it's important to be aware of all the relevant information. 
Bionic customer reviews reveal a lot of interesting information. This broker has over 6,500 reviews on Trustpilot, as well as 4.4/5 stars and an overall positive rating. The majority of customers have rated Bionic 5 stars, but a significant 10% of customers have given Bionic 1 star. 
Unsatisfied reviewers warn potential customers away from Bionic, claiming that the broker has switched them to incorrect suppliers and that they have received multiple unwanted phone calls from Bionic representatives. Unfortunately, Bionic doesn't reply to any of the negative reviews, which means that customers receive no resolutions. 
Advantages of Bionic Business Energy
Bionic customer reviews suggest that the majority of customers are pleased with the services.
Bionic caters to SME businesses, which are often overlooked in the commercial energy market.
Bionic energy per kWh rates can give you a good indicator of how much money you might spend per month.
Disadvantages of Bionic Business Energy 
To secure a Bionic Energy business quote, you need to speak to someone over the phone.
A lot of other energy brokers offer online quotes, which many busy business owners prefer.
People who operate large businesses can't contact Bionic for services or support.
Some reviewers have had poor experiences with Bionic's customer support team, including never-ending phone calls and long, frustrating switches.
Other Services Bionic Offers
As well as Bionic business electricity and gas, customers can also get a free quote for business connectivity, insurance, and financial services. Commercial and corporate customers can access information for a wide range of services, including: 
Superfast and ultrafast broadband packages 
Public liability insurance
Employers' liability insurance
Motor trade insurance
Business loans
Secured loans
Asset finance 
As you can see, Bionic energy per kWh rates are not the only thing on offer. SMEs can access lots of vital information from this broker. 
In 30 seconds, you can compare business electricity prices and select the tariff that's right for your company.
Find a new deal