Hotel, Pub & Restaurant Energy Saving Guide
Table of Contents
Although gas and electricity costs in the hospitality sector may not represent a large part of turnover, there are numerous benefits gained from introducing efficiency measures.
For those running a restaurant, public house, hotel or bed and breakfast establishments, we'll show you how to save money and potentially improve revenues from new green initiatives.
Hospitality Industry Cost Savings
The type of energy catering businesses usually use is 60% for electricity and 40% on natural gas. The total spend from this industry is £400 million each year or 20,000 million kWh.
Therefore, a 10% reduction in either consumption or pricing results in an industry saving of £40 million per annum. The cooking process generates most energy, waste and inefficiencies and with slight changes to your procedures, you could reap substantial cost savings.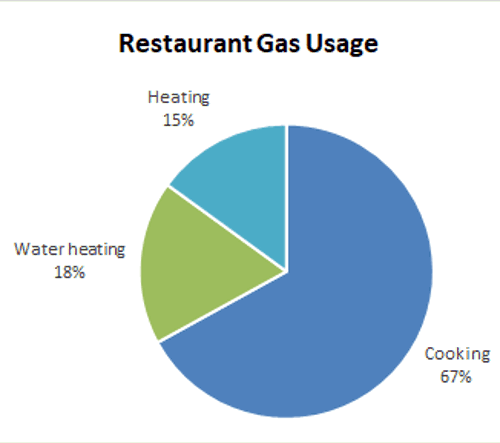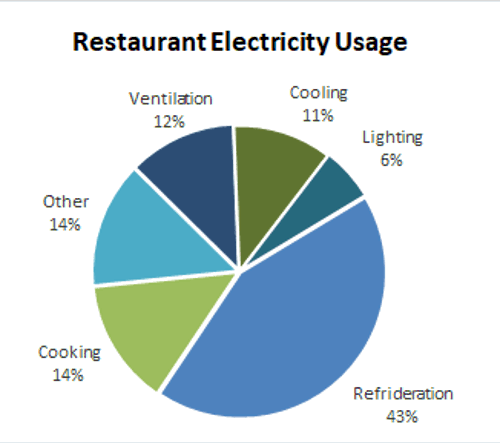 Catering Equipment
With a quarter of energy expended in cooking, that's an area that could provide the most cost savings. In most establishments, cooking equipment is switched on at the beginning of service and left running throughout the day. Although it may be difficult to manage in a busy kitchen, small changes could result in a reduction in energy consumed.
Induction Hobs
Although induction hobs are usually not preferred against the traditional gas burners, these not only heat up quickly, but use up to 50% less energy than their gas or electric counterparts. These hobs also generate less heat, so the kitchen needs less ventilation, leading to lower costs.
Steam Ovens
With improved technology, including heat recirculation and triple-glazed viewing doors, steam ovens could reduce costs by 40%. Look out for connectionless steamers as they now recirculate the steam resulting in a vast reduction in water and energy used.
Deep-Fat Fryers
Most kitchens operate deep-fat dryers, but not all offer the same efficient energy use. The latest not only heat up faster, filter the oil to maintain high efficiency, but use 50% less energy.
Smaller businesses tend to buy and use domestic appliances in food preparation, but this could lead to higher long-term costs and an inability to maintain food safety standards. Always look for efficient, professional equipment in the first instance.
Refrigeration
Although the cost of keeping products cold or frozen is less of an issue in terms of absolute cost, having the appliances well-maintained and the doors shut can reduce costs and improve food safety.
Location
Your costs will escalate if your cooling equipment is next to heating sources because they have to work much harder to maintain their product temperatures. So try to locate fridges and freezers in the coolest part of the kitchen or elsewhere.
Maintenance
The area around the appliances needs to be kept clean and free of dust and grime. Doors seals should be checked regularly to ensure a tight fit to reduce the need for the appliance to be over-worked.
Lighting Efficiencies
If you haven't already done so, change all lighting in the kitchens and public areas to energy efficient bulbs. This change is a quick-fix to save up to 80% on your lighting electricity bills.
Bulb Replacement Chart
| Bulb Type | Replace With | Energy Savings |
| --- | --- | --- |
| Traditional tungsten bulbs | Compact LEDs | 75-80% |
| Fluorescent tubes | Triphosphor tubes | 15-20% |
| Filament lamps | Halide or LED lights | 65-70% |
| Reflector lamps | Halide or LED lights | 50-80% |
| Fluorescent diffusers | Prismatic controllers | 30-60% |
All the replacement bulbs above also have far longer life expectancies.
Check your annual savings online using the cost calculator for a range of electrical appliances.
More Ways to Conserve Energy
From the obvious to the more unique, there are numerous small changes your business can make to use less gas and electricity in the hospitality industry each year. Here are some of the best practices:
Install new energy-efficient hand dryers.
Communicate start-up and shut-down schedules for appliances.
Optimise heating and cooling systems to correct temperatures.
Grow your own produce in a garden area.
Install sensors to turn lights on and off in public areas.
Keep doors and windows shut tight.
Feedback Systems
Even if you've exhausted every possibility for energy improvements, there may be areas you've missed. Therefore, why not introduce some simple methods to gather additional insight into potential cost savings?
For Staff and Guests
While you're busy running your pub or restaurant, ask for feedback on areas that are either too hot or cold. Ask your staff and your customers where there may be issues with drafts, faulty windows, radiators that are too hot (or cold), or air-conditioning that's not working. One of the worst things to happen in hotels is for guests to open windows because they're too hot.
Recent research (1) suggests that nearly half of hotels are making changes to their sustainability programmes as a direct result of guest feedback.
Visible Policies
Many hotels actively encourage their guests to use towels more than once. There are an estimated 5% saving in energy costs from not having to wash and dry with a 70%+ guess participation.
Energy Efficiency Checklist
| Description | Completed? | Comments |
| --- | --- | --- |
| Keep refrigeration in the coolest part of the kitchen | Yes/ No | Notes |
| Check thermostats on heating and cooling equipment are set correctly | Yes/ No | Notes |
| Consider replacing old appliances with new energy-efficient equipment | Yes/ No | Notes |
| Change lighting for lower consuming LED bulbs | Yes/ No | Notes |
| Introduce staff and customer feedback systems | Yes/ No | Notes |
Water Conservation
One area often overlooked when improving efficiency is water usage. As with energy costs, there are two areas to focus on: usage and cost.
Since April 2017, all businesses are able to change their water supplier and switch to a reduced tariff. Although the current potential savings are low, these are set to increase in the future.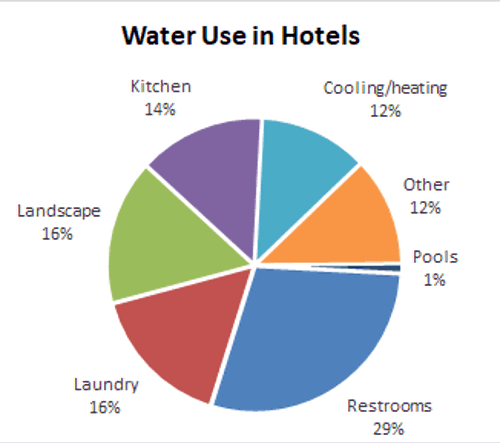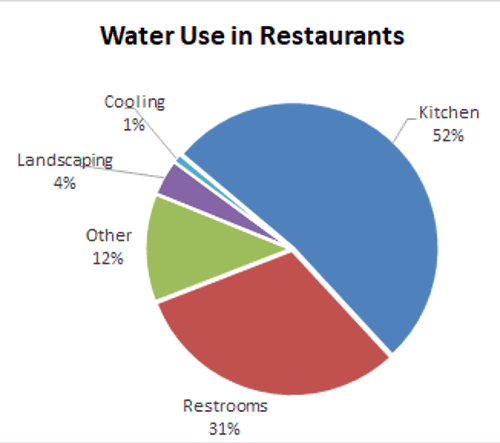 Tactics to Save Water in Hotels
Water conservation is an interesting topic where there's a vast range of measures (2) that could reduce water consumption by as much as 50%. Some of these include:
Adapting or changing toilet cisterns to use less water on each flush.
Changing shower heads to reduce water flow.
Correctly zoning sprinkler systems for watering grounds.
Having a programme in place to check for leaks.
Using A-rated appliances that conserve energy and water flow.
Going Green
Your customers are environmentally aware and research suggests (3) they are increasingly requiring food produced either organically or using environmentally friendly methods.
Restaurant Investment Areas in Green Technologies
| Measure | Family Dining | Casual Dining | Fine Dining |
| --- | --- | --- | --- |
| Purchase energy-saving lights | 79% | 73% | 69% |
| Purchase energy-saving kitchen equipment | 51% | 55% | 44% |
| Purchase energy-efficient refrigeration, air-conditioning, or heating systems | 43% | 52% | 44% |
| Install water-saving equipment | 29% | 44% | 38% |
Most business owners concentrate on saving gas and electricity costs, but going green also means looking at the environmental impacts of your company. Here are some other ways to reduce your carbon footprint while saving money.
Improving recycling and cutting down on waste means less material ends up in landfill but also cuts your refuge collection costs.
Start a waste food composting initiative and create an organic compost for your garden areas.
Try and source products locally so that you reduce transportation by road.
Incentivise employees to cycle or use public transport to get to work and cut vehicle emissions.
Think about investing in renewable energy, such as solar or ground heat pumps, to become carbon-neutral.
With this continual change comes the ability to make your restaurant or hospitality venture stand out from your competitors. Knowing if your customers demand eco-friendly practices means you can put communications in place to announce your strategy and intentions. This practice could improve your covers and profitability.
References
Here's more information on reducing costs in your hotel, pub or restaurant business. For general savings on energy in your business, check out our top 20 methods to save on electricity bills.
Compare Prices Online
Save money on your energy bills.