Don't Let Energy Costs Affect Your Catering Business
Find a better deal so you can keep your catering business profitable.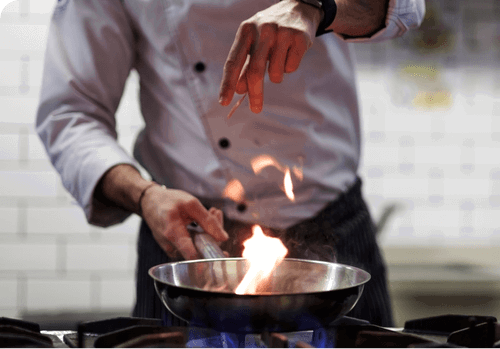 Save on Business Electricity
Sectors
If you run a catering business, you'll be well aware that energy bills can be costly. With a high reliance on gas and electricity, reducing your business energy costs can seem a challenge.
At Business Electricity Prices, we help businesses like yours find cheaper energy deals quickly and easily. By answering just a few questions on your energy usage, you compare the latest business energy prices in minutes.
Why Switch Energy Suppliers for your Catering Business?
For caterers both large and small, it's worth shopping around to compare business energy contracts regularly. Businesses who fail to switch energy suppliers can often be left facing expensive rollover contracts.
These are the tariffs businesses are changed to at the end of their contract if they do not renew or switch. Rollover contracts are costly, and can you leave you locked into an expensive rate for 2 or more years.
It's important to note when your business energy contract is up for renewal. Switching to a cheaper deal in your renewal window can potentially save you hundreds of pounds each year.
At Business Electricity Prices, we're dedicated to helping businesses reduce their energy bills. Our expert team can help you find a deal that matches the specific needs of your business.
Energy Saving Tips for Catering Businesses
Affordable business utilities are only the first step in saving money on your bills. There are many ways you can reduce the electricity and gas you use.
Top-rated energy-efficient appliances can use as much as 50% less electricity and water than lower-rated. They can be more expensive but save you much more money over the long term.
A great way to measure the energy you use is by using a smart meter or an energy monitor. Record your smart meter readings at the same time every day. You can then see how much power you have used over the previous 24-hour period.
Preparing to reduce waste
Becoming a zero-waste organisation means doing your part to reduce harm to the environment. But reducing waste can also save your business money. It's a win-win!
One of the best ways to reduce energy waste is by carefully looking at the energy you use. Running a kitchen uses a lot of electricity as a necessity. But, there can be ways to reduce what you need. You need to involve your staff so that the whole team is on board.
A few suggestions for quick wins:
Check the fridge temperature. If the fridge is colder or warmer than it needs to be, you are wasting energy. The fridge should be between 2.5 and 4.5 °C. A freezer should be between -18 and -15 degrees °C.
Make sure ventilation is adequate. This can save money on heating and cooling costs.
Use the right pan for the hob. Sticking a small pan on a large hob wastes heat energy.
Boil smart. Use a high heat setting to boil liquids on the stove. Once reached, reduce heat to maintain a consistent low boil.
Reduce Your Utilities Costs with Business Electricity Prices
Business Electricity Prices can help your catering businesses find great deals across a range of utilities. We've already helped more than 300,000 businesses save over £90m! Find out how much you could save today.
Business Electricity
Reduce your energy bills by switching your catering business electricity with the experts at Business Electricity Prices.
Find out how much you could save by switching your catering business gas tariff. We can help you find a deal that matches the exact needs of your business.
Did you know that your catering business could switch water providers? Find out how much you could save by comparing water suppliers.
Catering Energy FAQs
How Long Does It Take To Switch A Catering Energy Contract?

A commercial energy switch will take between 4 and 6 weeks to complete. Contact us today to find out how quickly it will take. We will give you an accurate timeline once the process is underway.

Can I Compare Energy Suppliers For More Than One Location?

No problem. If you have more than one site, we can find you a multi-site deal. You can consolidate your bills in one place. This makes it easier to manage your accounts. You may also be able to find a cheaper tariff.

There Are So Many Tariffs, How Do I Choose Which Is Best?

Our energy experts can help. We will ask for your energy usage, which you can find on a recent bill. We then advise you on the different rates and suggest which is best for you.
Get The Best Deal For Your Catering Company
Save money on your next electricity contract!