Don't let energy costs affect your hospitality business
Take back control of rising energy costs so your business can continue to grow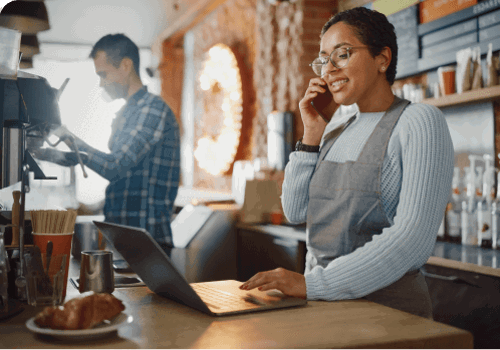 Save on Business Electricity
Sectors
The hospitality sector is estimated to spend over £1.3 billion each year on energy bills. With the hospitality sector so reliant on gas and electricity, it's vital to ensure you're on the right energy deal.
Overpaying for your gas and electricity can significantly increase your overheads and eat into your profits. That's why it's vital to compare business energy prices to find the right deal for you.
Whether you run a hotel, restaurant, pub, bar or café, Business Electricity Prices can help you reduce your business energy bills. Our innovative comparison engine allows you to compare prices from a wide range of trusted business energy suppliers.
Benefits of Switching Energy Supplier for Hotels, Restaurants, and Pubs
Switching to a cheaper business energy deal is one of the easiest ways to reduce your hospitality business' running costs.
Businesses which fail to switch or renegotiate their energy contract can be left locked into expensive rollover contracts. Unlike domestic energy deals, it can be difficult to switch during your business energy contract.
It's important to make a note of your renewal date. This will allow you to compare the latest energy prices before your contract is renewed at a higher rate. Prices quoted in renewal letters are often much higher than the best deals available.
With Business Electricity Prices, you can compare the latest deals in minutes. All you need to do is provide your business address and answer a few questions about current energy supply.
By comparing business energy, you can find a deal that suits the exact needs of your hospitality business.
Energy Saving Tips for the Hospitality Sector
It's important to remember that saving money on your energy bills is about more than an affordable tariff. Here, we've put together some top tips for reducing your energy usage.
Savings on Heating and Cooling
Almost 50% of your overall energy usage is caused by heating and cooling. Improving efficiency in this area can have a real impact on your running costs.
It's generally recommended to keep rooms heated in hospitality venues to around 19-22°C. Making use of thermostats and training staff on the correct temperature settings can help you control heating costs.
Ensuring you have strong insulation can also have a real impact on your heating costs. Businesses should consider investing in energy audit to increase energy efficiency. Energy audit don't have to be expensive and small businesses can even carry out the audit themselves. Find out more about business energy audits here.
Lighting the Way to Cheaper Energy Bills
If you haven't already, consider investing in LED lightbulbs to reduce your electricity usage. LEDs are some of the longest lasting bulbs on the market and can have a tangible impact on your electricity costs.
You should also be aware of lighting spaces which are not in use. For larger hotels, bars, or restaurants, installing sensors can help you minimise your electricity usage.
Reduce Your Utility Costs with Business Electricity Prices
Business Electricity Prices can help you find great deals across a range of utilities for your hospitality business. Our experts have already helped more than 300,000 customers save over £90 million!
Find out how much you could save by comparing hospitality electricity prices with our quick and easy comparison calculator.
Reduce your business gas by comparing a huge range of trusted suppliers. Our experts will be on hand to advise on the best tariff for your needs.
Did you know that you could switch water providers? Hospitality businesses can now compare water suppliers to reduce water costs.
Hospitality Energy FAQs
How long does it take to switch my energy contract?

A commercial energy contract switch can take a 4-6 weeks to complete. Contact us today to find out how quickly you can switch. We will give you an accurate timeline once the process is underway.

Is there an ideal time to switch a business energy contract?

No, is the short answer. Prices on the energy market can be lower outside of the winter months. But, energy prices tend to rise over time, so we don't advise delay in switching. If your business is on an expensive tariff, it is best to switch ASAP.

I am not sure which tariff will be best for my business?

No problem. Our energy experts can help. We will ask for your recent energy usage, which you can find on a recent bill. We can then advise you on the different rates and suggest what is best for you.
Compare business electricity rates
Save money on your electricity bills.