Don't over pay for your office energy bills
We help thousands of office services each year reduce their energy bills and keep costs low.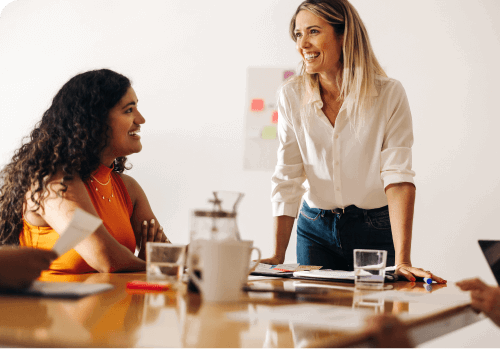 Save on Business Electricity
Sectors
Running a busy office is not without its challenges. You want to create a space where your employees can work productively and safely. But you also want to make sure that operating costs stay as low as possible. If you're overpaying on your energy bills, it can make this a particularly difficult task.
Many office managers look at energy bills as a fixed cost. However, reducing your business energy bills has never been easier. With Business Electricity Prices, you can find a cheaper business energy tariff in minutes.
By simply providing your business address and a few contact details, you can view the latest deals from a wide range of trusted business energy suppliers.
Benefits of Offices Switching Business Energy
Offices are reliant on energy to function. If you're facing expensive bills, now could be the ideal time to switch.
Businesses that haven't switched or renegotiated their energy deal for a few years are likely to be significantly overpaying for their gas and electricity. Suppliers will move businesses onto expensive rollover contracts which can lead to charges 80% higher than negotiated deals.
With Business Electricity Prices, you can make sure you're always on the right business energy deal. With our energy experts on your side, there's no need to be left facing expensive energy bills.
Energy Saving Tips for Office Buildings
Once you've found the right energy deal for your business, it's important to ensure your office is energy efficient. Implementing energy efficiency measures can lower your business energy bills by as much as 20%.
A great place to start is with a business energy audit. Large businesses with more than 250 employees are legally required to carry out an energy audit every four years. However, there are plenty of benefits for smaller businesses.
Whether you carry out a DIY audit or a professional audit, you can identify where you are using energy in your office. A great place to start is checking the performance of appliances and IT equipment to ensure your appliances aren't a drain on your energy bills.
Save Money and the Environment
Heating costs account for 20 – 40% of energy usage in a typical office. Reducing thermostat temperatures by just 1 °C can reduce your energy bill by up to 8% a year. The recommended temperature for offices is between 21 – 23 °C. However, it may be sufficient to set thermostats to 19 – 20 °C.
Many employees report feeling overheated and uncomfortable in the office, particularly during colder months. This is because heat from equipment and lighting can raise the temperature. Consult with your colleagues and find what is most comfortable. If your workers are popping open windows to cool down, it is time to reduce the thermostat and save money!
The next way to rapidly reduce waste is to look at how electrical devices are used. Offices are often guilty of leaving computers, printers and other appliances on standby mode at night and over weekends.
A desktop computer left on 24 hours a day will cost more than £50 a year. Communicate to staff that you would like electrical devices to be switched off when not in use. This is not just a question of saving money for the company, it's also a greener choice.
Lower Your Utility Bills with Business Electricity Prices
At Business Electricity Prices, we've helped office-based businesses of all sizes find great deals across business gas, electricity, and water. With over £90m saved for more than 300,000 customers so far, there's no better time to switch your business utilities.
Lower your office's energy bills by switching your business electricity with the experts at Business Electricity Prices.
Find out how much you could save by switching to a cheaper business gas deal for your office. We can help you find a deal that matches the exact needs of your business.
Did you know that office-based businesses can now switch water providers? Find out how much you could save by comparing business water prices.
Business Energy FAQs for Offices
How long does it take to switch my energy contract?

A commercial energy contract switch will take 4-6 weeks to complete. Contact us today to find out how quickly you can switch. We will give you an accurate timeline once the process is underway.

Is there an ideal time to switch a business energy contract?

There is no one ideal time to compare energy tariffs. Prices on the energy market can be lower outside of the winter months. But energy prices tend to rise over time, so we don't advise delay in switching. If your business is on an expensive tariff, it is best to switch ASAP.

I am not sure which tariff will be best for my office?

The right energy tariff for your will depend on how and when you use energy. When comparing with Business Electricity Prices, you can receive advice on the ideal tariff type to match the needs of your business.
Compare business electricity rates
Save money on your electricity bills.