Don't let energy costs affect your retail business
Take back control of rising energy costs so your business can continue to grow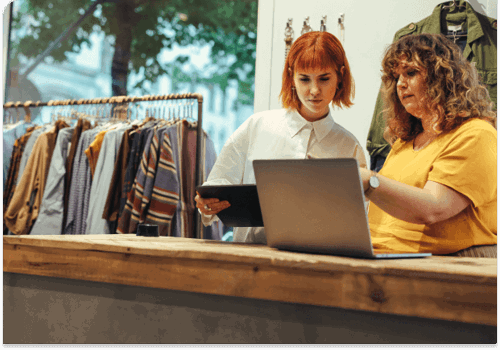 Save on Business Electricity
Sectors
Are you seeking to save on energy costs for your retail store? Find the great deals by switching with Business Electricity Prices. You can join thousands of businesses who have already saved millions on their gas and electricity with our simple comparison service.
You can compare a huge range of tariffs from trusted business energy suppliers in minutes. It's as simple as entering your business address and a few contact details into our online energy comparison calculator.
Benefits of Switching Your Retail Business Energy
Many retail businesses make the mistake of treating energy bills as a fixed cost. With so many competing priorities to manage, companies up and down the UK neglect to compare energy provides to see if they can get a better deal.
If it's been a few years since you reviewed your energy prices, you could be significantly overpaying for your business gas and electricity. As with insurance, there is very little reward for loyalty in the energy market. This means that renewal prices are often much higher than the best deals available.
In fact, small businesses switched to rollover contracts can pay rates 80% more expensive than those on negotiated deals.
Energy Saving Tips for Retail Businesses
Even retail businesses on the best energy deals can reduce their gas and electricity costs with some simple energy saving tips.
Getting hot under the collar?
Heating makes up over 60% of the average retail store's energy bill. During hot or cold weather, that can be an even higher. Your shop needs to make sure that customers experience an ambient temperature so that they feel comfortable. It is crucial that you take steps to ensure your business is not overpaying for the power you use in your shop, it is also cost-effective to consider your overall energy consumption.
By ensuring that you use a timer – so that the heating system is not running when it doesn't need to be - and keep the average room temperature at around 20 °C, you can make your store more energy-efficient and reduce your bills.
Brighten your space
After heating, lighting is the second biggest user of electricity for most retail stores. Retailers – particularly fashion and furnishings – will know the critical value of good lighting for displays to show off your products to their best.
Great lighting doesn't have to mean high electricity bills. Switching to LED lighting is a great way to reduce your bills. LED bulbs are up to 70% more energy-efficient than traditional incandescent bulbs.
Simple steps, like making sure your lighting is turned off when not in use or set on timers or motion sensors can help make sure you don't overspend on your next electric bill.
Reduce Your Retail Utility Bills with Business Electricity Prices
At Business Electricity Prices, we've helped retail businesses of all sizes find great deals across business gas, electricity, and water. We've already helped more than 300,000 businesses save over £90m by switching with us.
Lower your retail businesses energy bills by comparing electricity tariffs with the experts at Business Electricity Prices.
Find out how much you could save by switching to a cheaper business gas deal for your retail store. We can help you find the right deal for your business.
Did you know that retail stores can now switch water providers? Find out how much you could save by comparing business water prices today.
Retail Energy FAQs
How long does it take to switch my store's business energy contract?

Unlike domestic energy switches, a commercial energy switch can take a few weeks to go through. That's why it is best to compare energy tariffs with Business Electricity Prices today.

Will my shop's supply be cut off if I change energy supplier?

No. Changing to a new provider will not affect your electricity or gas supply.

Is there an ideal time to switch my retail energy contract?

Not really, although prices on the energy market can be slightly lower outside of the winter months. If you are overpaying for the power you use in your store, the sooner you switch to a cheaper supplier, the better.
Compare business electricity rates
Save money on your electricity bills.