Don't overpay for your warehouse energy costs 
We help thousands of warehouses each year reduce their energy bills and keep costs low.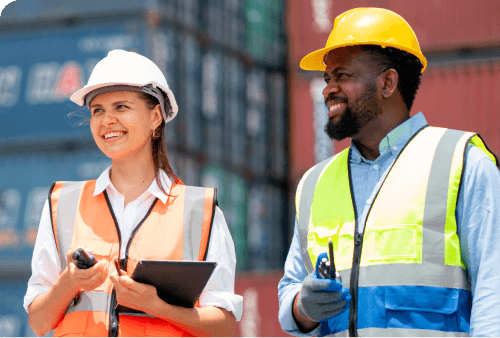 Save on Business Electricity
Sectors
Running a busy warehouse is challenging, with many conflicting priorities. Many owners struggle to keep on top of business energy contracts.
With Business Electricity Prices, you can compare a huge range of business energy deals in a matter of minutes. By switching with us, you will have a dedicated account manager to guide you through the switching process.
Benefits of Switching Your Warehouse Business Energy
Businesses operating warehouses can face particularly high energy bills. In fact, they can represent up to a quarter of a business' costs. If you haven't switched or renegotiated your energy deal for a few years, these costs can be even higher.
Businesses that fail to renegotiate their energy deal can be moved to expensive rollover contracts. The average rates for rollover contracts can be 80% higher than negotiated deals.
By comparing business energy suppliers with Business Electricity Prices, you can view a huge range of the latest energy deals. Once you've switched with us, we'll even be in touch with you towards the end of your contract to keep you on the best deal available.
Saving Energy in Your Warehouse
Keeping your warehouse well-lit and at an appropriate temperature, all come at an energy cost. Additional expenses will impact your bottom line as well as the environment.
Carrying out a business energy audit can allow your warehouse to discover where you can improve your energy efficiency. Energy audits don't always need to be complicated or expensive. In fact, you can carry out the audit yourself by taking a look at your equipment and checking for any draughts around your warehouse.
Lighting the way to cheaper energy bills
Ensuring you use LED lighting around your warehouse is a simple way to save money. Replacing high-frequency fluorescent lighting with LED lights could save you as much as £131 per year per fitting.
Ensuring lights are switched off in areas not in use or installing sensors can also help you limit energy waste and reduce your bills.
Become local energy-saving ambassadors
For many in the commercial sector, your reputation is not just on the service you provide. It is crucial to demonstrate excellent green and ethical credentials.
There are many ways to show customers and clients that your business is environmentally friendly. The first step could be switching to a green energy supplier.
Using solar panels or other renewable energy sources can be a boost for warehouse businesses. Investing in energy-efficient appliances can also future-proof your business. Energy-efficiency appliances have the added benefit of being cheaper to run, allowing your business to save money and the environment.
Reduce Your Warehouse Utility Bills with Business Electricity Prices
At Business Electricity Prices, we've helped warehouses of all sizes find great deals across business gas, electricity, and water. We've already helped more than 300,000 businesses save over £90m by switching with us.
Lower your warehouse energy bills by comparing electricity tariffs with the experts at Business Electricity Prices.
Don't be left overpaying for your warehouse gas. Compare the latest deals today with Business Electricity Prices to find out how much you could save.
Did you know that warehouses can now switch water providers? Discover how much you could save by comparing business water prices today.
Warehouse Energy FAQs
Is there a good time to switch my warehouse energy contract?

There is no one ideal time to switch business energy suppliers. However, prices on the energy market can be lower outside of the winter months. Worried you are overpaying for the power in your warehouse? The sooner you switch to a cheaper supplier, the better.

How long does it take to switch my warehouse commercial energy contract?

Unlike domestic energy switches, a commercial energy switch can take a 4-6 weeks to complete. Compare energy tariffs with Business Electricity Prices today.

Will my warehouse energy supply be disrupted by changing supplier?

No, changing to a new provider won't affect your electricity or gas supply.

My warehouse operates during the night, what is the best energy contract for us?

Economy 7 or Economy 10 tariffs provide cheaper unit rates at night. They may be the most appropriate energy contract. Contact our energy experts today. They can advise you on the best value contracts for your energy usage.
Compare business electricity rates
Save money on your electricity bills.