Get The Latest Business Electricity Supplier Prices In Seconds
Compare prices today by filling in this quick form
We help thousands of businesses each year reduce their business electricity bills.
Our free impartial service allows you to find the most competitive tariffs on the market in seconds.
Compare Business Gas & Electricity Suppliers
Currently, the 'Big Six' energy suppliers account for approximately 70% of the current market share.
However, the range of gas and electricity suppliers is increasingly expanding, and there are several alternative smaller independent suppliers to choose from. These smaller companies often offer cheaper deals.
If you are a business owner, you could benefit from switching to a cheaper business energy supplier with a more competitive pricing plan for your fixed-term energy contract as this could help you save costs.
Comparing energy suppliers and tariffs are the key to getting the best deal for your business energy. In this guide, we'll provide you with all the information you need to make a well-informed choice.
Comparing Business Gas Suppliers
When choosing a gas supplier for your business, it is important to consider all the options available to you to help you make the best choice. Ideally, you want to select a deal that meets all your business needs at a low rate.
At Business Electricity Prices, our experts can negotiate with business gas suppliers on your behalf to ensure you have access to great business gas prices .
As there is no one cheapest energy deal for all businesses, it's important to compare as many suppliers as possible before signing up to a new contract. With Business Electricity Prices, you can quickly compare a wide range of suppliers and tariff types to ensure you are on the best deal for your business.
Compare Business Electricity Suppliers
Similar to the process of choosing a gas supplier for your business, you'll want to select an electricity supplier that offers you the lowest rate possible for the electricity supply required for your business.
If it's been a while since you've switched business electricity suppliers or renegotiated your contract, you are likely to be on your suppliers' default tariff. Energy regulator Ofgem has found that the unit rates on these default tariffs can be 50% higher than negotiated contracts.
At Business Electricity Prices, we will ensure you find the best deal to suit the size of your business, your consumption levels and your business meter type.
Whether you run a micro business or a high consumption business with half hourly metering, you can reduce your business electricity costs by comparing business electricity suppliers today.
Which Business Energy Supplierrs can I switch to?
There is now a huge range of choice when it comes to switching business energy suppliers. There are more than 50 providers on the market supplying gas and electricity to businesses.
Choosing the right supplier can be difficult. Without an experienced energy broker on your side, you may need to go from supplier to supplier comparing prices. At Business Electricity Prices, we aim to make the process of comparing energy suppliers simple.
Here, you can find information on some of the leading business energy suppliers. With us, you can compare suppliers from the big six, to independent and green energy suppliers.
The Big Six Suppliers
In the UK, the six largest energy suppliers are known as the "Big Six." Over the years, these six energy companies have dominated the energy industry. The energy suppliers that make up the big six include:
| Company | Description |
| --- | --- |
| | Southern Electric is part of the Scottish and Southern Group (SSE) who also own SWALEC, Airtricity, and Scottish Hydro. They are the 2nd largest UK supplier serving nearly 10 million customers. |
| | ScottishPower generates and supplies gas and electricity across the whole of the UK. It acquired Manweb in 1995 and is part of the Iberdrola Group. |
| | EDF is also a supplier and generator of energy through their nuclear division run by British Energy. With 5.7 million customer accounts, they're part of the main Big Six UK providers. |
| | E.ON is a 100% privately owned utility provider with their global headquarters based in Germany. In the UK, they supply over 3.8 million customers with power. |
| | Npower RWE is a German-owned utility company producing over 10% of the UK's energy demand. Npower has 3.6 million residential and business customers with their UK office in Swindon. |
| | British Gas is the clear leader in the industry supplying more than 12 million homes and one million businesses with their energy. That's a 50% residential and 25% business market share. |
Independent Business Energy Suppliers
There is also a diverse range of independent gas and electricity suppliers within the market. These companies are smaller than The Big Six and some have specific objectives such as promoting green, renewable energy.
The popularity of independent suppliers has grown in recent years and they are often found to be some of the best-rated providers on the market.
Some examples of independent energy suppliers in the UK are:
Company
Description

Opus Energy provides free smart meters to all new customers. They currently supply over 350,000 business premises in the UK and are the UK's leading independent business energy supplier.

Formerly First Utility, Shell Energy offers cleaner energy solutions to business customers from their global portfolio of gas, power, and environmental products.

Crown Gas & Power

Crown Gas & Power are a single fuel energy provider whose history dates back to 1928 offering solutions for single site and multi-site businesses.

Orsted

Formally Dong Energy, incorporating Shell Gas Direct, this Danish power company focuses on providing energy solutions using primarily offshore wind renewable sources.

Gazprom

Being the UK's largest supplier of gas to commercial organisations, the Russian-based company Gazprom also supplies all of the UK's McDonald's restaurants.

OVO Energy

OVO supply over 830,000 customers in the UK with at least 33% sourced from renewable energy. They are renowned for exceptional customer service.

Utilita Energy

Utilita installed Britain's first smart meter in 2008 and now offers 'Pay As You Go' business energy tariffs with free smart energy monitor.

Haven Power

Haven Power is a business electricity provider with a focus on sustainable energy.

Clear Business Energy

Clear Business Energy offers commercial services including energy, water, telecoms, and insurance.
Small Commercial Energy Suppliers
As the business energy market has grown, the number of small suppliers offering business gas and electricity tariffs has increased rapidly.
Due to carrying lower overheads than many of the larger suppliers, small business providers often offer some of the best rates available. Despite this, some businesses are concerned about the risk of a smaller energy supplier going out of business.
However, there is little reason for businesses to be concerned. Many small business electricity suppliers have been operating for many years. For example, Corona Energy was founded in 1995 and continues to supply around 15,000 small and medium-sized businesses.
If a supplier does go out of business, Ofgem's safety net process passes your supply to an alternative supplier. There would be no interruption to your gas or electricity, and you would be free to stay with your new supplier or switch to a new energy deal.
Here, you can find some examples of small business energy suppliers in the UK:
Company
Description

Bristol Energy

Bristol Energy is owned by Bristol City Council, with profits going back to the city. They supply gas and electricity to micro and SME businesses.

Corona Energy

Corona Energy is an independent supplier with over 20 years' experience serving UK businesses.

Daligas

Daligas is an independent business energy supplier promising transparency and simplicity. They offer fixed and variable tariffs with no exit fees.

Dual Energy

Dual Energy is an independent business energy supplier offering customers smart meter billing.

Energia

Energia is Northern Ireland's independent commercial provider with over 65,000 business customers.

Yorkshire Gas & Power

Yorkshire Gas and Power aim to deliver highly cost-effective business gas and electricity.
Green Business Energy Suppliers
Are you looking to go green with your business electricity and gas? If so, there are a number of green energy suppliers to choose from.
These suppliers prioritise the wellbeing of the environment by providing energy through renewable energy sources. These sources, unlike fossil fuels such as oil and coal, won't run out and help to cut down carbon emissions.
Company
Description

Bulb Energy

Bulb Energy is a fast-growing energy supplier with the aim of offering affordable, renewable energy to homes and businesses.

Octopus Energy

Octopus offers all green energy tariffs to domestic and business customers with the aim of providing straightforward pricing.

Total Gas & Power

Established in 1987, Total Gas & Power now supplies over 175,000 business customers with renewable energy.

Ecotricity

Ecotricity was the world's first green energy supplier back in 1996 and now offers 100% green tariffs to SMEs.

Good Energy UK

Good Energy UK offers renewable energy to homes and businesses sourced from solar, hydro, and wind.

Hudson Energy

Hudson Energy provide green gas and 100% renewable electricity to businesses of all sizes.

Better Energy

Better Energy is a renewable energy supplier that creates new green energy and offers installation of an automatic meter reading device.

Yu Energy

Yu Energy is an energy and water supplier offering 100% certified renewable green energy to businesses.

LoCO2 Energy

LoCO2 Energy aims to offer renewable energy at competitive prices, generating electricity via Hydropower.
Market Data Summary
Below are market supply numbers for the Big Six providers.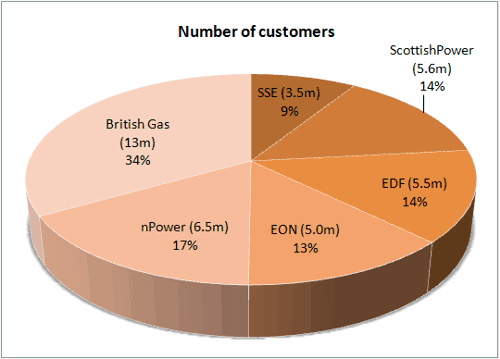 Business Accounts by Supplier
| Provider | Electricity | Gas | Total |
| --- | --- | --- | --- |
| British Gas | 496,300 | 237,400 | 733,700 |
| E.ON | 437,000 | 118,000 | 555,000 |
| Npower | 370,000 | 51,000 | 421,000 |
| SSE | 397,000 | 63,000 | 460,000 |
| EDF | 292,800 | 4,900 | 297,700 |
| ScottishPower | 189,000 | 11,000 | 200,000 |
Source: Ofgem Consolidated Segmental Statements
What Should I Consider When Choosing My Business Energy Supplier?
Selecting a business electricity supplier is an important decision as it can influence your business' overheads and savings. You can make a well-informed decision by considering the following:
1. Your Business' Needs
If savings are your priority and you have no loyalty to any specific company, then you should simply select the cheapest tariff from your  business electricity quotes.
However, if you need additional services such as a Smart Meter, help with reducing consumption, or have advanced invoicing requirements, then your selection can become more limited.
You may also want to combine products such as boiler services, so you only have one monthly bill for all services. Check what each supplier can offer you before signing a new contract.
2. How Long You Require Fixed Rates
Standard commercial electricity supplier contracts usually have fixed prices for one year, but some companies offer products to secure rates for up to five years.
In the outlying years, the price differential between providers increases, so it's wise to compare more companies if you want a longer-term contract. Some suppliers offer variable-priced contracts for larger consumers of energy with half hourly meters.
3. If You are a Multi-Site Business
As your usage increases, your unit price reduces. The same should occur for multi-site quotes which involve grouping all your sites so that you can leverage your buying power and negotiate a packaged deal. It's likely that only the larger suppliers can offer multi-site discounts.
Tips For Getting The Lowest Supplier Prices
As soon as you receive your renewal offer letter, you can start to compare new quotes from the whole energy market.
Use these tips to get the lowest price for your business:
Tip 1: You could save money by changing your meter from one that uses one tariff at all times to a meter that charges differently during the night or at weekends.
Tip 2: Never accept a renewal offer because there will always be a cheaper alternative.
Tip 3: Use a comparison site or a business energy broker that can compare all suppliers so that you can choose from the whole market.
Tip 4: The smaller independent energy providers often have lower rates than the "Big Six", and it's wise to include them in your search.
Tip 5: A Smart Meter is unlikely to save you money, but installing one ensures your bills are always accurate and you never have to take meter readings.
The majority of new contracts for small businesses include a unit price plus a daily standing charge. You'll typically pay a daily rate of 25p plus a unit price of between 14p and 18p depending on your location and the supplier you use.
Commercial Vs Domestic Suppliers
Both the rate structure and contract lengths differ for commercial organisations versus domestic users. Businesses all pay VAT at 20%, where residential users pay 5%. Companies also pay the Climate Change Levy (CCL).
The majority of contracts are fixed-term plans for between one and five years, although you may be eligible for a flexible or variable-priced plan. Once signed, it's unlikely you can cancel before the agreement end date, although in some cases you may terminate your contract with some financial penalties.
Commercial Energy Suppliers for Large Businesses
Only a handful of energy companies supply business electricity for those corporations spending over £100,000 per year or consuming over 750,000 kWh. The majority of the new entrants and independent providers concentrate on services for SMEs and micro businesses. If you have a half-hourly meter or meters categorised under the P272 regulations, then check the contract types available to you.
The tender process of getting prices is also more time consuming as each business electricity supplier produces unique and bespoke business energy quotes for each site. It can take a week to ten days to get your proposed tariff back. Unless you have a dedicated energy consultant working for your firm, we recommend using a broker to reduce your workload.
Commercial Energy Suppliers for Small Businesses
If you run a small business or micro business, controlling energy costs and reducing your overheads is vital.
There are several business electricity and business gas providers who only supply SMEs. They cater their services to offer you the best possible prices. For example, British Gas Lite offers a service to SMEs entirely online in an attempt to keep costs down.
It's worth bearing in mind that the rules surrounding business energy renewals are slightly different for small businesses. If you run a micro business, your supplier is required to provide you with a renewal letter detailing your current prices, your renewal prices and your current energy consumption.
You will find that the renewal prices offered are often much higher than negotiated rates. Micro businesses who fail to renegotiate their contract or switch suppliers could face rates 50% higher than those on negotiated terms.
To find out how much you could save by switching business energy suppliers, compare the latest energy tariffs with Business Electricity Prices.
Business Gas and Electricity Supplier FAQs
Should I Switch My Supplier?

If you're happy with the service your energy company provides to you, then there's no need to change your commercial electricity supplier. Either call them to negotiate an improved deal or ask your broker for new prices. You will still need to switch your gas or electricity contract even if you stay with your current energy company.

How Much Could My Business Save By Switching Suppliers?

Savings will depend on factors such as your business' size, the number of staff, and how efficiently it is run. The more efficient your business is, the more savings you could make.

If you haven't switched energy suppliers or renegotiated your contract rates for a while, it is highly likely that you'll make savings by switching.

How Long Could It Take To Switch Suppliers?

Typically, it can take around four to six weeks to complete a business gas or electricity supplier switch. Ensure that you provide your new supplier with all the details they need as failing to do so could cause a delay.

Could I Leave My Business Energy Contract Early?

Fees to terminate an ongoing contract early are usually high, so if you must do this you should ensure that the savings from your prospective new contract compensate for the early exit fees.

What Happens If I Do Nothing?

If you don't act once you receive your renewal letter, then your prices could move to "out of contract" rates depending on the terms of your current contract. You could see a three-fold increase in your tariffs until you renew your agreement.

Should I Get A Dual Fuel Tariff?

You could save money by combining your business gas and electricity contract, but it varies depending on your location. It's best to get quotes for both single fuels and a combined tariff then compare the total price of both options.

How Do I Find Out Who My Supplier Is?

A recent bill should provide the answer. If you can't find this, then contact your local electricity distribution company.

What Are My Meter Numbers?

Your latest invoices or bills should show all the meters associated with your company locations. You can also find these on the physical meter. Alternatively, a broker can match your address and postcode and locate them.
Compare Prices Online
Save money on your energy bills.