Business Power Companies
What options do you have when it comes to the provision of your commercial energy in the UK? The traditional big six still account for approximately 90% of the current market with the remainder made up by smaller independents.
Learn more about the top 10 suppliers with reviews and guidance on product offerings.
The Big Six Suppliers
| Supplier | Description |
| --- | --- |
| | Southern Electric is part of the Scottish and Southern Group (SSE) who also own SWALEC, Airtricity, and Scottish Hydro. They are the 2nd largest UK supplier serving nearly 10 million customers. |
| | ScottishPower generates and supplies gas and electricity across the whole of the UK. It acquired Manweb in 1995 and currently supplies over 5,600,000 customers. |
| | EDF is also a supplier and generator of energy through their nuclear division run by British Energy. With 5.7 million customer accounts, they're part of the main Big Six UK providers. |
| | E.ON is a 100% privately owned utility provider with their global headquarters based in Germany. In the UK, they supply over 5.3 million customers with gas and electricity. |
| | RWE npower is a German-owned utility company producing over 10% of the UK's energy demand. Npower has 6.5 million residential and business customers with their UK office in Swindon. |
| | British Gas is the clear leader in the industry supplying more than 12 million homes and one million businesses with their energy. That's a 50% residential and 25% business market share. |
Market Data Summary
Below is the latest market supply numbers for the Big Six providers.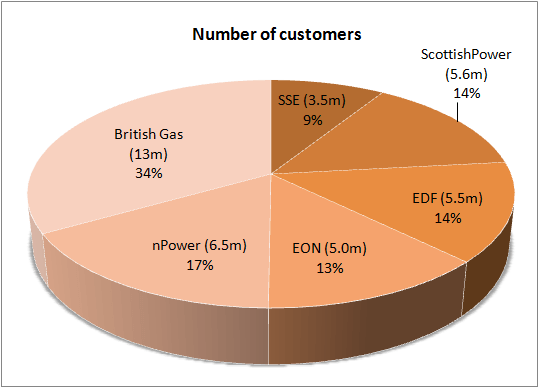 Business Accounts by Supplier
| Provider | Electricity | Gas | Total |
| --- | --- | --- | --- |
| British Gas | 496,300 | 237,400 | 733,700 |
| E.ON | 437,000 | 118,000 | 555,000 |
| Npower | 370,000 | 51,000 | 421,000 |
| SSE | 397,000 | 63,000 | 460,000 |
| EDF | 292,800 | 4,900 | 297,700 |
| ScottishPower | 189,000 | 11,000 | 200,000 |
Independent Suppliers
| Supplier | Description |
| --- | --- |
| | Opus Energy provides free smart meters to all new customers. They currently supply over 150,000 business premises in the UK and are part of the GDF SUEZ group. |
| | First Utility is the UK's largest independent energy supplier with over 200,000 residential and business customers. They're often the cheapest supplier on comparison sites. |
| | Electricity 4 Business (E4B) is no longer trading and are in administration. Previous customers of E4B moved to British Gas as the supplier of last resort. |
| | Energia is Northern Ireland's independent commercial provider with over 65,000 business customers. As part of the Viridian Group, they have a 33% market share in NI. |
Which Provider Should I Choose?
When deciding on your supplier, you should consider the following:
What Services You Require
If you simply want to save money and have no loyalty with any company, then simply select the cheapest tariff on our comparison tables. However, if you need additional services such as a Smart Meter, help with reducing consumption, or have advanced invoicing requirements, then your selection diminishes.
How Long You Want To Fix Rates
A standard commercial electricity contract is for one year, but you can fix prices for up to five years. In the outlying years the price differential between suppliers increases, so it's wise to compare more companies if you want a longer term contract.
If You Have More Than One Site
As your usage increases, your unit price reduces. The same should occur if you want a multi-site quote by grouping all your sites together so you can leverage your buying power and negotiate a packaged deal. It's likely that only the larger suppliers can offer multi-site discounts.
Compare Prices Online
Save money on your energy bills by comparing prices online.
Related Content: