Business users now have a vast array of commercial electricity suppliers to choose from when choosing their next fixed-term energy contract to save costs and help you meet your business needs.
Although the traditional Big-Six still accounts for approximately 90% of the current market share, new, and often cheaper options exist from a large choice of smaller independent companies.
Switching from your existing provider to a more competitive pricing plan is easy and straightforward to accomplish. To maximise savings on your current bill, perform a comparison of all market suppliers' products then switch to the cheapest price.
The Big Six Suppliers
| Company | Description |
| --- | --- |
| | Southern Electric is part of the Scottish and Southern Group (SSE) who also own SWALEC, Airtricity, and Scottish Hydro. They are the 2nd largest UK supplier serving nearly 10 million customers. |
| | ScottishPower generates and supplies gas and electricity across the whole of the UK. It acquired Manweb in 1995 and currently supplies over 5,600,000 customers. |
| | EDF is also a supplier and generator of energy through their nuclear division run by British Energy. With 5.7 million customer accounts, they're part of the main Big Six UK providers. |
| | E.ON is a 100% privately owned utility provider with their global headquarters based in Germany. In the UK, they supply over 5.3 million customers with power. |
| | Npower RWE is a German-owned utility company producing over 10% of the UK's energy demand. Npower has 6.5 million residential and business customers with their UK office in Swindon. |
| | British Gas is the clear leader in the industry supplying more than 12 million homes and one million businesses with their energy. That's a 50% residential and 25% business market share. |
Independent Suppliers
Company
Description

Opus Energy provides free smart meters to all new customers. They currently supply over 150,000 business premises in the UK and are part of the GDF SUEZ group.

First Utility is the UK's largest independent energy supplier with over 200,000 residential and business customers. They're often the cheapest option on comparison sites.

Electricity 4 Business (E4B) is no longer trading and are in administration. Previous customers of E4B moved to British Gas.

Energia is Northern Ireland's independent commercial provider with over 65,000 business customers. As part of the Viridian Group, they have a 33% market share in NI.

Orsted

Formally Dong Energy, incorporating Shell Gas Direct, this Danish power company focuses on providing energy solutions using primarily offshore wind renewable sources.

Gazprom

Being the UK's largest supplier of gas to commercial organisations, the Russian-based company Gazprom also supplies all of the UK's McDonald's restaurants.

OVO Energy

OVO supply over 830,000 customers in the UK with at least 33% sourced from renewable energy. They are renowned for exceptional customer service.
Market Data Summary
Below is market supply numbers for the Big Six providers.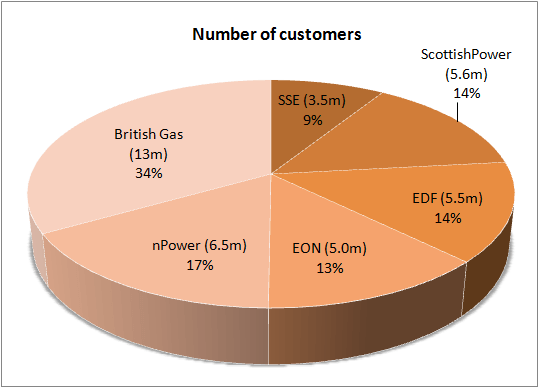 Business Accounts by Supplier
| Provider | Electricity | Gas | Total |
| --- | --- | --- | --- |
| British Gas | 496,300 | 237,400 | 733,700 |
| E.ON | 437,000 | 118,000 | 555,000 |
| Npower | 370,000 | 51,000 | 421,000 |
| SSE | 397,000 | 63,000 | 460,000 |
| EDF | 292,800 | 4,900 | 297,700 |
| ScottishPower | 189,000 | 11,000 | 200,000 |
Source: Ofgem Consolidated Segmental Statements
What Should I Consider When Choosing My Supplier?
When deciding who to choose, you should consider the following:
1. The Services You Require
If you merely want to save money and have no loyalty to any company, then only select the cheapest tariff on our comparison tables from your business electricity quotes. However, if you need additional services such as a Smart Meter, help with reducing consumption, or have advanced invoicing requirements, then your selection diminishes.
You may also want to combine products such as boiler services, so you only have one monthly bill for all services. Check what each supplier can offer you before signing any new contract.
2. How Long You Want To Fix Rates
Standard commercial electricity contracts usually have fixed prices for one year, but some companies offer products to secure rates for up to five years. In the outlying years the price differential between providers increases, so it's wise to compare more companies if you want a longer-term contract. Some suppliers offer variable-priced contracts for larger consumers of energy with half hourly meters.
3. If You are a Multi-Site Business
As your usage increases, your unit price reduces. The same should occur if you want a multi-site quote by grouping all your sites so you can leverage your buying power and negotiate a packaged deal. It's likely that only the larger suppliers can offer multi-site discounts.
Tips For Getting The Lowest Supplier Prices
As soon as you receive your renewal offer letter, you can start to compare new quotes from the whole energy market.
Use these tips to get the lowest price for your business:
Tip 1: You could save money by changing your meter from one that uses one tariff at all times to a meter that charges differently during the night or at weekends.
Tip 2: Never accept a renewal offer because there will always be a cheaper alternative.
Tip 3: Use a comparison site or a business energy broker that can compare all suppliers so that you can choose from the whole market.
Tip 4: The smaller independent energy providers often have lower rates than the "Big Six", and it's wise to include them in your search.
Tip 5: A Smart Meter is unlikely to save you money, but installing one ensures your bills are always accurate and you never have to take meter readings.
The majority of new contracts for small businesses include a unit price plus a daily standing charge. You'll typically pay a daily rate of 25p plus a unit price of between 14p and 18p depending on your location and the supplier you use.
Gas and Electricity Supplier FAQ
Should I Switch My Supplier?
If you're happy with the service your energy company provides to you, then there's no need to change your supplier. Either call them to negotiate an improved deal or ask your broker for new prices. You will still need to switch your gas or electricity contract even if you stay with your current energy company.
What Happens If I Do Nothing?
If you don't act once you receive your renewal letter, then your prices could move to "out of contract" rates depending on the terms of your current contract. You could see a three-fold increase in your tariffs until you renew your agreement.
Should I Get A Dual Fuel Tariff?
You could save money by combining gas and electricity contract, but it varies depending on your location. It's best to get quotes for both single fuels and a combined tariff then compare the total price of both options.
How Do I Find Out Who My Supplier Is?
A recent bill should provide the answer. If you can't find this, then contact your local electricity distribution company.
What Are My Meter Numbers?
Your latest invoices or bills should show all the meters associated with your company locations. You can also find these on the physical meter. Alternatively, a broker can match your address and postcode and locate them.
Commercial Versus Domestic Supplies
Both the rate structure and contract lengths differ for commercial organisations versus domestic users. Businesses all pay VAT at 20%, where residential users pay 5%. Companies also pay the Climate Change Levy (CCL).
The majority of contracts are fixed term plans for between one and five years, although you may be eligible for a flexible or variable-priced plan. Once signed, it's unlikely you can cancel before the agreement end date, although in some cases you may terminate your contract with some financial penalties.
Suppliers for Large Businesses
Only a handful of energy companies supply business electricity for those corporations spending over £100,000 per year or consuming over 750,000 kWh. The majority of the new entrants and independent providers concentrate on services for SMEs and micro businesses. If you have a half-hourly meter or meters categorised under the P272 regulations, then check the contract types available to you.
The tender process of getting prices is also more time consuming as each supplier produces unique and bespoke quotes for each site. It can take a week to ten days to get your proposed tariff back. Unless you have a dedicated energy consultant working for your firm, we recommend using a broker to reduce your workload.