Specialised Prices and Straightforward Quotes
Choose a new energy supplier and save with a bespoke quote that suits your business needs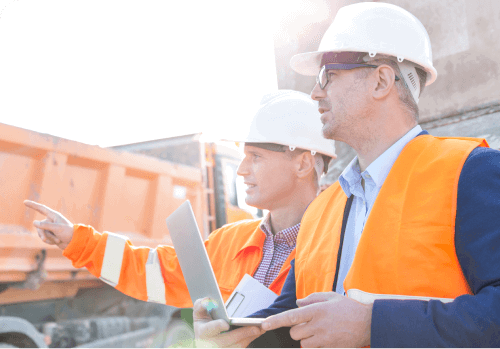 Save on Business Electricity
Accredited Business Energy Brokers
Table of Contents
If you're looking to reduce your energy bills but don't have time to trawl the market searching for the best deal, a business energy broker could be for you.
At Business Electricity Prices, we help over 12,000 UK businesses save money on their gas and electricity bills each year.
Our energy experts will support you by taking care of all the heavy lifting on finding great prices and getting you set up with your new supplier.
Many business energy brokers like ourselves have specially negotiated deals that others can't access. These bespoke services can offer even lower prices than dealing directly with your supplier.
How Does a Business Energy Broker Work?
A business energy broker builds relationships with energy suppliers to offer customers an easy way to compare multiple suppliers at once. 
In return, energy brokers will receive a commission on the energy their customer uses. Your final business electricity quote will always include any commissions with no additional costs or brokerage fees payable.
You won't receive a separate invoice for any services provided by your energy broker unless you have agreed to specialist tendering products unique to your company.
Business Energy Broker Step-by-Step Guide
| Steps | Description | Link |
| --- | --- | --- |
| | We only need a few details about your current supplier and business address to provide the latest electricity prices. | Enter Your Details |
| | You'll be provided with a range of tariff options from our database of suppliers. Select the one that best matches your requirements. | View suppliers |
| | Once you've selected your tariff, our team sets up your new contract with your new supplier and handles the switch. | Start Here |
What Services Can an Energy Broker Offer My Business?
In a nutshell, a business energy broker will find you the most appropriate tariff and then switch your business electricity contract for free. The will include obtaining your consumption data, matching it to the right supplier and managing your switch by setting you up with your new supplier.
Other services may include implementing energy management systems, invoice reconciliation, ensuring you have the most efficient meters for your property and general energy efficiency advice.
Summary of Services We Offer
| Service | Description |
| --- | --- |
| 1. Wide Comparison of Suppliers in the Market | Once you've instructed us as your broker, we'll prepare prices from all suppliers operating in the marketplace. We have access to live rate-book pricing data to find the cheapest options. |
| 2. Manage Your Switch | We'll handle all the communication with your current and new suppliers. We'll ensure the switching of contracts occurs efficiently, and that your new bills are accurate. |
| 3. Renewal Reminders | All customers are contacted before their contract renewal date to ensure expensive rollover rates are not activated. This timely service keeps you at optimal prices. |
| 4. Management Information | To assist with energy efficiency, consumption reduction, and analysis, your broker has access to your usage data. They'll help you manage your costs with their expertise. |
What Benefits and Drawbacks Are There?
Deciding to use a reputable specialist adviser can help guide you through the complex market and reduce your energy costs.
As with hiring any external party to help your business, there are benefits and drawbacks to consider.
Benefits of Brokers
The main benefit of using a third party is leveraging their industry knowledge and buying power to help keep your costs as low as possible. There are other advantages as follows:
A knowledgeable third party handles all tariff negotiations.
They can instantly find the right tariffs from a range of over 15,000 options.
The broker switches your tariff to your new provider on your behalf.
This process saves you time and money to ensure you're on the correct rates for your premises.
Some companies offer additional services such as invoice validation, carbon offset reporting, management software, and contract reminder services.
Drawbacks Within the Industry
Regulation of the commercial side of the energy industry is minimal, although Ofgem has proposed plans to close the gap with the residential sector.
No broker can compare every possible supplier and tariff available.
You will still need to make a decision on which energy broker you will compare with.
Why Choose Business Electricity Prices?
At Business Electricity Prices, our goal is to make it as simple as possible for customers to switch their energy contracts and make savings.
By choosing to switch your business gas and electricity with us, you can benefit from:
Quick online energy comparisons allow you to view the latest tariff prices in just 60 seconds.
Support and advice from a dedicated account manager who can assist with energy efficiency and other utility products, such as comparing business water prices.
Check to ensure your invoices are accurate from both a contract rate and meter reading viewpoint, so you only pay for the gas and electricity you use at the prices you agreed to.
Advice on changing your meter type to take advantage of evening and weekend tariffs that could lower your bills even further.
Advice on reducing your carbon footprint and annual energy consumption for your entire company.
Reminders when your new contract is coming to an end with advice on the best tariff prices available to ensure you avoid costly rollover rates.
If you take out a contract using our business energy broker option, the above additional services incur no additional charges.
To begin the process of switching to a cheaper business energy contract, use the quote button below.
Business Energy Broker FAQs
How Can I Chose a Reputable Energy Broker?

There is no official regulator of energy brokers in the manner of Ofgem with energy suppliers, and brokers do not need the same licences as suppliers.

However, reputable brokers should adhere to a code of practice which guarantees you will receive the best service possible. This should include being transparent about how they work, how they are paid and which supplier they work with.

Do I Need a Business Energy Broker to Switch Supplier?

Businesses can switch their energy contract by going directly to suppliers however this can be time-consuming, especially for large companies with multiple sites. If you do invest the time in comparing suppliers on your own, you could still be unable to access the best prices on the market.

Business energy brokers provide a simple solution allowing you to compare many business energy suppliers in a matter of seconds to find a better tariff rate.

Are Energy Broker Prices Competitive?

Most small brokers have the same gross pricing matrices provided to them by the energy companies.

They flex their commissions to provide competitive prices. Some larger brokers may have exclusive deals, including our consultants, who often beat most market offerings.

To find the latest business energy prices online, take advantage of our broker service by comparing energy quotes online with our free-to-use comparison engine.
Compare business electricity rates
Save money on your electricity bills.