E.ON business energy prices, rates and reviews
The latest information and prices for E.ON. One of the UK's biggest energy suppliers.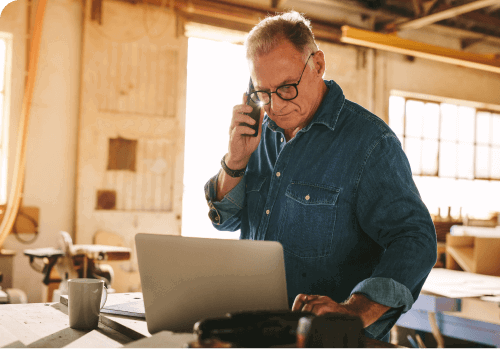 Save on Business Electricity
Suppliers

E.ON is one of the UK's Big Six energy suppliers. It provides gas and electricity to over 500,000 businesses in the UK.
E.ON is committed to providing businesses of all sizes with the energy they need.
Whether you're a small or medium business, E.ON can offer you a suitable contract for your business energy.
Introduction to E.ON
Founded in 2000, E.ON has built a reputation for providing gas and electricity to both businesses and homes. With over 3.8 million customers, E.ON is one of the largest energy providers in the UK.
This supplier owned the first offshore wind farm in the UK. They continue to invest in renewable energy sources to help preserve the environment. E.ON business energy customers can rest assured that they are investing in a sustainable, accountable supplier. 
E.ON Business Electricity Tariffs and Prices
E.ON has several business gas and electricity plans available for businesses. These include fixed-rate and variable-rate tariffs, as well as multi-purchase and flex contracts.
It has energy plans that are targeted at small and medium companies. Plus, it offers businesses support with risk and energy management.
E.ON business energy customers can expect the following: 
Fixed-priced contracts for unit prices and standing charges. Variable rates are generally not available to small businesses. However, corporations may be able to negotiate variable pricing contracts.
Guaranteed pricing for the length of the contract, which means that your bills won't increase due to price changes.
1-year or 3-year contract lengths are available. The standard offering is for 12 months with fixed prices.
You can access lower prices when purchasing online.
Additional discounts if you pay via monthly direct debit rather than on receipt.
Free access to E.ON's energy savings advice website. By following the tips, you could save up to 20% per year. 
Contract end dates on all invoices. So you can terminate your contract in good time to avoid rollover contracts.
Free smart meters for consumers that don't have a half-hourly meter. Meters help provide data on your usage through energy management software.
Regular review of direct debits to align your account with fair usage policies.
Clear and simple invoices to help you understand your bills faster.
Before you get excited about the benefits, you need to discover whether E.ON business electricity rates suit your business. High charges could spell disaster for your business, so it's important to check them out. We've compiled a table of current E.ON business electricity rates so you can make an informed decision. 
E.ON Energy Reviews 
Are you interested in switching to E.ON Energy? Before you make the switch, you need to look up E.ON Next Reviews. E.ON Next offers 100% renewable electricity to all domestic customers and a few eligible commercial customers. By reading E.ON Next Trustpilot reviews, you can stay one step ahead of inaccurate claims. Previous and existing customers post on Trustpilot to either praise or criticise companies, so you'll always see the bigger picture before you enter into a new contract. 
E.ON has a few Trustpilot accounts, which is something you should always be wary about. Sometimes, companies create separate accounts to direct customers to the right services. Other times, they create different accounts to stop potential customers from seeing bad reviews. 
Luckily, E.ON seems to have created separate accounts to direct us to the right one! E.ON Next's Trustpilot reviews are brilliant. Just under 50,000 people have left reviews for a total score of 4.2/5 and an overall rating of great. 
73% of people who left E.ON reviews think that the service deserves 5 stars, whereas 14% of people who left E.ON reviews think that the service deserves 1 star. Positive reviews mention helpful customer service representatives by name, but negative reviews talk about long wait times. A representative from E.ON Energy replies to all the reviews, which shows that this supplier is invested in the customer experience. 
Advantages of Choosing E.ON Business Energy 
SMEs can access tailored fixed and variable-rate tariffs. 
Business customers can request a free smart meter installation. 
A decent chunk of the renewable energy that E.ON uses is a result of E.ON-owned assets. 
There are no exit fees. 
If business owners sign-up through E.ON Next, they get 100% renewable electricity at no extra cost. This is brilliant for people who are worried about E.ON business electricity rates. 
Disadvantages of Choosing E.ON Business Energy 
E.ON business energy tariffs are not available for large businesses. 
The customer support team is not available 24/7, which means that issues could fall through the cracks. 
Which? Surveyed E.ON's customers and found that they rated the supplier 2/5 stars for 'usefulness of information about energy costs' and 2/5 for 'value for money'.
Compare E.ON Business Electricity Rates With Business Electricity Prices
Once you've looked at E.ON Next's Trustpilot reviews, you might be thinking of switching to an E.ON business energy tariff. We can help you compare energy prices. When you use our service, you are guaranteed to find the best deal for your business electricity and gas.
With our free online comparison tool, comparing tariffs is easy. Enter your business' postcode and contact information. After answering a few details about your business energy needs, you'll receive your free quote.
The Easy Way to Switch to an E.ON Business Energy Tariff
Switching to an E.ON business energy tariff has never been simpler. At Business Electricity Prices, we take the stress away from switching. Once you've chosen your tariff, we'll manage your switching process and guide you all the way through.
We'll get in touch with both your old and new business energy suppliers. When you choose us, you can be sure that your switch will run seamlessly, without any disruptions or issues.
Should you have any questions or concerns about your switch, one of our energy experts will be on hand to help.

What Else Can E.ON Business Electricity Offer My Business?
If E.ON reviews are anything to go by, this supplier offers a great range of business energy tariffs. But it also provides several services to help you get the most from your business energy contract.
E.ON's contracts allow you to have all or some of your business' third-party costs passed through on your invoice or agreed on upfront. This supplier will also advise you on Feed-in-Tariffs (now Smart Export Guarantee) if you have on-site renewables.
The account managers at E.ON will help you meet your carbon reduction targets through Renewable Energy Guarantees of Origin (REGO) backed solutions. This includes heat pumps, EV charging and district heating, which help to improve efficiency, generate cleaner air, and cut business costs.
What Happens if My E.ON Contract Is Up for Renewal?
In accordance with the regulations set out by Ofgem, E.ON must send micro businesses a renewal letter. Customers must receive the letter three months before the end date of the business energy contract. However, if your company is not a micro business, the onus is on you to remember when your contract ends.
The renewal letter will include the rollover rates for your new contract. If you choose to stay with your current supplier, these rates will apply. It will also detail the out-of-contract rates that you'll incur if you fail to terminate or renew in time.
Both the rollover and out-of-contract E.ON business electricity rates will be expensive. That is why we encourage business owners to use an energy comparison engine to compare energy prices and secure a new tariff once their contract ends.
E.ON Fuel Mix & Green Performance
Sustainability and green credentials are key focuses for both businesses and consumers around the world.
E.ON is committed to supporting these objectives. It has shown dedication by investing £9 billion into renewable energy. It matches domestic and commercial energy with renewable energy sources. This includes wind, biomass and solar power.
E.ON's Next reviews make one thing clear: customers love the fact that this supplier cares about sustainability. As of January 2020, all of E.ON's non-half hourly fixed business plans use 100% renewable electricity. 
Below is an outline of E.ON's fuel mix:
Coal – 3.7%
Gas – 42.2%
Nuclear – 4.8%
Renewables – 46.3%
Other sources – 3%
Compare E.ON Business Energy Online With Business Electricity Prices
Thinking of switching to an E.ON business energy tariff? Try our free online comparison tool. Get a quick snapshot of a wide range of business energy deals.
All you have to do is enter your business' postcode, contact details, and energy needs. You'll receive your free quote in a matter of seconds.
Compare business electricity rates
Save money on your electricity bills.