Top 10 Renewable Energy Countries
From Al Gore's eye-opening documentary An Inconvenient Truth
to the recent speech given by Greta Thunberg at the United Nations, climate change maintains a hot topic around the world.
For many countries, it's been an uphill struggle to abandon traditional fossil fuels for sustainable green energy solutions. However, with more pressure from governmental bodies and legislation like the 2015 Paris Agreement, countries across the globe are gradually working towards cleaner energy solutions.
Making the switch to renewable energy generation is easier said than done, though. There are many factors that affect how easily a country can implement 100%. For example, both China and the USA produce some of the largest amounts of renewable energy, yet when compared with their overall fuel mix, the results are underwhelming.
Countries leading the way forward for renewable energy
There are, however, a number of countries that are embracing renewables and are making huge steps to make our fossil fuel dependency a thing of the past. Energy experts at Business Electricity Prices have analysed global data from the International Energy Agency (IEA) to create an interactive map showcasing how much renewable energy each country generates.
Business Electricity Prices have also ranked the top 10 countries for renewable energy and takes a closer look as to how each nation has worked towards 100% renewable energy.
Iceland – 100% renewable energy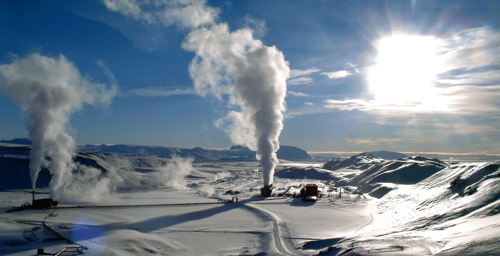 Often known as "the land of fire and ice", Iceland is home to the ideal mix of geology and geography, making it almost perfectly suited to renewable energy. The country lies on the Mid-Atlantic Ridge and is home to approximately 130 volcanoes, of which roughly 30 are active. This gives Iceland an abundance of geothermal power to put to good use – in fact, 9 in every 10 homes in Iceland are heated purely by geothermal energy. 
Despite 90% of Icelanders literally heating their homes with volcanoes, geothermal energy is dwarfed by Iceland's hydropower generation. Roughly 11% of the country is covered by glaciers which create glacial rivers during seasonal melting. These rivers flow from the mountains right down into the sea, generating nearly 75% of the country's energy.
Much like Albania, Iceland has even more green energy potential that could be utilised, as its northerly location gives it tremendous wind power, a source that is currently virtually untapped.
Paraguay – 100% renewable energy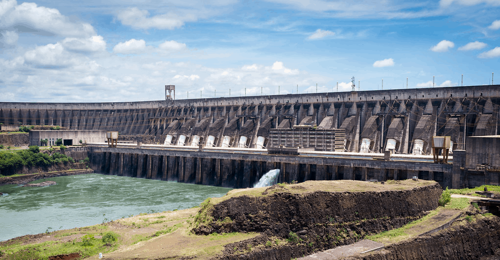 As well as producing 100% green energy, Paraguay generates the highest percentage of renewable energy per capita in the world . Plus, it's the fourth-largest electricity exporter on the planet, only being beaten to the podium by Germany, France and Canada.
Like the other countries to top our list, Paraguay owes its renewable energy success to hydropower. In fact, 99% of the country's electricity and 70% of its total energy is generated by hydropower plants, with the remainder being created by biomass. 
Where Paraguay differs from the other countries, however, is that it has the capacity to produce five-times its national electricity requirements and has the world's most powerful hydropower plant, the Itaipú Dam.
Along with the Yacyretá Dam, the Itaipú Dam is the largest power plant in the world and broke the world record in 2016 by generating 103TWh – a feat that contributed an additional 100 million USD to the Paruguan treasury. 
Albania – 100% renewable energy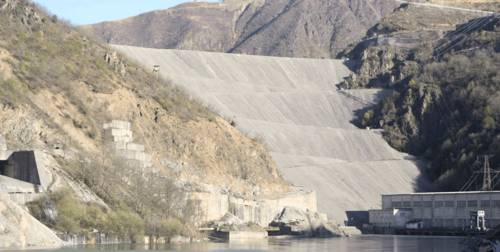 Almost all of Albania's domestically generated energy is created by hydropower (nearly 97%), with a small amount from solar power. The mountainous nation is home to eight major river systems which house over 90 power stations. The Din River is the largest river in the country and hosts three hydropower stations, Fierzë, Komani and Vau I Dejës – equating to 90% of Albania's electricity production.
Despite the country's impressive green energy generation, Albania actually has a much higher potential for creating renewables. With an abundance of sunlight, plenty of wind in the coastal mountain ranges and hot springs signalling geothermal resources, Albania is one of the most suited countries in Europe for renewable energy.
There is one downside to their energy generation and this is the nation's reliance on hydropower. Albania is forced to buy import energy from its neighbours when the power stations aren't operational (nearly half the year due to a lack of rainfall). By adopting new forms of renewable energy production, Albania could generate enough power to use year-long and could even export a surplus to Western Europe.
The Democratic Republic of Congo – 100% renewable energy
Although it's the eleventh largest country in the world, the Democratic Republic of Congo (DRC) has one of the lowest rates of electrification, with over 15 million households left without power. 
The DRC still makes it to the top of our list as one of the four countries producing 100% renewable energy, almost exclusively to hydropower (96%) along with solar energy. Most of the power generated is thanks to the Inga 1 and Inga 2 dams, located in Kongo Central province. Despite the dams having an installed capacity of 1,775 megawatts, decades of neglect and deferred maintenance mean the facilities aren't generating energy anywhere near their potential.
Speaking of potential, the DRC has the natural resources to install up to 100,000 megawatts of hydropower energy. The government of the Democratic Republic of Congo (GDRC) have launched a programme to rehabilitate Inga 1 and 2's turbines, as well as developing a third Inga dam, estimated to generate 4,400 megawatts. This is part of a larger initiative to construct 'Grand Inga', an eight dam project capable of generating as much as 40,000 megawatts, which could meet the energy requirements of most of the African energy needs.
Namibia – 99.3% renewable energy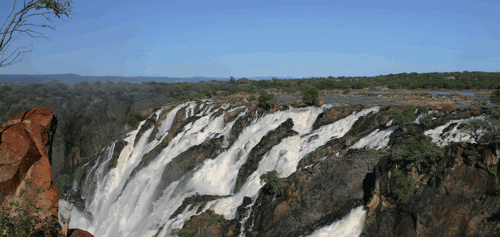 Although not quite reaching the prestigious 100% green title, Namibia still boasts a very impressive 99.3% renewable energy generation. The major source of power in Namibia is from the hydroelectric power plant located in Ruacana Falls.
This can be problematic, however, as Namibia is one of the hottest countries in the world and experiences over 300 days of sunshine a year, making climate change a major risk to the country's electricity supply. A low rainfall season can be the difference between a functioning power plant and a severe shortage of energy.
Namibia's state-run utility has taken action to turn the countries severe sunlight exposure into a resource rather than a threat. Over the next five years, four plants will be built to harness alternative renewable energy sources . The plants will harness solar, wind and biomass to generate a combined 220 megawatts of power. 
Costa Rica – 97.7% renewable energy
The small Central American nation of Costa Rica has always taken clean energy seriously. The country boasts more than 97% of renewable energy generation and on two separate occasions has run at 100% for a number of days.
Costa Rica even set a new record in May 2019, as they generated more energy than ever before , exceeded all previous historical totals. During these 31 days, the country produced 984.19 GWh of electricity, of which 99% came from renewable sources. They were so successful in fact, that the Costa Rican Institute of Electricity (ICE) suspended the purchase of energy from the Regional Electricity Market (MER) and instead began selling their surplus electricity to other Central American countries.
Costa Rica gains its renewable energy from a number of natural resources. Much like many of the countries in the top 10, hydroelectricity is the nation's main source of power, as the heavy rainfall creates a sustainable fountain of energy. However, the country also produces significant amounts of electricity (nearly 20%) from wind, biomass, solar and geothermal energy.
Costa Rica is now the third-largest producer of geothermal power in the Americas . The country's seventh geothermal plant recently opened and is the next step in Costa Rica's plans to reduce their dependence on hydropower.
Tajikistan – 97.5% renewable energy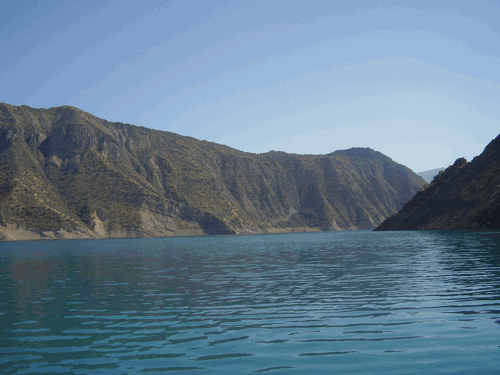 One of Central Asia's poorest and smallest countries, Tajikistan, has a substantial energy deficit. 74% of the population live in rural areas, where accessibility to electricity is less than 4 hours daily in the winter.
Despite having issues with the amount of energy produced, the electricity generated in Tajikistan is almost totally green. The mountainous regions mean the country has many rivers to exploit, giving the nation substantial hydroelectric opportunities.
Tajikistan has a range of renewable energy sources just waiting to be utilised to help keep the country electrified. Hydroelectricity may be the dominant energy source, however, it's estimated that only 5% of the country's water potential is being put to good use.
Tajikistan is home to 53% of Central Asia's hydroelectricity resources and 4% of the world's. By making the most of its rivers and waterways, Tajikistan has the opportunity to exponentially increase its energy generation. But it's not just water that could help with this country's energy deficit, as the nation receives 2,100 to 3000 hours of sunlight a year which is yet to be exploited with solar power technology. 
Norway – 97.2% renewable energy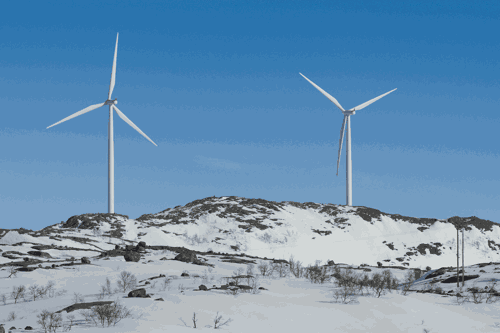 Widely considered one of the world leaders in renewable energy, Norway has put hydropower at the forefront of its energy production since first utilising its rivers and waterfalls back in the late 1800s. Since then, hydropower has become increasingly important as part of Norwegian society and has continued to adapt alongside the modernisation and economic growth of Norway.
Over the past 100 years, over 330 dams have been constructed across the country, a contributing factor to the nations substantial hydroelectricity production. And yet, Norway isn't solely dependent on electricity generated via hydropower plants. 
Biomass and solar power contribute to Norway's renewable energy generation, however, wind power is where investments are booming. The Roan Wind Farm , the country's largest onshore wind farm, is now up and running and is expected to generate 900 GWh annually from its 71 turbines.
Norway continues to champion environmentalism with a number of initiatives to commit to being a carbon-neutral economy. Preliminary agreements are underway in Norway to develop Europe's largest carbon capture and storage (CCS) facility under the North Sea . Norwegians are also leading the world in electric vehicle usage and breaking records as they do it, as 60% of new cars sold in March 2019 were entirely electric-powered .
Uruguay – 96.5% renewable energy
Historically, Uruguay's renewable energy generation was due to a lack of tapped fossil fuels, making the nation dependent on hydroelectric power. To keep up with their energy demand, it was also necessary that Uruguay relied on exported oil and electricity from the neighbouring countries of Argentina and Brazil. 
In recent years, Uruguay has shifted drastically to increase its production of energy from renewable sources. As recently as 2012, the country generated just 40% of its energy from renewables, as opposed to today's 97%. 
Hydropower is still the country's main source of energy at roughly 60%, with the remainder coming from solar wind and biofuels. Uruguay's aggressive adoption of renewable energy sources has resulted in it being one of the most electrified nations in the southern hemisphere, with 99.4% of homes having access to electricity . It also means that the country has transformed itself from an importer of fossil fuels to an exported of green energy in as little as a decade.  
Zambia – 95% renewable energy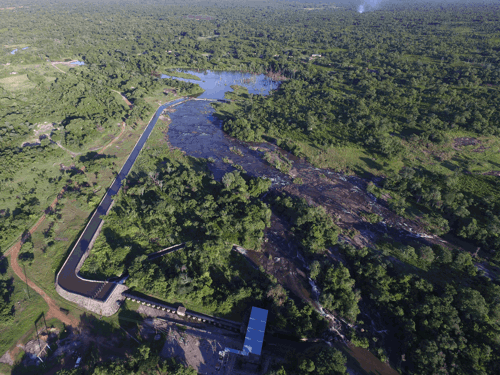 The landlocked nation of Zambia is another country in the top 10 which owes the majority of its energy production to hydropower. The Zambezi River is the major hydropower resource in southern Africa, with the Lunzua power station responsible for 94% of the nations total energy mix.
Zambia has an electrification rate of just 25% and is another country on our list that would benefit greatly by exploiting its vast renewable energy potential to cope with the nation's sustained economic growth. 
Lunzua station has reached a capacity of 2257 MW after being upgraded in 2014, however, there is more than 6,000 MW of untapped hydropower potential in Zambia's rivers and reservoirs. 
There are other renewable avenues that Zambia can take to prevent the nation's dependence on hydropower, especially during seasons of drought. The country may not be suited for wind power, yet it receives an average of 2000-3000 hours of sunlight every year. Geothermal energy is another underutilised resource in Zambia. There are over 80 hot springs in the country , in which 35 were rated highly as locations for a plant. Currently, there is one plant in the Kapisya hot springs, but the project never became operational and has been sitting idle for 15 years.
The future of renewable energy 
Whereas some countries like Iceland and Norway have made strides towards using all their available resources, not all can say the same.
Despite countries breaking into the top 10 for renewable energy generation, it's clear that there is much more that can be done to harness clean energy. Even nations that generate enough power to run self-sufficiently can benefit by utilising all resources, as they have the opportunity to sell surplus renewable energy to neighbouring countries that may not have the same potential.
Compare Prices Online
Save money on your energy bills.